As an accountant you are a whiz with numbers — you can divide 43 by 3 in your head, you know that 100 is 125% of 80, and maybe sometimes you even dream in Microsoft Excel. But to land the accountant job that's right for you, you'll need an irresistible pitch that includes an outstanding accountant cover letter. To do that right, alongside your resume, you need to master a different set of skills.
Resume.io has what you need to get started, including an extensive collection of occupation-specific writing guides and corresponding cover letter examples. We also offer resume writing tools, informative blogs and field-tested templates to help you create both types of job application documents.
What you are reading now will take you through the steps to write a persuasive accountant cover letter — the critical companion document to your resume. This one-page document, just 200 to 400 words, is your personal appeal to someone who has the power to offer you a job, and it's absolutely crucial. 
What we'll cover in this writing guide, along with a corresponding accountant cover letter example:
Why a cover letter is a necessary companion to a resume
How to structure your accounting cover letter
How to optimize the impact of each cover letter section: header, greeting, introduction, body and conclusion
The psychology of persuasive writing
Mistakes to avoid in writing and formatting.
Statistical insight
The good news for accountants is that the job outlook is solid and the pay is excellent. The U.S. Bureau of Labor Statistics (BLS) projects 7% job growth for accountants and auditors between 2020 and 2030, which is roughly the same rate as the overall job market. Pretty much all businesses need accountants, and so the number of accounting jobs is expected to keep pace with overall economic growth. 
According to Glassdoor, average base pay for accountants is $60,057 a year, with additional cash compensation in many instances. Yet according to the BLS, the median pay for accountants and auditors is $73,560 a year, meaning half of the people in these occupations earned more than that and half earned less. So the jobs are out there, and you want the best one you can get. Your ticket to your dream job is an outstanding cover letter and resume, and that's where resume.io can help.
Why you need an accounting cover letter
The cover letter is your personal outreach to a hiring manager — your effort to establish a person-to-person conversation that could lead to a job. The purpose of the letter is to outline your experience, skills and qualifications, and its goal is to maximize your chances of getting the job. 
The same could be said of a resume, but a resume is a more impersonal listing of your employment and education history. A cover letter gives you the opportunity to speak directly to a prospective employer on a personal level. On occasion you'll encounter an employer that specifically asks you not to send a cover letter, or perhaps its job application system allows the upload of a resume only. In such cases, you have no choice but to comply with the company's wishes. 
But unless you are specifically asked not to, you should always include a cover letter with a job application. The only possible harm this can do to your case is if your cover letter is badly written or improperly formatted. But when done right, a cover letter can only increase your chances of success.
If you're looking for additional inspiration for cover letter writing, you can check out our related accounting & finance cover letter examples: 
Best format for an accounting cover letter
Cover letters for any occupation should generally follow the same structure:
Header
Greeting
Introduction
Body
Conclusion and signature.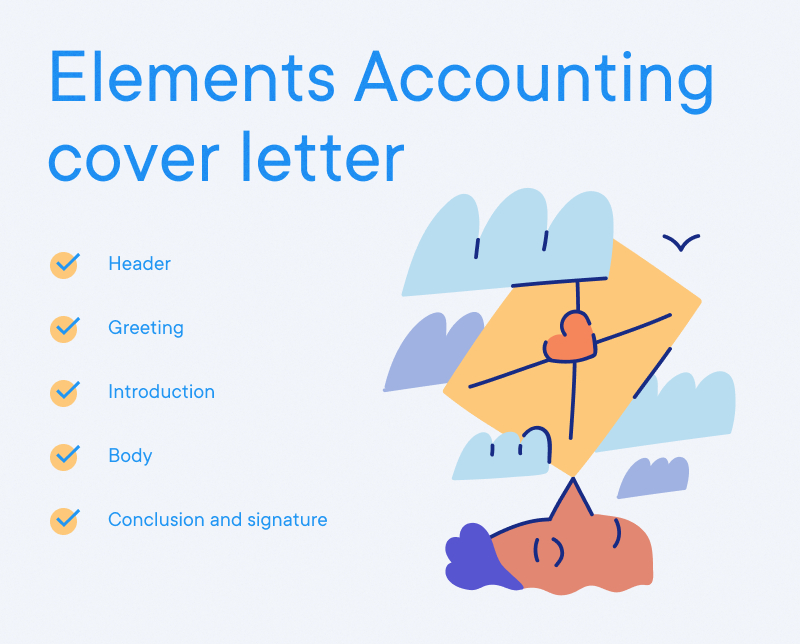 Let's look at each of these components, what their purpose is, and how to do them right.
Our comprehensive cover letter guide offers more general advice about how to go about compiling cover letters and more cover letter examples. But below you will find specific advice on how to maximize the effectiveness of each specific letter paragraph and section for an accountant.
Cover letter header
The purpose of the header at the top of the letter is to convey your personal contact info, including name, address, phone number and email. It also provides visual branding that should match the resume, and it's not a bad idea to make the header of your resume and cover letter identical. 
Your name should generally be the first and largest element on the page, demonstrating your confidence and making you more memorable as a job candidate. If your cover letter is printed out and placed in a stack of 10 others, it should be easy to find by looking for your name at the top. 
The traditional format for all business letters includes the sender's return mailing address. In today's digital age, mailing addresses are not always considered necessary, but they should usually be included unless there's a reason not to. At the very least, you should include the city and state (and possibly country) where you live.
Another function of the header is to provide an eye-pleasing design element on a page that will otherwise consist of nothing but blocks of black text. The header introduces the possibility of color, perhaps a photo of yourself, and design elements that give your letter a more interesting look.
Goal of the cover letter header: Stand out from scores of other accounting candidates with a distinctive-looking header that identifies who you are and how recruiters can reach you.
Expert tip
Align document styles
The style of your resume and your cover letter should be a visual match — using the same fonts, font sizes and formatting. It should be obvious at a glance that these two documents came from the same applicant.
If the header and text styles in your resume and cover letter are totally different, it's going to look like you can't decide on a visual style, or you don't even think it matters. Or it might look like you're using an old resume that you send to all employers, with a letter that you just wrote in your favorite new font. 
On the other hand, a visually pleasing style and design applied to both documents will demonstrate your attention to detail and consistency — signs of a buttoned-down mind that are critical in an accountant.
Cover letter greeting
"Dear Mr. (or Ms.) Xxxxxxx:" is the simplest and most reliable formula for writing the greeting, also known as a salutation. You can't go wrong with this — unless you misspell the name or get the gender wrong!
However, the age of email has changed a lot of conventions that were once considered unbreachable. "Greetings" or "Hello" are often used to replace the "Dear," and the colon at the end is now usually replaced by a comma. Study the company you are targeting to understand the appropriate level of formality, given the image it projects and the position you are seeking. And beware of being too informal in a letter you're writing to a stranger who has the power to offer you a job. 
Expert tip
Try to address your letter to an actual person
With few exceptions, it's almost always best to address a cover letter to an individual by name. There are several reasons for this:
It shows that this isn't the same generic cover letter you sent to 50 other companies.
It shows that you've done your homework to find out who the hiring manager is.
It establishes a personal connection between you and the recipient.
People like to read their own names.
A personally addressed letter is more likely to get a reply.
Job listings often do not name the hiring manager. But it may well be worth your time to call the company and ask who that person is.
However, hiring managers sometimes prefer to remain anonymous, and when you call the company you may be told that there's no need to include anyone's name. If so, respect the company's wishes and find another way to write your greeting — "Dear Human Relations Department," "Greetings, XYZ team," or the like.
Goal of the cover letter greeting: Start off by directly addressing the recruiter in a friendly, professional manner.
Cover letter introduction
Ready, set, write! The first paragraph of your letter should be one or two engaging, sincere, attention-getting sentences that identify the job you're seeking and provide a quick preview as to why you would be an excellent candidate for this job. The introduction is arguably the most important paragraph of your letter because it comes first. We all know how many chances we get at a first impression. Any turnoffs in your intro — a typo, a clumsy pitch or the wrong tone of voice — will leave a bad taste in your correspondent's mouth from the start. 
The introduction should be written in lively and energetic yet professional language that sets the tone for the rest of your letter. It should never be boring or bland, nor should it cross a line into excessive familiarity or arrogance. The perfect introduction will make the reader want to read on. 
There's a guide to public speaking that applies well to writing: "Tell them what you're going to tell them, then tell them, then tell them what you told them." The introduction is where you "tell them what you're going to tell them."
Goal of the cover letter introduction: Appeal to the employer's specific hiring needs by emphasizing the value you would bring as an accountant.
Adaptable cover letter greeting and introduction example
Dear Ms. Pinkerton,
In the world of temporary recruitment, it is often difficult to keep track of the money. After 12 years in recruitment accounting, I have a wide range of financial instruments and software innovations at my disposal to ensure effective financial management.
Cover letter body (or middle part)
This is where you "tell them." 
The body of your cover letter is your primary pitch. It should be two to three paragraphs focused on your employment history, your achievements in the workplace, any accounting certifications you hold, and the skills and passions that make you great at your job. As you review your employment history, highlight specific job accomplishments. Be as specific as possible — include facts, figures and anecdotes using strong action verbs to illustrate your proven successes.
In the last paragraph of the body of your letter, you can pivot from talking about the past to discuss your overall skills and other qualifications that make you an ideal candidate for this job. You can also discuss how your contributions will specifically help the company you're writing to. Always remember that the purpose of a cover letter is not to describe why you deserve a job — it's to convince your correspondents that you can help solve their problems and make them a stronger company.
Goal of the cover letter body: Build the recruiter's confidence in your abilities as an outstanding accountant.
Adaptable cover letter body example
Cash flow is king for any temp recruiter. As an accredited holder of an MBA with accounts from Ohio University, I have designed systems, balanced budgets, assessed risks and guided strategy for three top-tier recruiters over the past decade, all with over 60% temporary candidates. I now want to move to a smaller company, where I can head the department. I understand that you are expanding internationally — I have four years' experience working with affiliate offices in Asia and Europe. Regulations differ significantly in different regions and you need someone who has jumped through the various hoops. My husband is from Hong Kong — do I understand correctly that is where your first satellite office might be based?

Here are some numbers to give you a taste, but I have many more to share during an interview:
Created award-winning cloud invoicing and activity tracking system for 800+ temps.
Track record of managing delinquent accounts — estimated savings of $4 million to $5 million.
Managed a team of three at my previous employer — developing others is a passion.
Recruiters have always been happy to work with me, because they know that I will do everything in my power to get them paid quicker. I am a committed team player, a meticulous planner and detail freak. I cringe at the possibility of committing an error.
How to close an accounting cover letter (conclusion and sign-off)
This is where you "tell them what you told them." The final paragraph should be a brief summary of the intro and body of your letter, and it should also be a call to action. 

For example: "Would you mind if I call you next week to discuss the possibility of arranging an interview?"
A question like this may jolt your correspondent into thinking, "Hmm, this person really wants a response." And that's exactly the effect you want to achieve. The last thing you want is for the hiring manager to lay your letter aside and do nothing about it. 
The traditional close for business letters of all kinds, including cover letters, is a simple "Sincerely," followed by your name. A physical signature is not necessary unless you are sending a printed copy of your cover letter.
Aim of the cover letter closing: End with a call to action, ideally resulting in an interview.
Adaptable cover letter conclusion & sign-off example
If you need an accountant who is a master in the dark arts of recruitment finance, then I would be delighted to share some more of my secrets when interviewed.

Sincerely,
Tim Stewart
The psychology of persuasive writing: accounting for your skills
Some writing is meant to be informative, some is meant to be entertaining, but the cover letter falls under the category of persuasive writing. You are literally trying to get your reader to do something different as a result of your letter — and for that you may need to use some psychology. Psychologists say the human brain functions at both an emotional and a rational level. The emotional reaction is typically quicker and more automatic, but it's powerful because it touches us in a personal place. The rational reaction is slower, more deliberative and more analytical — the very response you need for someone to consider calling you in for an interview.
Studies have shown that an emotional approach can make us more receptive to a rational approach, attaining the best of both worlds. 
Here's an example of cover letter language that appeals to the heart more than the head:
"I'm the kind of person who gets excited about numbers. I enjoy the challenge of organizing and analyzing complex information and producing accurate and relevant reports — and I cringe at the possibility of ever committing an error
It might seem overly personal to tell a potential employer how you feel about doing your job, but the entire purpose of the cover letter is to make a personal appeal. It shows your correspondents that you are human, and it will make them more likely to pay attention when you segue to more rational statements involving facts, figures and anecdotes.
Tone of voice
Study your target, from its job listing to its website to its social media posts, to see what kind of language it uses to address its clients. Then adopt a tone that is similar — not copycat, but using the same level of formality or lack thereof.
Also, consider your position relative to the company. Are you a college student applying for an internship, or are you seeking a senior accounting position with a major firm? Find the appropriate tone relative to who you are and whom you're addressing.
Confidence is always a good thing, but overconfidence is never helpful. Try to put yourself in the shoes of the person you're addressing, and try to imagine what that person would think of your approach.
Common accounting cover letter sample errors and how to avoid them
Here are some of the mistakes people commonly make in writing cover letters:
Copy-paste, generic letters that could have been addressed to anybody. You need to demonstrate that you have studied the company you're addressing and that your pitch is addressed specifically to that company.
Typos or other mistakes in spelling, grammar or punctuation. Among the most important qualities in any accountant is accuracy, so any mistakes in your letter will be red flags. You absolutely cannot afford to be sloppy. If writing is not your long suit, find an editor to proofread and revise your letter.
Fluffy, bloated letters full of PR-speak and clichés. Have you mentioned that you're a "team player" or a "self-starter"? That kind of language was popular in cover letters in 1985, and it's been repeated a million times since. Use language that's bold and original, never generic or common.
Formatting errors in design, font or file type. The worst possible mistake you could make in a cover letter is to send it in a file type or format that your recipient can't even open. Or your letter may be readable, but it may open in a different application that makes the text jump all over the place and turn parts of it into garble. To avoid this mistake, read on.
Expert tip
Use a professional cover letter template
The best way to sidestep potentially fatal formatting flaws is to use a professional cover letter template. At resume.io, we provide dozens of templates for both resumes and cover letters, with a builder tool that walks you through each step. 
The result will be an attractively designed, field-tested PDF using appropriate fonts. The advantage of a PDF is that it's universally readable, and it preserves your formatting so that the letter looks the same on the recipient's screen as it does on yours.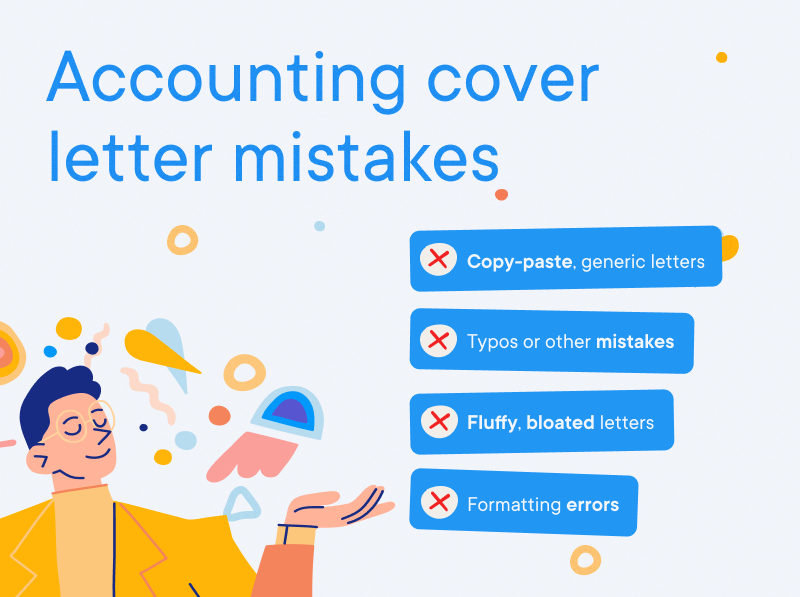 Key takeaways for an accounting cover letter
The job outlook for accountants is secure, and the median pay is $73,560 a year. But to rise above an expanding group of job applicants, you need an outstanding resume and cover letter.
Always include a cover letter with a job application unless the employer specifically tells you not to.
Understand the structure and components of a cover letter and follow the guidelines to writing each part of it correctly.
Use psychological insights and the right tone of voice to write a persuasive cover letter that will get results.
Avoid writing and formatting errors, and for best results use a professionally designed template like those at resume.io.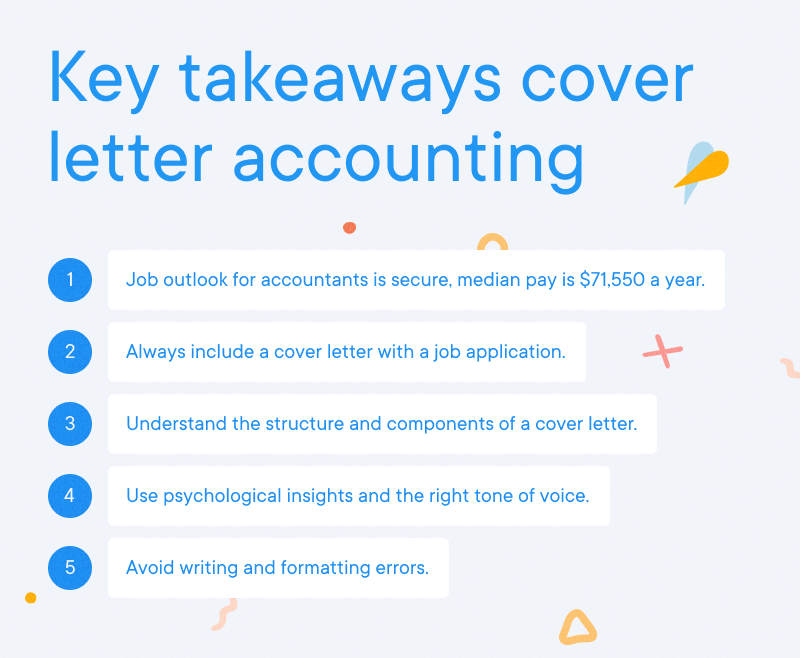 Resume.io is here to make your life easier and your job hunt successful. Go ahead and try out our cover letter builder for all the amazing functionality it provides.