So you used to be a history teacher, but you decided there's no future in it? If you're contemplating a career change, more power to you. It's a bold move, and though it may be a tough transition, this could be the best decision you ever made. Readiness to submit an exceptional career change cover letter is your best strategy for pursuing new job opportunities.
Resume.io is here to help with expert advice and support for every cover letter preparation step. Our job-winning resources include a wide collection of occupation-specific writing guides and free cover letter examples.
Here's what we'll talk about in this guide to writing a successful career change cover letter:
The outlook for anyone changing careers and why a cover letter is critical for anyone changing careers
Why a cover letter is critical for anyone changing careers
How a cover letter is structured and organized
How to write persuasively to get the results you want in each cover letter section: header, greeting, introduction, body and conclusion
Cover letter writing psychology
Pitfalls to avoid in writing a cover letter.
Outlook for changing careers
The global coronavirus pandemic has forced an unprecedented number of workers to consider finding a different field. Millions of non-essential businesses have been forced to close their doors, and their reopening hampered by new social distancing guidelines that may directly affect the bottom line. 
For example, restaurants may have been closed for months, idling their owners, cooks, waiters, bartenders, busboys and janitors. Guidelines for reopening may have required social distancing that cuts their capacity to 25%, possibly too little to turn a profit. In a case like this, it's totally understandable that workers would be looking for an exit strategy.
Many jobs can be done remotely from the safety and comfort of one's home, but in many fields this is simply impossible. And so it's reasonable to expect some migration from jobs that require face-to-face interaction to those that can be done remotely.
Of course, people changed careers long before there was a global health crisis. Sometimes people realize they've chosen an occupation they just don't enjoy. Or they may have only recently completed the educational requirements to go into the field of their choice. 
Whatever your personal situation is, your ticket to a new job is an outstanding resume and cover letter, and that's where resume.io can help. In fact, we've already written a guide to how to craft a resume if you're changing careers. But you're going to need an excellent cover letter as well — especially if your resume doesn't reflect much if any experience in the field you want to go into.
For more more general advice about writing cover letters, take a look at our comprehensive cover letter guide.
Why do I need a cover letter?
If you're looking for a job as an accountant and all the experience on your resume is in dog grooming, the recipient could be excused for thinking you've sent your resume to the wrong address.
In any job application, it's always best to include a cover letter with a resume unless you're specifically asked not to. But it's especially imperative if you're contemplating a change of career, because you've got some explaining to do. A resume is a strictly formatted, just-the-facts compilation of your work experience, education and skills. It also contains a summary or profile that states your job objective, and this does provide an opening to note that you are seeking a change of career.
However, a cover letter is your personal introduction to someone who has the power to offer you a job. It's the opening salvo in what you hope will become a person-to-person conversation. And it gives you a much better opportunity to discuss your reasons for changing careers, and to persuade the recipient that you are qualified to work in a field where you may have little or no experience.
A cover letter should almost always be one page only — 200 to 400 words — and these are your objectives in writing it:
To introduce yourself to a hiring manager, state your job objective, and make a personal appeal to be considered for a job.
To state your work experience, education, certification, skills and other qualifications that make you the right person for this job.
To close with a call for action seeking some kind of follow-up that will increase your chances of getting the job.
Some employers, for whatever reason, do not want to be sent cover letters, or their job application systems don't allow you to upload one. Obviously, you should always follow an employer's guidelines for applying for a job. But if you have an opportunity to send an email to the decision maker, there's no rule against using this email to send some of the text you would include in a formal cover letter.
Best format for a career change cover letter
Cover letters may not be as strictly formatted as resumes, but don't make the mistake of thinking you don't have to follow a certain structure. Almost all cover letters should contain the same basic components:
The cover letter header
The greeting
The introduction
The letter body
The conclusion
The signature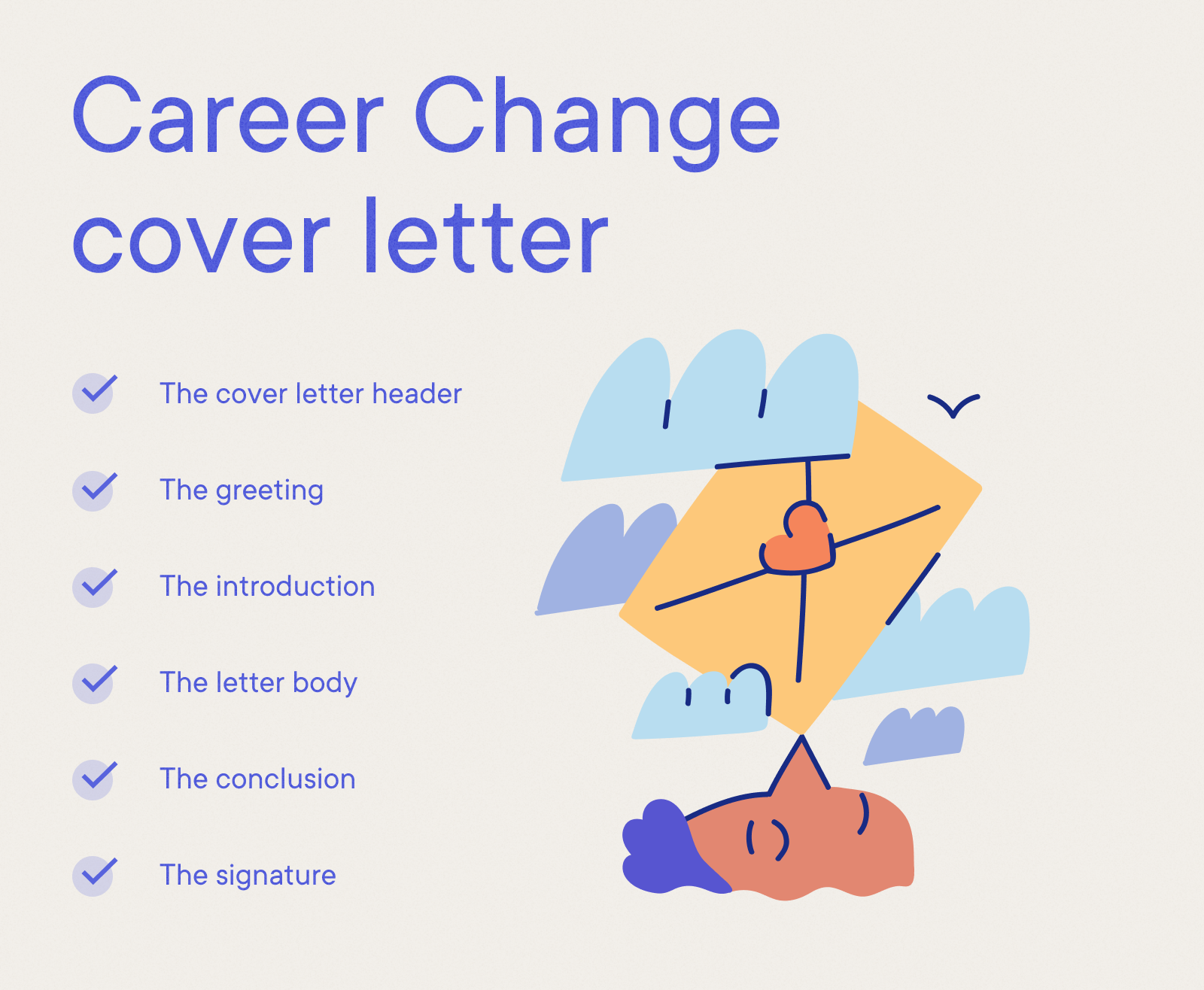 Let's take a look at each of them.
Cover letter header
The very top of your cover letter should contain your name, address, phone and email, presented in an attractively designed header, or what people used to call a letterhead. This is critical for several reasons:
You don't want to leave any doubts about who you are or how to reach you.
You don't want your cover letter to become a "nameless" print-out lost in a stack of papers on someone's desk.
The header is your best opportunity to provide some eye-pleasing design elements and white space in a letter that will otherwise consist of only blocks of black text.
Expert tip
Align document styles
Important! You need to use the same fonts, font sizes and formatting styles in your resume and cover letter. You need to give them a "visual brand," a matching style, so that if someone holds your resume and cover letter side by side, it's obvious they came from the same person. 
Speaking of fonts, commonly used sans serif fonts (Calibri or Arial, for example) are generally preferred for ease of human reading (as well as avoiding technical pitfalls), with font sizes of between 10 and 12 points.
Goal of the cover letter header: Visually distinguish yourself as the cover letter sender and as someone worthy of a closer look.
Cover letter greeting
"Sup y'all" may be your standard greeting when you write to your family, but that's not going to work in a formal business letter. "Dear Mr. (or Ms.) Xxxxxx:" is your best bet for writing the greeting (also known as salutation) of your cover letter.
For decades, the rules of letter writing have distinguished between formal business letters and friendly personal letters — the former prefer a last name and a colon, while the latter tend toward a first name and a comma. The era of email has relaxed a lot of the rules, often replacing the colon with a comma in business communications, or favoring "Greetings" or "Hello" in favor of the time-honored "Dear."
Study the style used by the company you're targeting in addressing its customers on its website or social media posts, and try to match its style. 
Expert tip
Address your letter to an actual person
In most cases, it's best to address your letter to a named individual. There are many reasons for this:
People like to read their own names, and if you've identified the appropriate recipient for the letter and spelled the name right, that's a great start.
A generic "Dear Sir or Madam" may raise suspicions that you're sending this same letter to 50 employers.
Your goal in a cover letter is to establish a personal connection with a person who has the power to make hiring decisions at the company where you want to work.
If a job listing doesn't mention the name of the hiring manager, it may be worth calling the company to find out who that individual is.
But there are exceptions to this rule — for example, some hiring managers, for whatever reason, don't want to put their names out there. If that's the case, respect their desire for privacy and address your letter to the entire company, the human relations department or whatever your research determines to be most appropriate.
Goal of the cover letter greeting: Start off on a professional note while personalizing the direct connection you are striving to make with the hiring manager reading your letter.
Adaptable cover letter greeting example
Cover letter introduction
It's time to start making your pitch. The introduction to your cover letter should be one or two sentences that accomplish the following:
State clearly the type of job you are looking for.
Preview your experience and qualifications for this job.
Make your reader want to read on.
If you're looking to change careers, you probably need to address this right off the bat. Imagine telling your next-door neighbor over the back fence why you want to stop working in sales and become a police officer: "Because in police work, the customer is almost always wrong!"
Your introduction should be an attention-grabbing, well-written paragraph that uses bold and confident language to express your desire to reinvent yourself with a new career path.
Goal of the cover letter introduction: instantly stand out from other job candidates by addressing your key motivations for switching careers and potential assets to this employer.
Adaptable cover letter introduction example
After finishing my marketing degree from San Francisco State University three years ago, my career has been building towards a long-coveted role in technology event management. I honed my people skills as a concierge in the hospitality industry and indulged my passion for technology as a part time tech adviser at the Apple Store Genius Bar.
Cover letter middle section (body)
The central part of your letter, usually two to three paragraphs, is where you need to make your primary case. Normally it would emphasize your work experience in your field, but if you're changing careers you'll need a more creative approach. How has your experience in other fields prepared you for work in this one? What are the skills you've gained in one line of work that will help you do an excellent job in another?
Here you need to emphasize your relevant work experience, qualifications and skills for the job you're seeking. Perhaps you have a new college degree, certification or other training. Possibly you've realized that your passions and talents are better suited to a new field than the one you were in before. Maybe you always wanted to be a pilot, but you worked as a mechanic until you had the time and money to complete your pilot training. 
You know your personal situation, and you need to present it in a way that emphasizes your fitness to jump from one job category to another.
Goal of the cover letter body: showcase all of the strengths you bring to this position through relevant connections with your background in a different occupation.
Adaptable cover letter body example
For many, that would be a dream job, but my dreams have grown bigger. I now want to spread the word about the cutting edge of technology. In a world of online virtual exploration, there is nothing like demonstrating the latest gizmo to someone who never knew something like that existed.

My hospitality and retail experiences offer the ideal foundation to begin a career in events. The customer service training at the Marriott is legendary and I won seven customer-first awards during my time there. I secured the part-time role at the Peeple Store after the manager commented on my weekly blog. I have learned to talk (and write) about technology in everyday language – something essential for the audience of many events.

The interactions at Marriott and Apple have taught me to be present for every customer, listen carefully to their hidden needs and provide solutions that exceed their expectations. People attending events expect an unrivalled experience – visiting an event often entails sacrificing other pursuits. Great events have to make them feel that it was worth it.

As a passionate technophile, I have attended 100+ conferences and product launches and have experienced the best and the worst of the industry. I know that your employee training is fantastic, and I am confident that I have the personal attributes required to succeed - organizational and communication skills aligned with a passion for product.
Cover letter conclusion 
The last paragraph of your letter should include both a summary of what you've said before and a call to action. It should be both a satisfying wrap-up and a next step forward. 
Adaptable cover letter conclusion example
Making the transition into the events industry is a logical next step and I hope to be able to outline my application further at an interview.
Goal of the cover letter conclusion: End on a confident note with a value proposition that the recruiter should find difficult to disregard without allowing for a conversation.
Cover letter signature
You can't go wrong by signing off with a simple "Sincerely," followed by your typed name. It isn't necessary to actually sign your name unless you're submitting a printed cover letter.
Adaptable cover letter signature example
The psychology of writing a cover letter
Never forget that your cover letter is addressed to a human being, and that your goal is to establish a personal conversation with a person who has the power to hire you. Put yourself in the chair of the person you're addressing, and try to imagine how s/he would react to your letter. Pay close attention to your tone of voice, considering the employer you want to work for and your position relative to the company. Study your target, and learn what kind of language it uses to address its clients. 
Consider whether you're applying for an entry-level position, a creative design role or a senior management post. Each of these would suggest a different approach and a distinct tone. What accomplishments, qualifications or skills should you highlight? How will these be perceived by the person you're addressing? If you were in that person's shoes, would this letter be a persuasive pitch?
Be specific about your achievements in past jobs, using facts, figures and anecdotes. Consider the STAR method for highlighting each:
Situation: A challenge or problem you faced in a past job.
Task: What you needed to do to resolve it.
Action: The action you took to address it.
Result: The positive result you achieved.
Always remember that the purpose of a cover letter is not to convince anyone that you deserve a job. It's to convince your correspondent that you can help solve this company's problems by your unique experience, skill set and drive.
Mistakes to avoid in a career change cover letter
Here are some of the worst mistakes you could make in writing a cover letter seeking a career change:
Failure to address a disconnect between your past experience and your new job objective. You need to be completely transparent that you are seeking a career change, and you should explain your reasons why.
 
A generic cover letter that you send to everybody. Every cover letter should be individually crafted for a specific company and a specific job.
 
English mistakes and typos. The easiest way to turn off a potential employer in a cover letter is with sloppy errors in spelling, grammar or punctuation. If writing is not your expertise, find an editor to proofread and correct your letter.
 
Clichés, word bloat and fluff. Even if you're applying for a job as a starting guard in the NBA, you don't need to say you're a "team player." There are certain clichés that have become so hackneyed in cover letters and resumes that they become a detriment to the cause. Use fresh, original language — ideally, write something you've never read anywhere before. Keep your language lean and focused and always avoid "fluff" — trivial, repetitive language that doesn't say anything new or interesting.
 
Formatting errors, strange fonts and bad file types. Life would be easier if everyone used the same type of computer, word processing application and file format, yet this is not the case. You may create a cover letter in your favorite text editor on your old Mac that's completely unreadable on a modern PC. Or it may open in a totally different application, or an updated version of the same application. This might make your text jump all over the place and turn parts of it into garble. This is why resume.io always recommends using familiar fonts and saving your file as a PDF, which preserves your formatting so that your letter will look the same on any computer.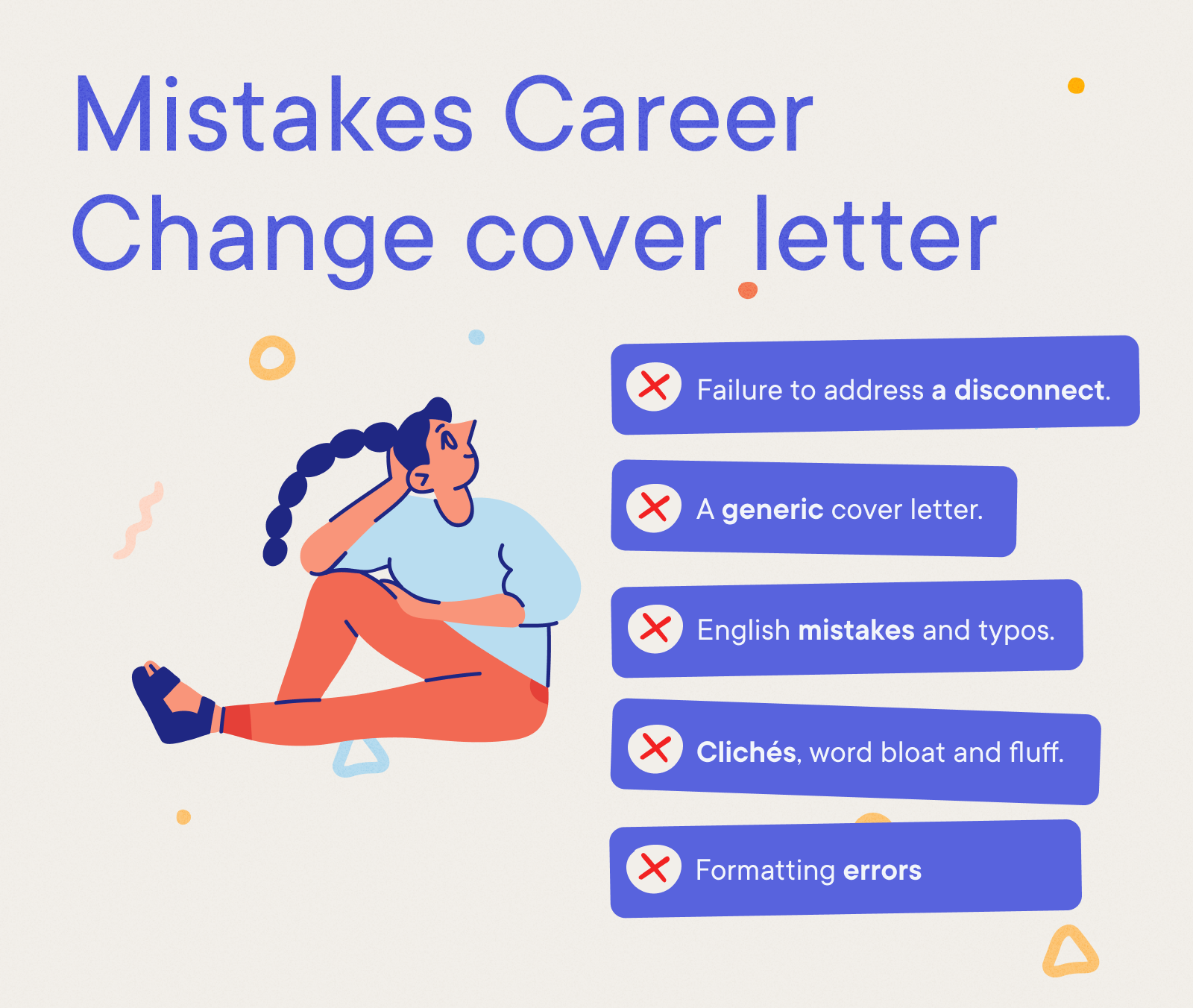 Expert tip
Use a professional cover letter template
If you want to be a lion trainer, go for it! We at resume.io do not have any experience at sticking our heads into lion's mouths, yet we are experts at crafting professional cover letters for any occupation.
While you've been busy learning how to avoid being mauled by a lion, we've been studying fonts, formats and file types that work in a cover letter. As Will Rogers said, "Everybody is ignorant, only on different subjects."
Resume.io offers hundreds of field-tested cover letter templates, while our powerful builder tool can help you sidestep any errors in formatting, fonts or file types. We are also leaders in providing expert advice on how to fill out each component of these documents.
The best way to avoid potentially fatal writing or formatting errors in a cover letter or resume is to start with a template that has been proven successful.
Key takeaways for a career change cover letter
If you're seeking a career change, you're not alone, but you'll need an outstanding cover letter that explains what you're up to and why.
Your cover letter should be your personal explanation to another human being about why you're seeking a job for which your resume may show little or no experience.
You must understand the structure and contents of a cover letter and follow the guidelines for how to write each part of it.
You must avoid common writing and formatting mistakes in writing this letter. The best way to do that is to use field-tested templates and professional guidance from resume.io.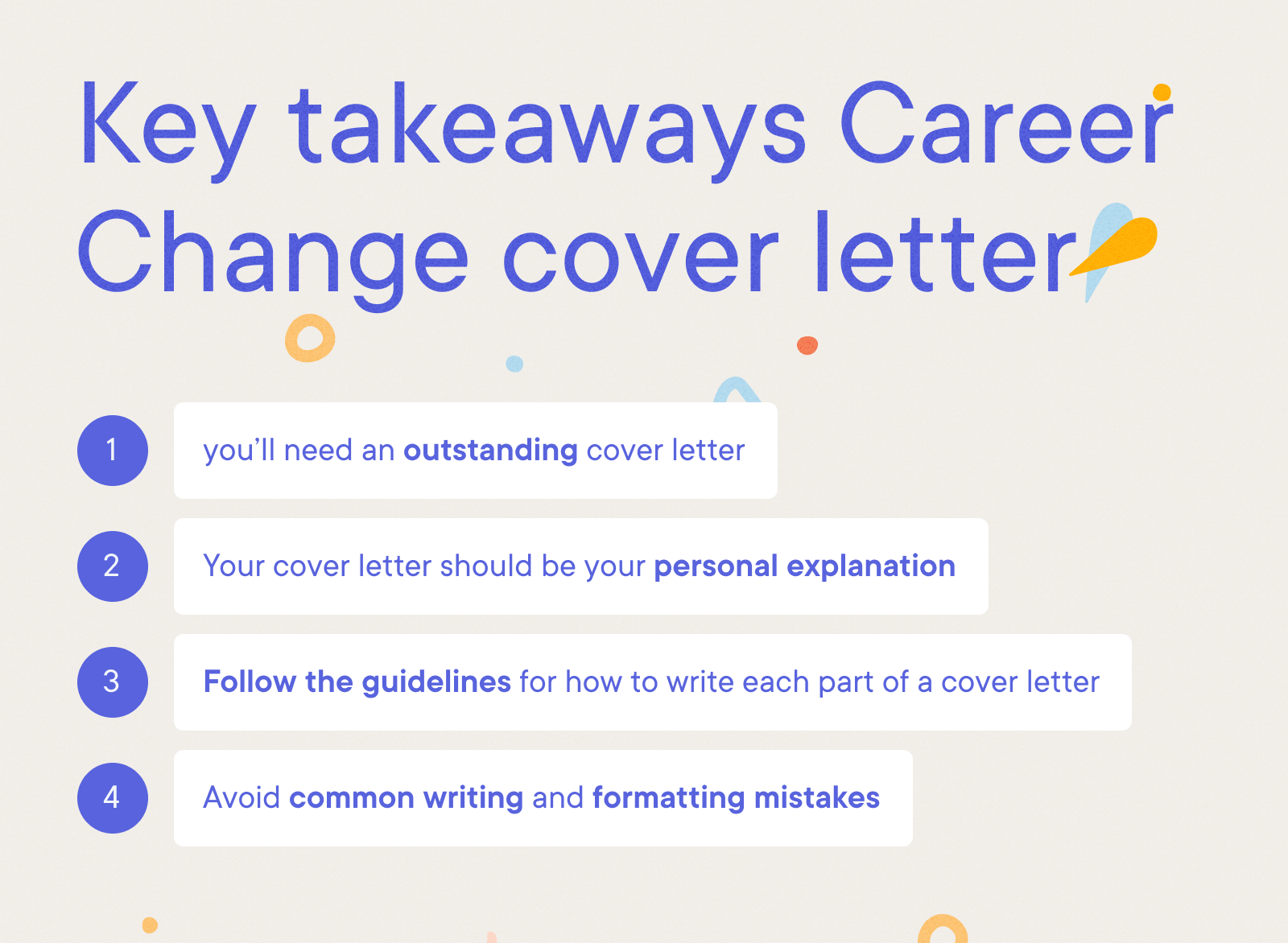 Best of luck in your new adventure!
For more inspiration and ideas, take a look at these cover letter examples and writing guides in the "other" occupation category: