You have to write a cover letter as part of your scholarship application. What's your first question? Something like: How do I write a great cover letter for a scholarship? Good question! A cover letter, also called a letter of motivation, is highly valuable when it comes to awarding scholarships. Before an organization will cut you a check, they want to be sure that you're a motivated, engaged and forward-thinking student who is worth the investment. While job applicants usually have the benefit of an accompanying resume, a student might not have the advantage of a lengthy work history. So in this case, your cover letter often weighs more than your resume when it comes time to distribute the funds.
Scholarships are not just about paying down tuition costs. Many of the organizations, clubs and community members who offer them are truly interested in getting to know their scholarship recipients and following them along through their educational journey. A scholarship may even lead to new connections, mentorship opportunities, internships and post-graduation job offers. In other words, a knock-out cover letter is worth the effort. This guide, along with an effective cover-letter example will:
Explain the purpose and unique qualities of a scholarship cover letter
Outline the best structure for the letter and offer practical writing tips
Delve into the psychological principles of effective persuasion
Examine the importance of correct formatting and how to achieve it.
P.S. – If you're still working on getting your resume just right, resume.io's free resources can save you time in creating the perfect resume. Start with our profession-specific examples , templates and general resume writing guide .
Best format for a scholarship cover letter
The structure of a cover letter for a scholarship application follows much the same outline as any other type of application letter and includes these sections:
The cover letter header
The greeting
The introduction
The letter body
The conclusion
The signature.
Let's dive into each one.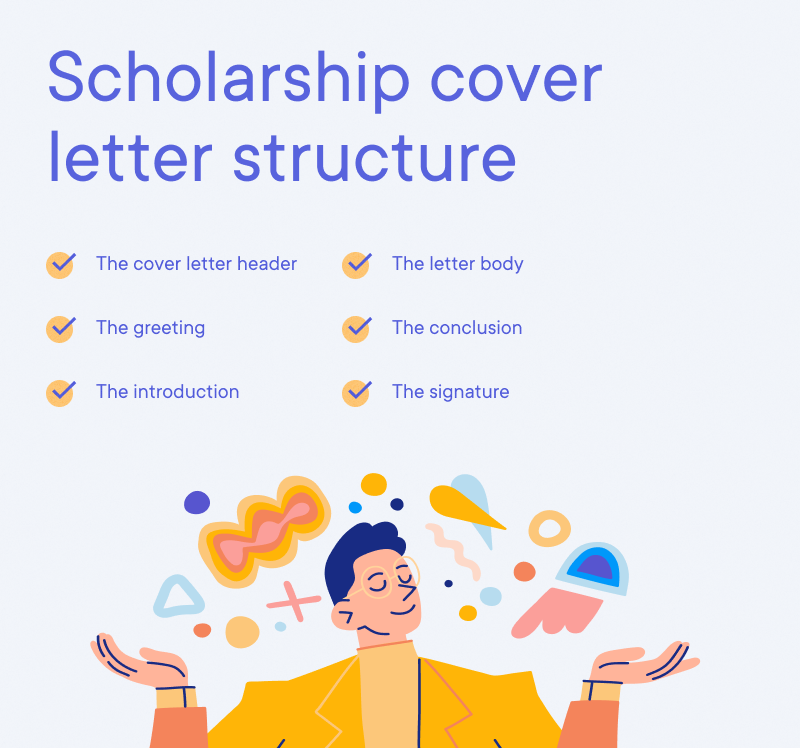 Cover letter header
Many students and recent graduates struggle with determining exactly what should go in the cover letter header. The thing to remember is that the header serves an important role in identifying the document and giving it an aesthetically-pleasing formatting. 
Believe it or not, some scholarships will still ask you to send in your application materials via mail. In that case, your header should include the name and address of the scholarship organization and/or contact person as well as the date. This formal letter heading is not necessary when applying online or emailing your cover letter. In that situation, you may opt to include just your name, phone number and other contact information plus the name of the organization.
The goal of this section: Identify the document, keep your name and contact info easily accessible and create visually appealing formatting.
Cover letter greeting
This short section can trip up a lot of students who aren't sure which tone to take. A scholarship application is a request, usually of someone in a more senior position than yourself. You'll want to take a respectful tone without seeming too formal, thus "Dear" is usually the best option and our cover letter sample goes that route. Scholarships are usually pretty upfront about who handles the selection process. Oftentimes, it's a committee. "Dear Scripps Howard Foundation Scholarship Committee," will do the trick. Or you might include the name of the chairperson and the committee as well: "Dear Dr. Batts and CCAP Scholarship Committee,"
Expert tip
Watch out for the name game!
Addressing your letter to a real, specific person or the committee is one of the best ways to get things started on a positive note. For a scholarship cover letter, however, this takes on additional importance. Committees often consider a misspelling or a generic greeting like "To Whom it May Concern:" as a sign that the student was not careful enough to include the names given to them. Make sure to check and double check that you have everything spelled correctly and have used the proper salutations like Mr., Mrs., Ms. or Dr.
The goal of this section: Use the right tone when greeting the reader or the committee and make sure you've included the correctly spelled name of the person or organization.
Adaptable cover letter greeting example
Dear Professor Huddleston,
Cover letter introduction
Your introduction is the first chance for the scholarship committee members to get to know you. When applying for a scholarship, it's important to get this initial paragraph right. You want to come across as respectful, but also enthusiastic and passionate about the field or program you're entering. A charismatic opening that conveys character and personality is a good way to hit it off. You might choose to start with a tasteful (mind the boundaries of propriety!) personal anecdote or a bit of background information, but just remember that the majority of the other candidates are also students, probably in the same field or major as you. Show off what makes you stand apart! 
Don't neglect to explain exactly the scholarship you are applying for if the organization offers more than one and tell why you are looking for funding. 
The sentence below from our cover letter example explains what the applicant will use the money for.
Adaptable cover letter introduction example
As I approach the dissertation year of my MA in Arabic at the UCLA Department of Near Eastern Languages and Cultures (NELC), I am writing to inquire about participating in the annual fellowship program. Much of my work has been based at the university, but the demands of my dissertation entail a significant amount of travel and expense.
The goal of this section: Capture the reader's attention with a snappy sentence that introduces yourself in an interesting and exciting way.
Cover letter middle part (body)  
The cover letter body is where you can really get into your strongest qualities and skills. Start off by explaining your goals or what you plan to do with the education or funding you receive. Remember, each sentence should add evidence to the argument that you are the best candidate for this financial investment. 
Committees often appreciate personal stories, but they should be related to your career or educational goals. Keep your sincere stories/statements concise so that the reader doesn't lose the message. Make sure you are answering any questions asked in the application directions. 
Expert tip
How long should my cover letter be?
Unless the scholarship application specifies a word count, it's best to keep your letter to between 200 and 400 words – or one page. Students are often tempted to over compensate for thin resumes by writing expansive, multi-page cover letters that cover every imaginable area of the applicant's life. However, it's a much smarter idea to keep your letter focused and concise enough for a single page.
The goal of this cover letter body: Create your own narrative using personal stories/statements, facts and evidence of your hard work and determination, align yourself with the mission of the organization or scholarship.
Adaptable cover letter body example
I have been self-funding my current studies with part-time interpreting and translation work. I do not come from a privileged background and my parents give all that they can, but the costs of a dissertation that involves interpreting and observing at over 40 international conferences in one year are monumental. My dissertation on the "Cultural Considerations in English-Arabic Simultaneous Translation" seeks to provide a new perspective on what lies behind the language, but it cannot be written from inside a library.

I have already contributed much to my UCLA faculty, including curating the Persian section of the Language Materials Project and running events for the Near Eastern business community in Los Angeles. I worked on the Arabic section of a successful translation app and have published a number of well-reviewed academic papers on Arabic linguistics.

My career aim is to become an interpreter at the United Nations in New York. I have a month's work experience lined up there at the end of this academic year and see it as the perfect start for my dissertation year. I want to bring the 300 million Arabic speakers that bit closer to the rest of the world. That can only happen with a thoughtful interpretation of both their words and their cultural background.
How to close a scholarship cover letter (conclusion and sign-off)
So you've laid out your personal story, skills and experiences, now what? Creating a positive closing paragraph. Ending on a positive note is important, but there's one more thing you can do to seal the deal. A call to action invites the committee to contact you and shows that you are enthusiastic about their support. Our cover letter example conclusion below accomplishes both of these goals.
Adaptable cover letter closing example
The fellowship would allow me access to the leading experts in the field and I would have an opportunity to practice my specialty at the most important events. I would welcome a meeting to discuss my application in more detail and hope for your assistance in this matter.
Sincerely,
Simon Travers.
Drive home the point by using a thankful and sincere tone to show the committee you are worthy of their investment. "Best regards" or "Sincerely" can work well. A "Thank you for considering me for your scholarship" can't hurt. 
The goal of this section: Leave the reader on an upbeat note and invite them to contact you, convey gratitude and enthusiasm for their support.
Writing psychology – cover letter tools and strategies
As a potential scholarship recipient, there are a few key qualities you want to convey:
Work ethic and motivation: use completed projects or internships to show that you're a hard worker who has a bright future.
Sincerity: no one wants to give their money to an arrogant candidate. Your tone should convey humility and gratefulness for opportunities and support.
Passion: this is one of the most fundamental characteristics a committee is looking for. Do you love what you're studying? Has this been a dream of yours for a long time? Use examples that explain why you're the perfect fit for this profession.
Individuality: scholarships are highly competitive and you're likely up against people who have the same educational background as you. That's why highlighting what makes you stand out is the best way to tip the scale in your favor.
The Yale approach to persuasion
The Yale Attitude Change Approach is a long-term study on the effects of persuasive communication. The study covers numerous principles, including the ways in which audiences perceive speakers and their messages. The study has found that people can easily sense when a speaker is trying to persuade them and it causes them to take a negative view of both the message and communicator. Thus it is important for the speaker to first develop credibility with their audience. The more trustworthy the audience finds the speaker, the more receptive they are to the message. 
Focus on building your trustworthiness in the eyes of the reader by explaining the projects you took on and how those developed you into the student and person you are today. No scholarship committee wants to feel like you're pleading and begging for their money. Rather, they want to feel like they've just had a stimulating conversation with a bright and motivated young person who will succeed because of hard work and determination.  
This overall guide on cover letters can offer more detail on each of these requirements. You can also make sure the formatting is appropriate and professional by using a template, like these from resume.io.
Statistical insight
Some students are afraid to apply for scholarships because they don't believe they are impressive enough to beat out the other candidates. While it's true that some scholarships can be very competitive (about 12 percent of all undergrads depend on this type of aid), there's plenty of options that only require you to be yourself. Some of the most notable: scholarships for avid coffee drinkers, glasses wearers, people with curly hair and people who are unusually tall. What's more, about 100 million dollars in scholarships goes unclaimed every year – you can't win if you don't try!
Scholarship cover letter format and common mistakes
Spelling and grammar. Students are often in a rush, juggling classes, clubs and activities and so they wait until the last minute to write and submit cover letters. Unfortunately, simple spelling mistakes can weigh heavily against an applicant in the scholarship selection process. Make sure to proofread reread your letter closely before submitting, and/or ask a friend to double check it for you.
Too much emotional information. Scholarship committees often appreciate moving personal stories. Unfortunately, the balance between emotional writing and a sob story can be hard to navigate. Instead of complaining about life's unfairness, make sure to take a confident approach that explains how you persevered in spite of the obstacles.
Finding the right tone. Students often understand that their cover letter will be read by wealthy or influential people. In response, they take an overly formal tone both in the greeting and In the body of the letter. There's no need to brag, but make sure to express yourself assertively – you are worthy of this scholarship!
Using proper formatting. Messy or unconventional formatting will leave a reader confused before they even start the first paragraph. Make sure to follow traditional font style and size recommendations. You can create a more attractive document by using a professionally-designed cover letter template.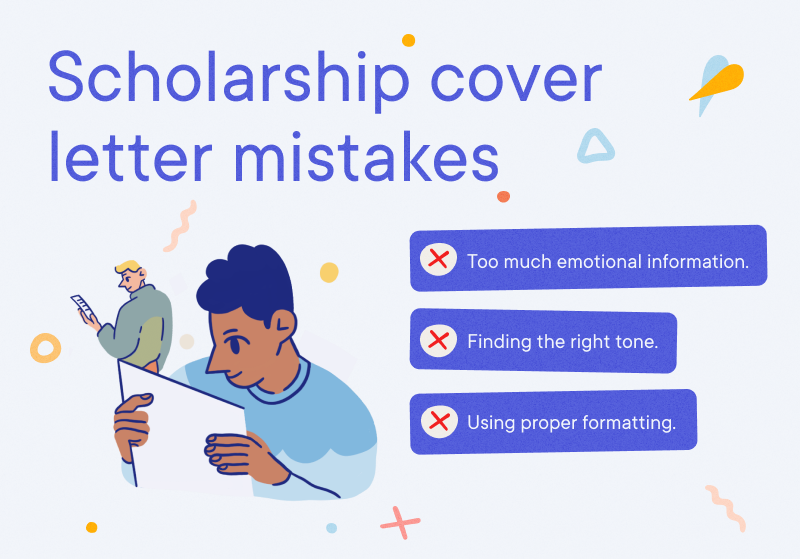 What makes a scholarship cover letter unique?
There are a few key differences between a scholarship application letter for a scholarship for a high school or college student and one that a job applicant might use. The first is that a job applicant is looking to fill a specific vacancy for an employer. In their cover letter, they will often talk about why they are a good fit for the role and how their previous experiences have demonstrated the same skillset. A scholarship applicant isn't being asked to do a job so the letter is much less focused on tasks and hard skills than it is on personality traits, extracurricular activities and career goals. Scholarship programs are also far more interested in the candidate's personal experience and may sometimes even ask about their financial background. 
While a scholarship applicant might not have a job posting to refer to, one piece of information they can use to their advantage is the organization's mission statement or primary activities. If, for example, the association is geared toward advancing the contributions of black women in science, an applicant might talk about her love of math from an early age and her current internship at a medical research center. She might also include personal motivations and experiences, like challenges she faced after entering a mostly male-dominated profession. 
Statistical insight
Some students are afraid to apply for scholarships because they don't believe they are impressive enough to beat out the other candidates. While it's true that some scholarships can be very competitive (about 12 percent of all undergrads depend on this type of aid), there's plenty of options that only require you to be yourself. Some of the most notable: scholarships for avid coffee drinkers, glasses wearers, people with curly hair and people who are unusually tall. What's more, about 100 million dollars in scholarships goes unclaimed every year – you can't win if you don't try!
Key takeaways
When it comes to winning a scholarship, a convincing cover letter can sometimes be more important than your resume. Make sure to put proper time and attention into crafting your cover letter.
Unlike other types of application letters, scholarship cover letters often tell the story of an applicant's personal life. It's OK to use emotion, just don't get too sappy.
Make sure your spelling and grammar are spot-on, especially when it comes to the names of the chairperson and organization. Committees notice who took the time to address them properly.
Use a psychological approach when it comes to persuasion by being assertive without being brash or arrogant.
An audience notices the way you choose to present your message. Make sure your formatting is correct and meets professional standards.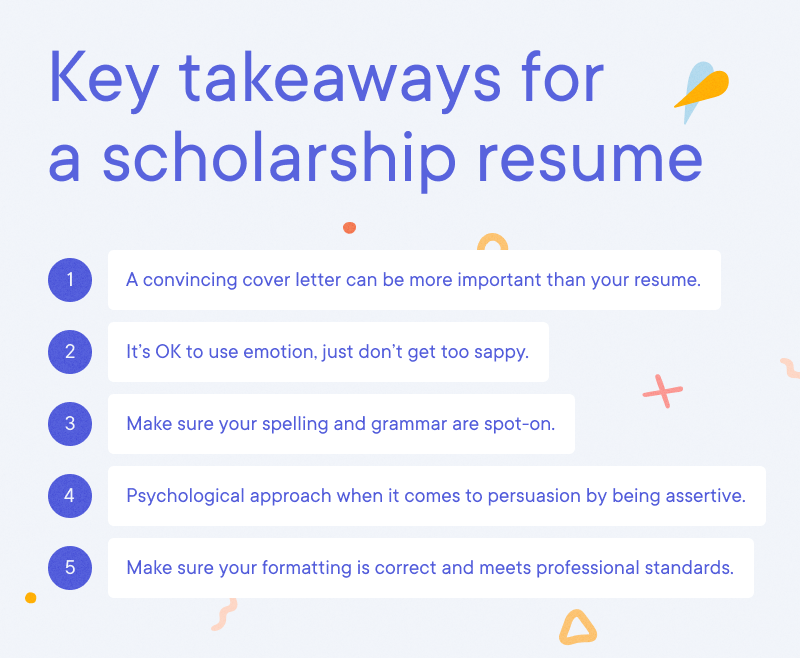 Other educative cover letters and resumes examples from the same industry:
Need more inspiration for cover letter writing and resumes? Click on our related education cover letter examples below.
Cover Letters examples for:
Resumes examples for: