If you've just graduated with your accounting degree and are ready to take that first step into the world of numbers and spreadsheets, you'll need an effective entry-level accounting resume to get started.
Entry-level accountants are often tasked with bookkeeping, filing, and payroll duties, so your resume will need to prove to the employer that you've got an eye for detail and are committed to accurate record-keeping.
Luckily, Resume.io is here to help. With 350+ resume examples and guides, we're an expert resource for job seekers in all fields and stages of their careers. Here's what we'll cover in our entry-level accounting resume example and guide:
What does an entry-level accountant do?
How to write an entry-level accounting resume (tips and tricks)
The best format for an entry-level accountant resume
Advice on each section of your resume (summary, work history, education, skills)
Professional resume layout and design hints.
What does an entry-level accountant do?
Entry-level accountants, often called junior accountants, are tasked with a variety of common bookkeeping and payroll tasks to support the office and clients. Examples of duties include:
Logging income and expenses into the appropriate databases
Recording profits and losses for each client
Maintaining records of assets bought or sold
Assisting with preparing monthly or annual reports
Managing payroll and creating payslips
Logging invoices and preparing them for payment
Entry level accountants work under the supervision of senior accountants who will help guide them and teach them new skills. Since accounting errors can lead to serious consequences, it's important that entry-level accountants display meticulous attention to detail and the ability to follow the instructions of more experienced team members.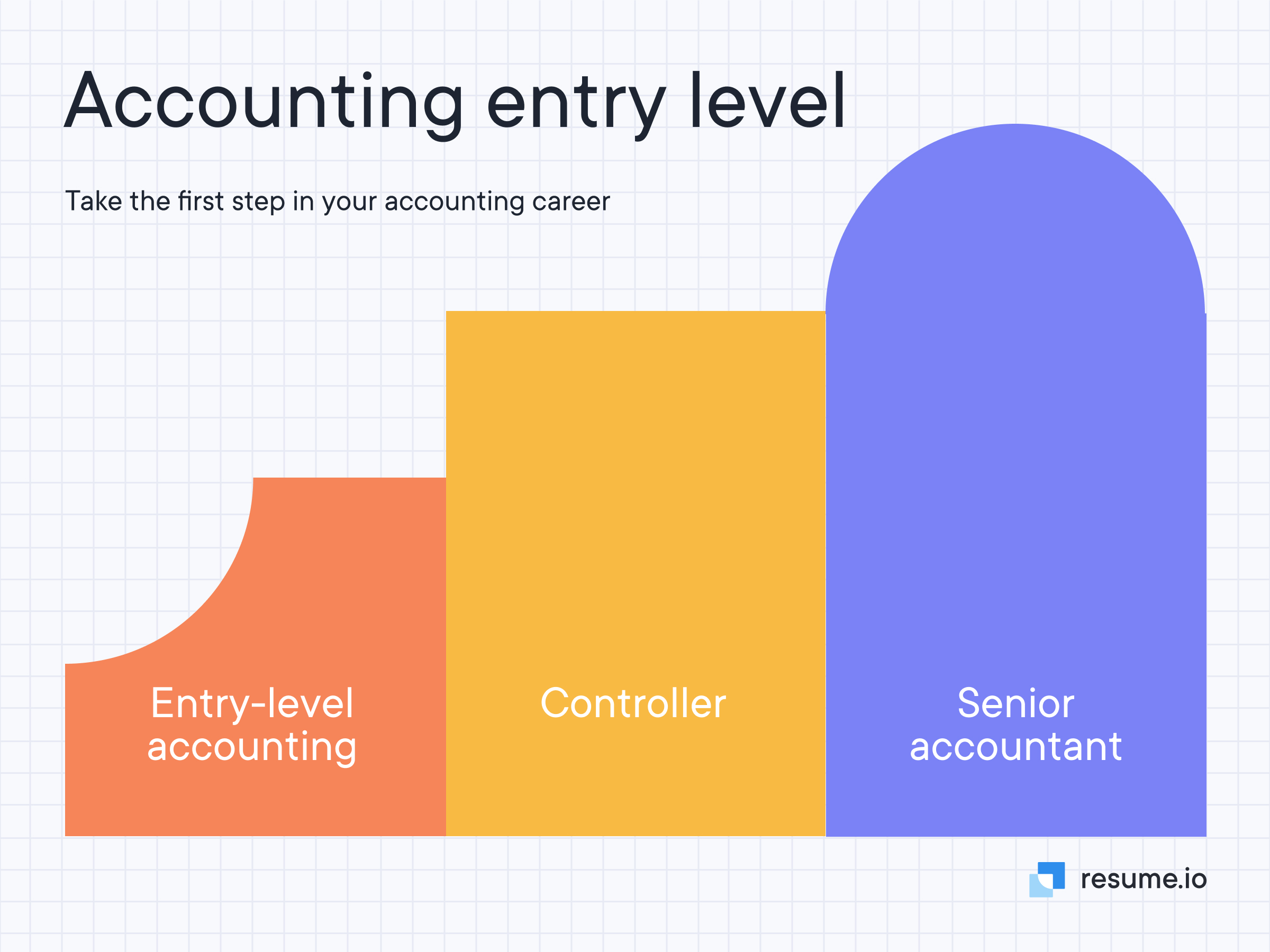 How to write an entry-level accounting resume
The very first step in writing your accounting entry-level resume is understanding what sections to include. Your CV should contain the following elements:
The resume header
The resume summary (aka profile or personal statement)
The employment history section
The education section
The resume skills section
One of the most important elements to consider when writing your accounting entry level resume is the tone you will use to speak to the employer. Accounting is a formal field, so it's important to focus on concrete information and the facts of your experience. Humor is great once you have the job, but keeping your resume clean and professional will increase your chances of landing the interview.
For entry-level resumes in the U.S. and Canada, one page is the norm. That means keeping each section concise and eliminating words like "I" or "My" that can be easily understood from the context. Instead, focus on action verbs that show your motivation and impact. Even though you may not have much professional experience, your ability to learn quickly and double-check your work will be an asset in any entry-level accounting role.
Expert tip
Optimize for the ATS
The first hurdle your entry-level accountant resume will face is not the scrutinizing eyes of the hiring manager, but rather an indifferent robot programmed to look for keywords from the job description. Applicant Tracking Systems (ATS) are algorithms built into virtually all of today's online application portals. Chances are if you apply online your resume will first be filtered by bots before it can reach the hiring manager.
You can increase your chances of being evaluated by human eyes by carefully reading the job description and making note of any qualifications or experiences that are particularly important to the employer. By placing these "keywords" onto the appropriate sections of your resume, you'll increase your chances of landing the interview. Just be sure to use the employer's exact language and only add the skills that are actually true for you.
Choosing the best resume format for an entry-level accountant
When it comes to choosing the best format for your entry-level accountant resume, there's really only one option. The reverse chronological resume is often viewed as the "standard" format. This structure focuses on the employment history section where experience is listed starting with the most recent or current position and working backward through all relevant roles in the past 10 years.
While other resume formats exist, they are better suited to students or those working in independent fields. Even though you may not have much professional experience to show, as an accounting professional, it's important to stick with the format that hiring managers and the ATS prefer. Internships or other leadership positions are a great way to round out your employment history section.
Resume header
The header of your resume is essential to convey your name, contact information, and LinkedIn profile. The header, which is often found at the top or as a column on the side of your resume, serves a vital purpose in allowing the hiring manager to easily contact you. It can also add a touch of attractive formatting to your resume. Best to err on the professional side, however, as accounting calls for a more serious look. You can read more about layout and design further on in this guide.
Resume summary example
The resume summary is the employer's first introduction to you, your top skills, and qualifications. The purpose of the 3-5 sentences of the summary is to capture the hiring manager's attention and to encourage them to keep reading the rest of your resume. Make sure to use a friendly and professional tone and to describe your top attributes as they relate to accounting. As an entry-level accountant, it's important to note in the summary that you have the educational requirements the employer is looking for. You will also need to include them again further down on your resume. Check out our adaptable summary resume example below.
Adaptable summary resume sample
Dedicated professional with a track record of success in accounting and accounts receivable (AR) operations. Able to ensure streamlined business function through expert financial management and reporting.
Employment history sample
The employment history section of your resume is where you will list all the previous positions relevant to accounting. Start with the most recent and create a subheading that includes the job title, employer name, dates worked, and location. Then, create 4-5 bullet points that capture your main responsibilities, skills, and achievements. Repeat this process for all of your relevant experiences.
The bullet points of your employment history section are the ideal place to highlight your impact and your effectiveness as an accountant. Make sure to include numbers, statistics, and data that point to your achievements. For example, if your auditing skills prevented the company from losses or penalties, including an estimated amount of how much you saved the business. See our adaptable entry-level accountant resume sample below.
Adaptable employment history resume example
Accountant/AR Intern, Hilton Hartford Hartford, CT 
January 2022 - January 2023 
Partnered with accounting staff to prepare detailed daily reports, delivering insights into hotel and event revenues.
Conducted invoice review and adjustment processes to ensure accuracy and alignment with standards.
Maintained confidential records of all payment data.
Accounts Receivables Intern, Ramada by Wyndham Windsor Locks Hartford, CT 
July 2020 - December 2021 
Input key revenue, billing, and payment data into internal databases to generate weekly and monthly AR reports.
Analyzed and monitored billing across multiple on and offsite properties for accuracy.
Built extensive skills in AR and reporting processes
Entry-level accounting resume education example 
The education section is an essential part of any complete entry-level accounting resume. Make sure to include relevant degrees, certifications, and coursework here. You can also create one or two bullet points under each entry to make note of any leadership roles, impressive grades, or relevant achievements. See our resume example for the education section below.
The right educational background is essential for a career as an accountant. While bookkeeper roles might not need a formal accounting degree, most entry-level accountant jobs will require some college education in the field. For jobs in the United States, you may also need to hold CPA (Certified Public Accountant) Certification which requires a combination of a 4-year degree after which you'll be required to pass the CPA examination. 
Adaptable education resume example
Bachelor of Science in Business, University of Hartford Hartford, CT 
August 2015 - May 2020
CV skills example
The skills section of your CV takes on extra importance in accounting as it's the one place where you can quickly list the concrete abilities (called hard skills) that the employer is looking for. Make sure to read the job description closely and use the employer's exact language on your CV. Software, like Microsoft Excel or Quickbooks, is often requested and shouldn't be missing from your resume. You should also aim to add two or three soft skills that show how you deal with coworkers and clients. Attention to detail, a good sense of organization, and the ability to learn quickly are all examples of soft skills that can apply to a junior accountant role. See our resume example for the skills section below.
Adaptable skills section resume example
Accounts Receivables
Accounting Management
Financial Reporting
Resume layout and design
The layout and design of your resume is the first thing the hiring manager will take in before they ever read a word of the writing. Therefore, crafting a professional layout and design is essential when it comes to creating a great first impression. 
Accountants should opt for clean and professional looks to match the nature of their work. While one accent color may be acceptable, when in doubt a neutral color scheme is the best choice. Make sure to choose a header design that highlights your name and contact information. A professionally designed resume template can make it easy to try out different styles. Here are some more tips to create a great resume layout:
Do
Use the same font styles and sizes throughout your resume
Create subheadings that stand out
Leave a good balance of white space to text
Don't
Add a headshot to your resume unless it's common in your country
Use unusual or clever section titles that the ATS might not understand
Change the margins or use tiny font to squeeze in more information
Key takeaways for an entry-level accountant resume
Your resume is the key application document that will help you get started in an entry-level accounting role, so make sure to craft it with care.
The summary is the best place to call the employer's attention to your qualifications and skills but be sure to write with a professional tone.
Don't forget to include numbers, statistics, and data in your employment history section bullet points.
Create a great layout by checking out our adaptable accounting entry-level resume sample.