The core question for any employer seeking to hire a bookkeeper remains a simple one: Can I trust this person with the financial data of my business? A job-winning bookkeeper resume will confidently answer that question on all counts.
Careful bookkeeping ensures that everyone knows how much money there is to spend — and how much is earned. One mistake can cause serious problems, so every bookkeeping task must be focused and accurate. When ready for a career move, bookkeepers need to convey this exact, analytical and meticulous approach in their resume.
Resume.io is here to help with ideas, inspiration and advice. As a leading international resource for job hunters, we've developed more than 300 occupation-specific resume guides and resume examples , along with related tips and tools for gaining the best advantage over other qualified applicants.
This writing guide, along with the corresponding bookkeeper resume examples, will help you to demonstrate your accounting and financial expertise with finesse. We will cover these topics:
What does a bookkeeper do?
How to write a bookkeeper resume that offers every assurance of an employer's financial health being safeguarded in your capable hands
Ensuring your resume first passes through the automated applicant tracking systems (ATS) algorithm with flying colors
The best format for structuring your resume
Advice for optimizing the impact of each resume section: summary, employment history, education and skills
Professional resume layout and design hints for an impeccably polished visual result
What does a bookkeeper do?
Bookkeepers are the meticulous guardians of financial records. Their legendary attention to detail ensures that an organization's finances are in order. Given the volume of work involved, it is one of the most critical jobs for any organization. Bookkeepers are the sort of people that may go unnoticed. In films, they are always the quiet ones in the corner, although that is far from the case in real life. In fact, the aim of their job is not to be noticed. They — and increasingly the software that they use —  keep the financial aspect of business ticking along reliably. If everything is in order, internal accounting should hum along like a well-oiled machine.
The weighty responsibility of keeping financial records in an accurate and timely fashion entails processing invoices, recording sales transactions and balancing budgets. Bookkeepers make sure that that the latest software ensures ease and efficiency in the various financial processes that are used across the business. Keeping a tight control of the purse strings is the foundation of any sound business. 
Bookkeepers are involved in all aspects of budgeting and documentation for external and internal monitoring. Their work involves detailed calculations in accordance with the most recent regulations and financial legislation. They work closely with tax authorities to ensure compliance and keep their employers on the right side of the financial law. Their record keeping should be scrupulous and their data entry meticulous. 
Offering clerical and administrative support to a wide range of colleagues is often part of a bookkeeper's role. As a liaison between internal colleagues and external contacts such as suppliers and financial institutions, they understand the intricacies of every financial situation, offering advice whenever it is required. 
From working with software to process transactions and balance budgets, to entering countless vital data onto a spreadsheet, the daily life of a bookkeeper requires an intense focus and an unwavering commitment to accuracy. Bookkeepers know that if the slightest mistake has been made, unchecked, it can have a knock-on effect far into the future. If there are serious mistakes, the life of the organization and livelihoods of employees are at risk.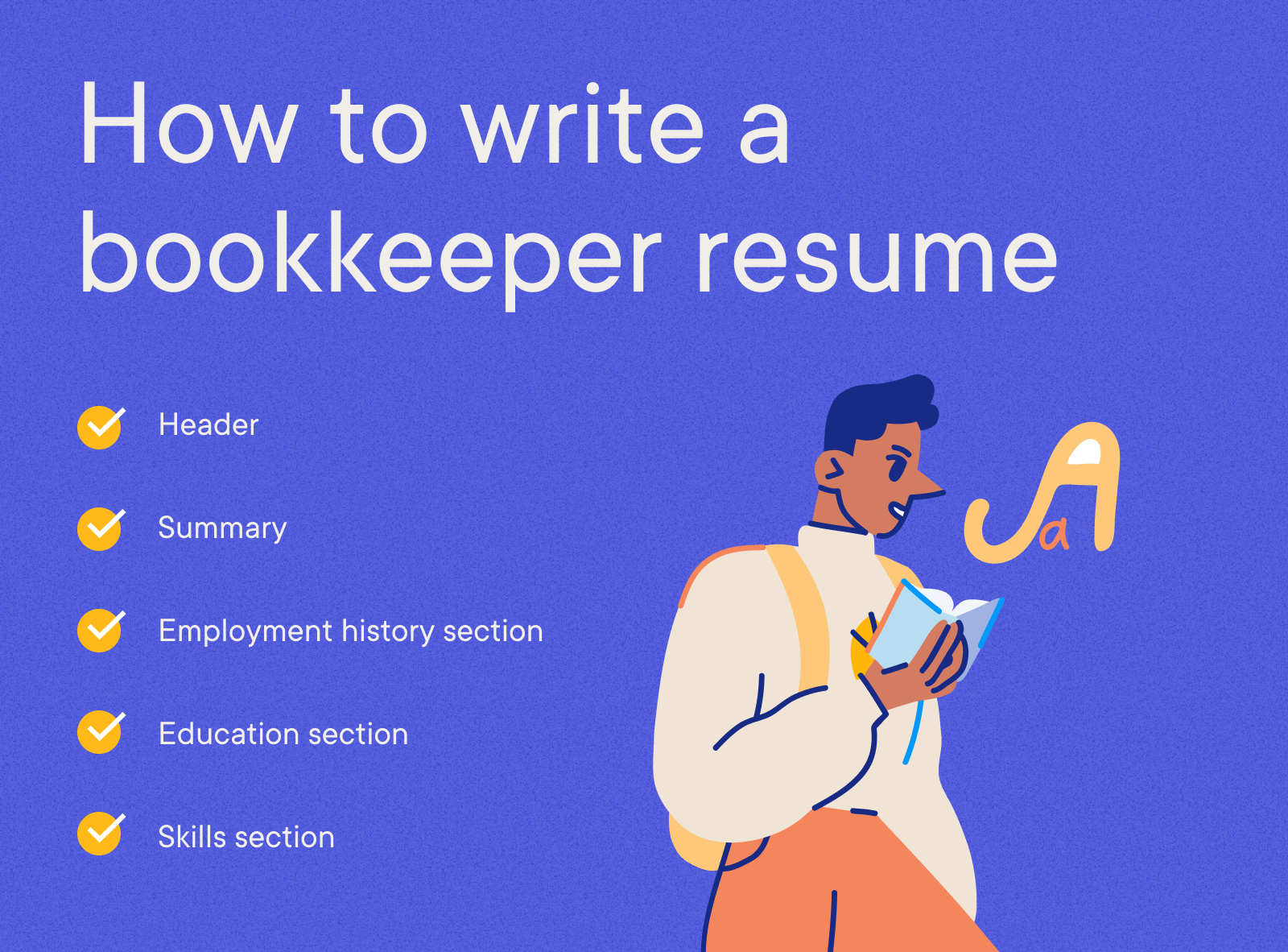 How to write a bookkeeper resume
What your bookkeeper resume should have in common with those submitted by other job applicants is the structure. It should fit on a single page and include all of these elements:
Header
Summary
Employment history section
Education section
Skills section
Before elaborating on how to write the core sections, one at a time, here is some general advice for ensuring your resume scores high overall, and is actually read in the first place.
Accountancy qualifications are fiendishly complicated, and regulations are changing all the time, so your resume has to reflect your mastery of the detail.  It probably goes without saying that a bookkeeper's resume must be painstakingly accurate. When your life's work is about detail, everything you do has to reflect that. Checking the spelling and getting the figures right in your resume will avoid any embarrassing moments during a job interview. 
A bookkeeper resume should be easy to read and lack irrelevant text. Assume the hiring manager or future boss is a financial professional who will not welcome any waffle. 
Your resume should focus on the quantifiable value that you delivered to previous employers. Maybe you improved payment results, increased free cash flow or made the sales ledger more efficient. Describe these improvements in measured before-and-after terms. Employers need certainty that they are working with the right numbers to make the right choice of which bookkeeper to hire. 
Competition for any given bookkeeper position may be fierce. There are three basic considerations for a bookkeeper resume:
Describe the broad range of your work and how your financial acumen impacts others.
Don't be scared to share the details. Your resume will be read by a person who understands finance.
Don't forget about highlighting continuous learning. Industry regulations are always changing.
Expert tip
For additional ideas and direction, take a look at these related writing guides and resume examples from the Accounting and Finance category:
Describing the bookkeeper job role: what to include
Strive to record in your resume as many bookkeeper qualifications as possible that are relevant to the job role you are seeking. Technology will comprise a large part of the content, along with obscure financial details, along with hints of how you go about working with others. 
Your resume is not a place to simply describe job duties you are equipped to carry out. Those who review your resume know what a bookkeeper is expected to do, likely because they are involved in finance themselves. So it is important to drill down a couple of detail levels covering the aspects they will be most interested in. Talk about the projects that you have taken on, especially those with a technology slant. The world of work is changing and bookkeeping is no exception. Employers are seeking technologically aware candidates who can take their financial department to the next level. 
In addition to the considerations outlined above, first you need to ensure that your bookkeeper resume passes the Applicant Tracking Systems (ATS) keyword test.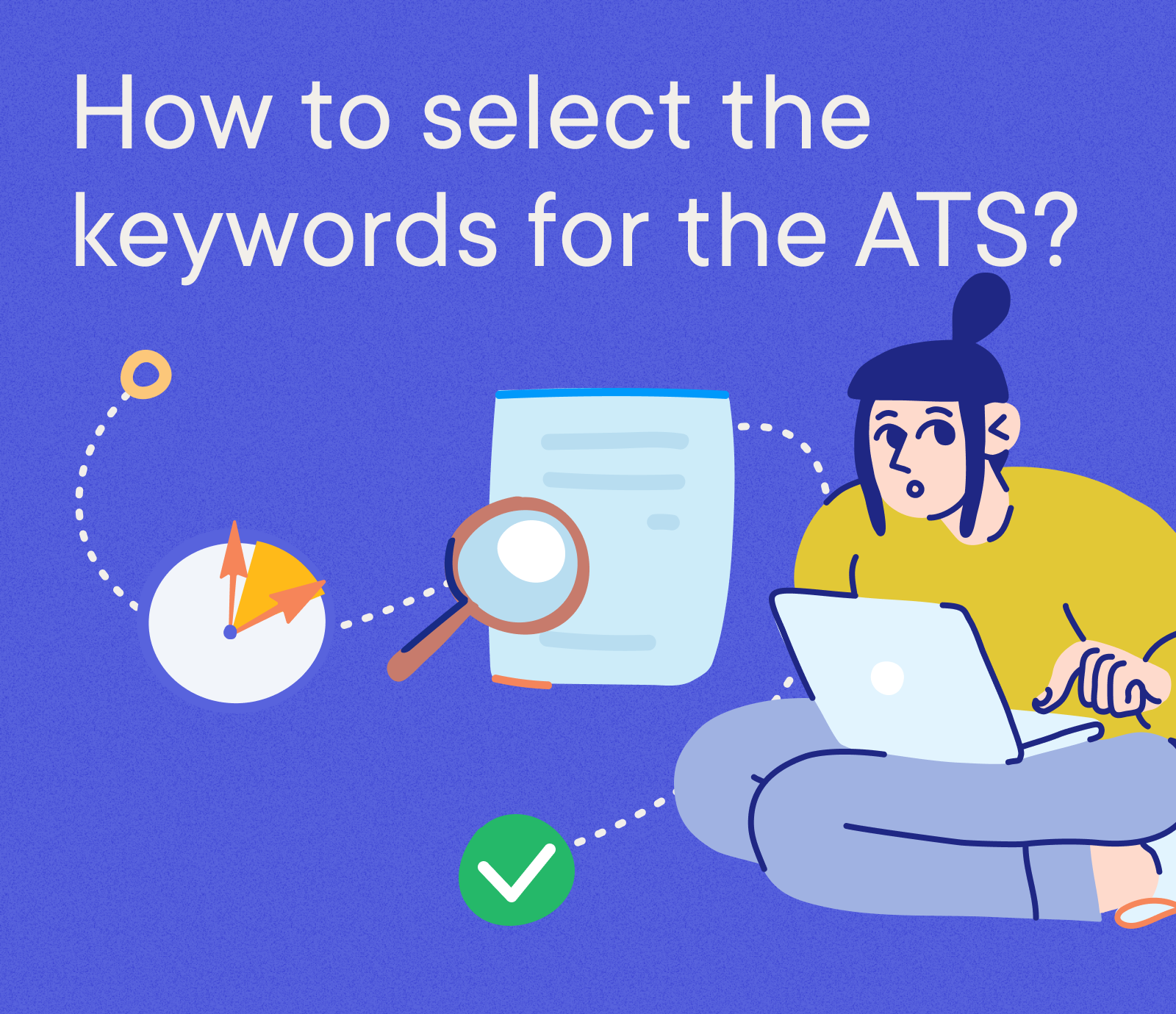 How do you select the right keywords for the ATS?
As bookkeepers are so highly qualified, and as they must handle various aspects of legislation and procedural aspects, it is important to include the key industry keywords in your resume. This will show the ATS software that your resume is indeed the resume of an accountant and not someone who has put together a few Excel spreadsheets at the end of the quarter. 
The number of bookkeeper job applications is typically very high, and littered with people who are not qualified for the role. So ATS software acts as a first-stage filter to select those who really do have the skills required. Make sure you have an ATS keyword strategy that will send your resume sailing through, so it does not inadvertently discount your application. 
Expert tip
The advertised job description is often a good place to start for understanding the nature of the challenge ahead in the position you are applying for. It is even more important for choosing the right keywords to use in your resume. Incorporate keywords and skills from the job description, along with critical terminology specific to the industry and job function.
Choosing the best resume format for a bookkeeper
The most commonly used chronological resume format works well for job seekers in almost any occupation, particularly if their work history has followed a linear path in a series of employee positions. In that resume section, progressive job experience and accomplishments are organized by employer / workplace in reverse order from most recent to earliest dates. It would likely be a good fit for most bookkeeper job applicants who already have experience in this field or another kind of accounting or finance background.
Alternative resume formats are sometimes appropriate for those new to the workforce or changing careers, or those with a more varied occupational background. That includes some self-employed professionals with a project-based background well suited to a functional resume format. Other functional resumes emphasize specialized technical skills rather than work history. In some instances, a hybrid resume format makes sense in combining chronological and functional elements.
Resume summary example: an impeccable image
The ATS algorithm places great weight on the content of your resume summary (sometimes called the profile or personal statement ). It is vital in this section to demonstrate how you go about your work as a bookkeeper.
Your bookkeeper resume summary should portray you as having a safe pair of hands and clinical mindset for ensuring that all of the figures add up. It should describe you as someone who puts figures and statistics at the heart of your work, No spreadsheet is too complicated and no expense too insignificant. 
The summary should emphasize competency first and personality second. Pack it with detail about the intricacies and scale of the work experiences highlighted. Tell future employers about the degree of complexity you can handle. Offer reassurance that you will not let them down, no matter how much pressure you are under. Ensure that your qualifications and training are center-stage and give them a professional slant.  
Try to avoid unnecessary language
Keep your resume summary sentences short and the impact powerful. Bookkeepers are not expected to write compelling presentations, give speeches or communicate effectively to any significant degree. Therefore, your resume does not need to be heavy with fancy language. Make the summary practical, focused on the core of your job and with a hint of personality.
Include industry-relevant details
The intricacies of accountancy will vary depending on the industry you work in. Running the books for a retailer will be very different from a construction company, for example. Make sure that you consider the requirements of the company that you are applying for when you write your summary.
Adaptable resume summary example
Knowledgeable and experienced Bookkeeper with extensive knowledge handling and documenting financial transactions according to policies and preferred procedures. Experienced in maintaining accounts, processing accounts payable and receivable, managing invoices, and delegating payroll. Bringing forth excellent customer service skills, strong organizational skills, and the ability to communicate well with others. 
Employment history sample: a precise record
A bookkeeper's employment history should not only be a list of responsibilities; ideally it should include the financial impact of your work. Imagine what would happen if you were not there. That is your impact, and it can almost always be quantified. 
You will never know what kind of financial challenges are afflicting your future employer until you get to the interview stage, so try to make your employment history section as packed with as much potentially relevant information as possible. Something that you feel is mundane and standard might be exactly what this organization needs and is looking for.
Make sure that you show a thread of continuous learning through your experience section, picking up on any legislative changes and projects typical in the industry at the time. You need to be seen as a leader for the accountancy function, not a follower. 
Your employment history should start with the roles that are most recent and contain the lion's share of detail. No one will care what you did for an employer 20 years ago, but they will certainly care if you have carried out work that is likely to impact them in the near future. Illustrate your experience with measurable results and make sure that there are as many comparable facts and figures as possible to provide context. Take pride in not just turning up to do a job; you come to work to conserve money and improve profits. That is the task of an all-star bookkeeper.
Although interpersonal skills may be less fundamental to a bookkeeper's role than in other occupations, don't overlook the effectiveness of your interactions with colleagues and suppliers in getting things done. For instance, convey your ability to translate financial issues into everyday language. 
Consider using the STAR method to describe achievements in your resume's work history section: Situation you were in, Task(s) you had, Actions/strategy you used and Result you achieved.
Adaptable resume employment history example
Bookkeeper, Schwartz & Associates 
Jul 2016 - Sep 2019, Austin 
Processed payment and assisted with all financial transactions.  
Prepared payroll and direct deposit accounts.  
Maintained books including bank statements, transactions, and all receipts.  
Helped to manage and resolve billing disputes and collections.  
Prepared Federal, City, and State tax returns.  
Worked with Accountant at the end of the year to provide information and ensure accuracy.  
Bookkeeper, Brookfield Medical Center 
Aug 2013 - Jun 2016, Brookfield 
Documented weekly and monthly payrolls and prepared tax documents.  
Processed accounts payable and accounts receivable. 
Organized and computed payroll data for employees.  
Utilized a new Excel financial recording system to increase efficiency and accuracy.  
Communicated with customers to resolve outstanding payments and develop payment plans. 
Bookkeeper resume education example: an academic foundation
The education section of your bookkeeper resume is where you list college degrees and other relevant training and credentials in reverse chronological order, from highest to lowest levels.
While college degrees are common for bookkeepers who work in larger companies, they may not be essential. 
A number of industry qualifications can be pursued, and alongside their functional learning, bookkeepers can also gain an industry-recognized designation from their professional body. 
The American Institute of Professional Bookkeepers (AIPB) awards the Certified Bookkeeper (CB) designation to candidates who meet their requirements, which include at least two years of bookkeeping experience. The CB credential is awarded after an applicant successfully completes a four-part examination. The certification is valid for a period of three years. Recertification involves the completion of continuing education hours.
Adaptable resume education example
Baylor University, Bachelor of Communications, Waco 
Sep 2009 - May 2013
Bridge City High School, High School Diploma, Bridge City
Sep 2005 - May 2009
CV skills example: the perfect toolset
The skills listed on your bookkeeper CV reflect your understanding of their crucial importance to an employer's financial health. Bookkeepers require mainly financial-related skills in their daily work, with typically less emphasis on soft skills. But this does not mean that people skills have no place in resolving conflicts or smoothing over problems.
Here are a few of the short skill phrases / words that you could include in the skills section:
Record Spending, Invoices / Sales, Purchase Orders, Filing Accounts, Balance Funds, Software Expertise, Manage Sales Leger, Verify Transactions, Handle Investments, Manage Payment Process, Liaise with Banks / Suppliers, Prepare Tax Returns, Work with Accountants, Process Accounts Payable, Handle Payroll, Data Entry, Numerate, Spreadsheet Work, Financial Paperwork, P&L Management, Operating Expenses, Internal Funds Management, Historical Record Keeping, Budgeting, Admin & Clerical Support. 
Adaptable resume skills section example
Advanced Technological Skills 
Bookkeeping Software 
Data Entry Skills 
Accounting Skills 
Team Leadership Skills 
Market Assessment Skills 
Superior Communication Skills
Resume layout and formatting 
The right layout, design and formatting choices will help ensure that every element of your bookkeeper resume is visually clear and effective. There are no specific rules to follow, but it's generally advisable to match the degree of formality to the industry and employer. Consider the impact you want your your resume to make on financial professionals who are likely to value substance over intricacies of style.  
Keep the look simple, clean and uncomplicated. Bullet points are ideal for enhanced readability. 
Our resume template collection offers a wide range of attractive, field-tested designs. They are easy to customize with your own replacement text using the resume builder tool . For a bookkeeper resume, we recommend choosing a template from the Professional or Simple categories. They are especially well-suited to the polished and disciplined image of financial professionals, created in a timeless style.
Key takeaways for a bookkeeper resume
Make sure that your resume reflects your meticulous attention to detail.
Focus on your qualifications, the scale of your work and your projects.
Show how you have adopted and integrated the latest technology into your work.
Demonstrate improvements to your credit, in terms of the measurable financial impact; this is the difference you can make to your next employer,
Include all the relevant bookkeeping terminology to pass the ATS test.