So you're ready to take the next step in your career as a civil engineer. Excellent! Get started with Resume.io's civil engineer resume example and writing guide. With our resume builder and customizable examples, you've got all the tools to create an impressive resume right at your fingertips. Getting a great job as a civil engineer takes more than experience and an education. You have to attract the attention of the people with the power to hire you. But how do you do that? With the help of this civil engineer resume writing guide, you will learn:
Key factors in the civil engineering job market
Why resume keywords are so important and how to use them
How to get your resume past the screening process to get an interview
Design and formatting pitfalls to avoid on a civil engineering resume
What does a civil engineer do?
Wherever there are infrastructure and building projects, there is a need for your skills. Civil engineers are the designers and supervisors of infrastructure projects. Those projects include many types of building. Here are some descriptions of 10 fields in which civil engineers work:
Construction: Supervise the entire building process
Structural: Focus on load bearing and safety of buildings, towers, bridges, tunnels and other projects
Surveying: Identify and measure property lines and level land
Transportation: Design and maintain roads and public transportation systems
Geotechnical: Study the rock and soil in the construction area
Water resource: Design and build hydraulic structures such as dams and canals
Environmental: Develop ways to prevent pollution and promote health and safety both indoors and out
Material: Study different construction materials
Coastal: Build coastal and marine structures such as embankments
Forensic: Investigate why structures fail
How to write a civil engineer resume
If you are just starting your career as a civil engineer, you may want to individualize your resume for each different specialty. If you are taking the next step in your career, decide whether you are looking into the same specialty or want to make a lateral move. Your civil engineer resume should reflect those goals.
Statistical insight
The market for civil engineers is expected to grow 8 percent from 2020 through 2030, which is as fast as average for all professions, according to the U.S. Bureau of Labor Statistics.
Civil engineers need a wide variety of skills in addition to job-specific mathematical and engineering skills. This civil engineer resume example and writing guide will help you include all the most important skills for each position. These sample keywords will also play a big role in getting you past the programs designed to limit the number of resumes recruiters review. Civil engineers work closely with professionals such as architects, construction managers , mechanical engineers , and urban and regional planners. They spend time in offices during the design phase of a project but may be outdoors much of the time during construction supervision. Civil engineers may also be expected to work onsite at locations away from home.
Applicant Tracking Systems
Applicant Tracking Systems  (ATS) are software tools used by companies to streamline their hiring processes. The software scans resumes hunting for keywords and other information employers identify as important, and then it uses algorithms to rank resumes. If your civil engineer resume doesn't include the information the ATS is scanning for, or if it is poorly formatted, your resume will be rejected before it ever reaches the hands of a person. Beating the ATS requires a careful effort to include the words used within job listings on your resume. These are skills employers are telling you they seek in civil engineers. You will need to analyze each job listing and include the words used in the listing in your resume. That is why it is so important to tailor your resume to each civil engineering job.
Expert tip
Don't use only acronyms for skills or association memberships. Write out the full name and use the acronym. That way, if the ATS is only scanning for one, you will be covered.
Looking for some extra inspiration? Check out our engineering resume writing guides below. 
Skills example section: List your talents
As a civil engineer, you have a lot of important technical knowledge, but don't neglect your interpersonal abilities. Before you begin to craft your resume, you should take stock of your skills . One way to do this is to create a master list that includes any ability you have, no matter the level of your knowledge. Later, you can refer to the list and pick only the most relevant skills for your resume.
Expert tip
Organize your master list into categories such as technical skills, achievements, people skills, etc., to make it easier to manage later. You can add to this list as your career grows.
Your abilities can be divided into categories. Hard skills are the technical, mathematical and engineering skills you need to do your job. Soft skills are those that you need to interact with others and to function well in the workplace. Both sets are important to employers and, therefore, key to include on your civil engineer resume. Your completed master list will be your reference tool in building your resume. You can cherry-pick to create a skills section that fits each job. Your skills section is a simple list of five to 10 abilities most important to the civil engineer position for which you are applying. Match this list to the job description. Civil engineers must know software with different functions. Make sure you name the programs you know. Details are key for a civil engineer resume. The ATS is more likely to be scanning resumes for specific programs and not a general skill. 
Some sample software categories important for civil engineering resumes:
Analytical and scientific
Computer-aided design (AutoCAD)
Development and environment
Graphics or photo imaging
Map creation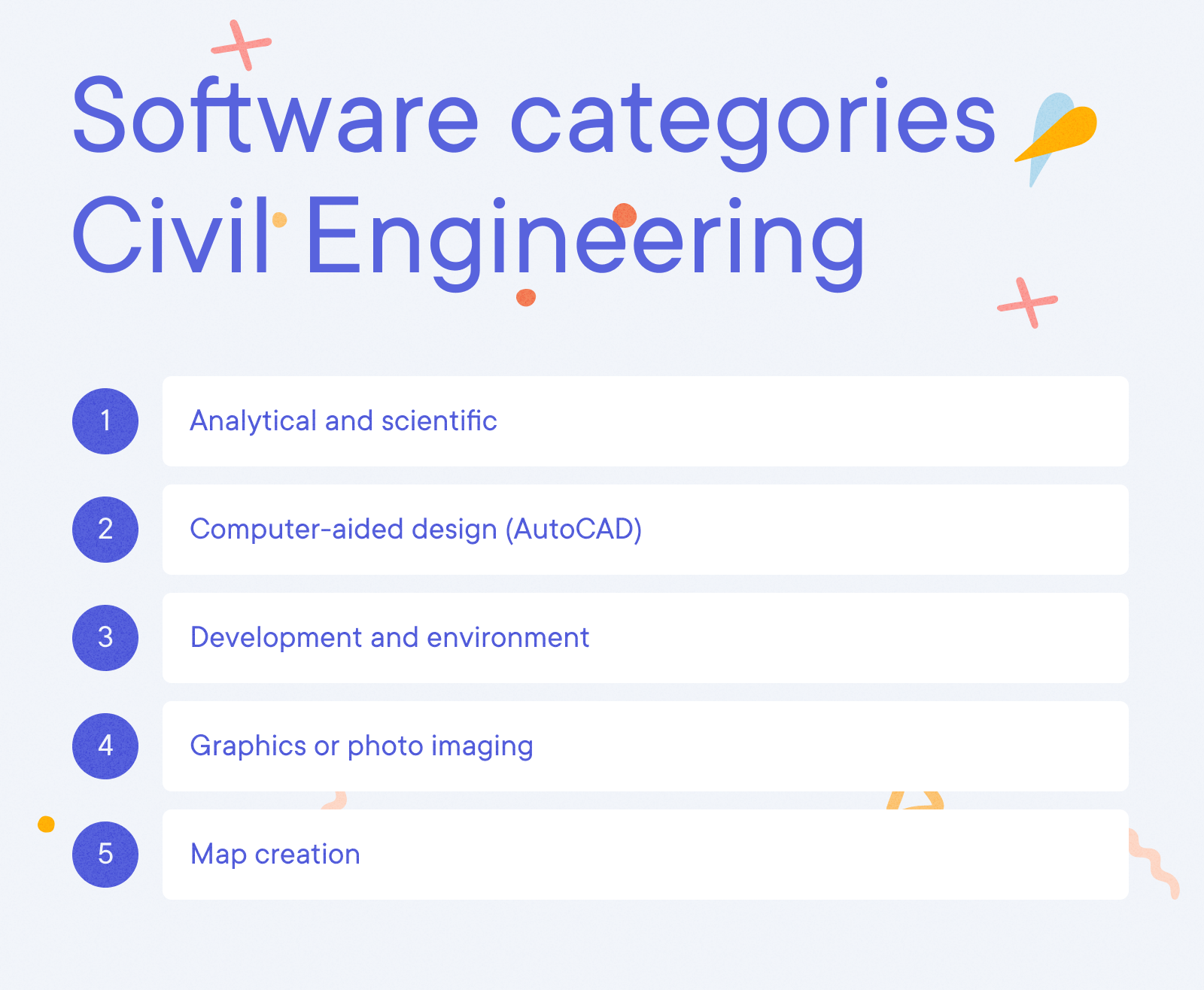 Also consider these hard skill examples when crafting your civil engineer resume:
Practical application of engineering science and technology
Knowledge of materials, methods and tools
Competency in all disciplines of mathematics
Design techniques for blueprints, plans, drawings and models
A great civil engineer takes hard skills and combines them with reasoning and people skills. That's why employers are also looking for engineers with soft skills . Add the most relevant of these to your skills listing on your resume:
Critical thinking
Problem solving
Active listening and communication
Information evaluation
Judgment and decision making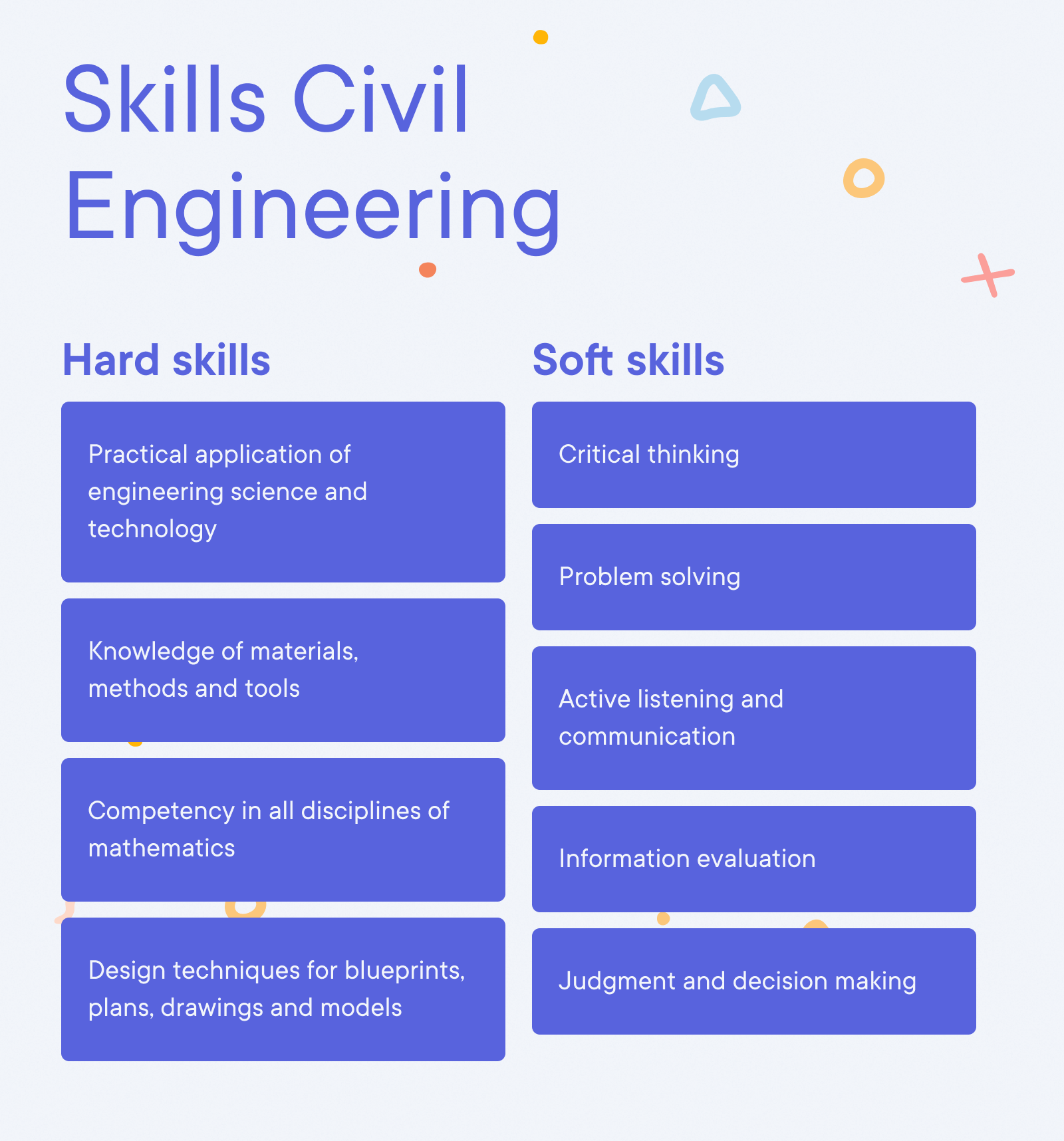 Statistical insight
Almost half of all civil engineers work for engineering services firms. An additional 11% work for state governments and 10% for local governments, excluding education and hospitals. Some 6% are employed in nonresidential building construction projects, and 3% work for the federal government, according to the Bureau of Labor Statistics.
Even after your resume makes it past the ATS, you will have less than 10 seconds to inspire a recruiter to grant you an interview (6-8 seconds is what eye-tracking tests have shown recruiters spend on average when deciding whether to skip a resume or to delve deeper into it). Every section of your civil engineer resume must be high-impact.
Civil Engineer Resume Example: Skills Section
Analytical Thinker
Principles and Practices of Engineering
Creative Problem Solving
Field Investigation Skills
Project Management
Civil engineer resume summary example: A touch of personality
The resume summary give recruiters a sense of who you are professionally and personally. Your civil engineer resume should be an impressive recounting of your achievements and successes, and your profile allows you to get a little creative. While recruiters are looking for specific skill sets, they are also looking for personalities they believe will fit into the work environment. That's where your resume profile comes in. Also known as a personal statement , this short paragraph allows you to add some description that explains your work style and professional personality.
This is the spot to highlight your most impressive achievements. But a simple description won't do it. You must construct your sentences as deliberately as you build infrastructure. You don't have much space, so every word counts. Use strong action verbs and declarative phrasing. You are motivated and get the job done well, so show it in your resume. This section occupies prime space at the top of your resume, so make it shine. It is also your chance to show off your written communication skills. One way to get started is to focus first on your relevant civil engineering experience. Then write a sentence or two on your achievements. Finally, add a sentence about your goals and what you will bring to your next position. As always, check the job listing and mesh your resume summary with the stated requirements of the civil engineering job.
Expert tip
After you complete a first draft, go back and delete any words that are unnecessary padding and waste valuable space.
Civil Engineer Resume Example: Summary
Dedicated and experienced Civil Engineer with extensive knowledge of engineering principles, theories, specifications and standards. Bringing leadership, drive and over seven years of experience to the table. Proven track record of finishing complex projects under budget and ahead of schedule. Substantial knowledge and experience with environmentally sustainable construction. 
Resume employment history example: Your career story
Much more than a chronological listing of jobs , this resume section tells recruiters that you are constantly learning and growing as a civil engineer. One of the first items a recruiter will scan for on your resume is your current employment information. Once past there, they want to see a pattern of achievements and successes. Employers want to know what you will bring to the company and whether you are willing and able to learn and take on new challenges as their next civil engineer.
Statistical insight
The median salary for a civil engineer in 2020 was $88,570, according to the Bureau of Labor Statistics. The bottom 10 percent earned less than $56,160 and the top 10 percent earned more than $144,810.
For your work experience resume section, don't just write a list of your job responsibilities. As a civil engineer, you have worked on infrastructure projects that presented different problems and required unique creative solutions. Consider the job for which you are applying and highlight a challenge related to that job on your resume. Be as detailed as possible when you write your resume bullet points. 
Expert tip
Use the CAR format: explain the challenge, describe your action and detail your result. Use data and measurable facts whenever possible. Enumerate which skills you used to achieve the results. Also consider including how your results helped your employer or satisfied clients.
This resume section should be full of those strong action verbs you also placed in your profile. Here are a few examples to help you strengthen your resume descriptions:
Instead of
Prepared designs
Managed project
Checked structural safety
Performed technical review
Try
Designed
Supervised team
Ensured structural integrity
Assessed technical specifications
To get you started with your employment descriptions, here are a few sample questions you can ask yourself:
What is the achievement I am most proud of?
What data do I have to back up my results?
What aspects of my experience illustrate my soft skills best?
Did I earn a promotion and if so, how?
Did I receive any accolades, awards or honors at work?
Try to show a pattern of growth from your first job to your current civil engineer position. If you are just starting your career as civil engineer, you will have a more extensive education resume section that will illustrate your ability to do the job. Also be sure to include any examples of internships you worked as part of your education.
Word clouds
Sometimes job descriptions can be overly detailed or too vague. When that is the case, it can be difficult to decide which keywords should be a priority on your resume. You don't have to resort to a guessing game, though. Instead, try using a word cloud application such as wordle.com or wordart.com. These applications take text and turn it into art. The words that appear most frequently in the text also appear in the biggest font in the word cloud. If you create a word cloud with a difficult job description, you should get a much better idea of which civil engineering skills are important on a resume to your potential employer.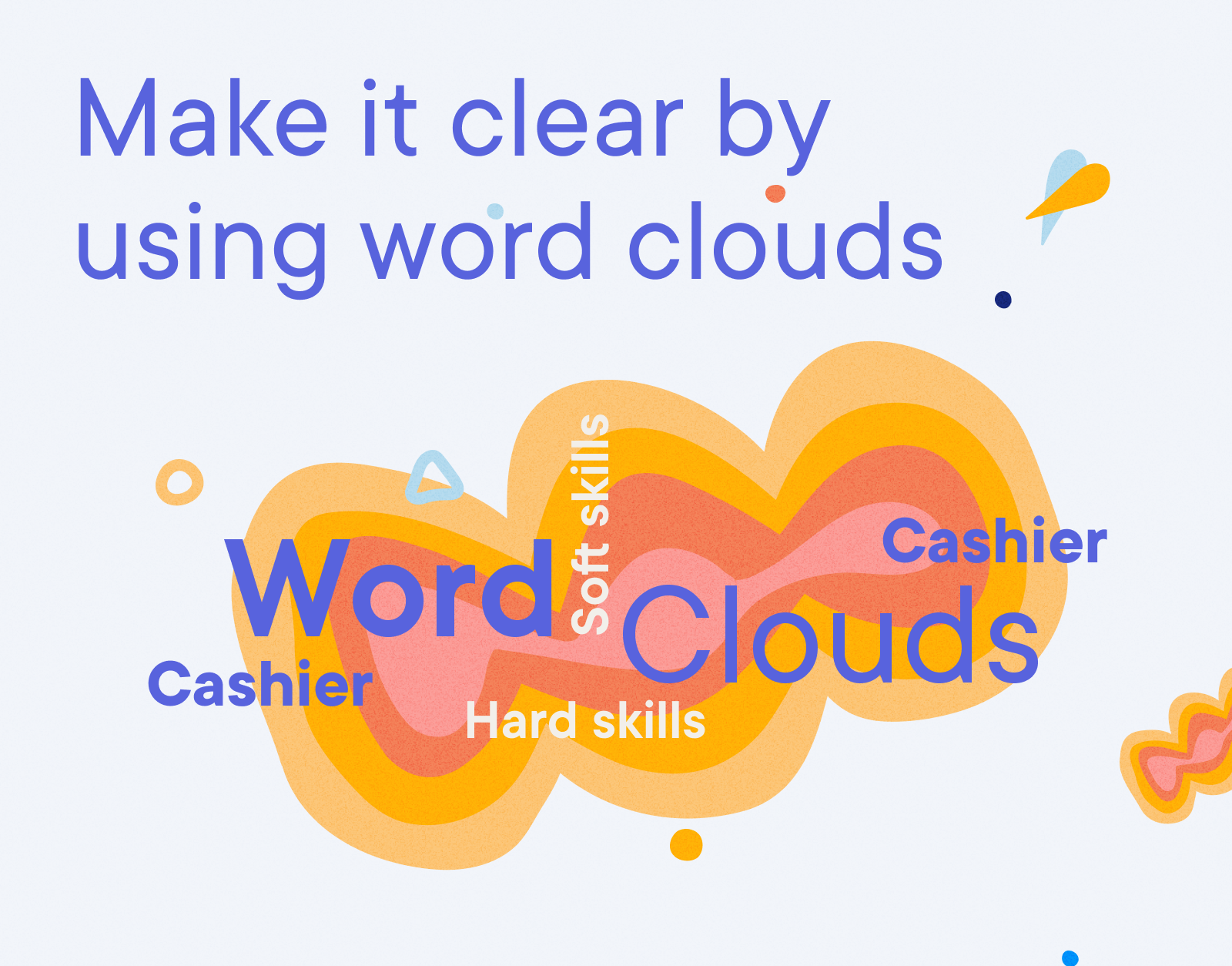 Civil Engineer Resume Example: Employment History
Civil Engineer, Hexagon Corporation, Hartford, CT 
September 2014 - September 2019
Carefully managed projects so that milestones were met during agreed time and within budget confines.
Attended meetings to discuss projects with clients, contractors, asset owners and stockholders.
Created detailed plans and frequently monitored progress to assure project goals were met.
Ensured that building regulations were all met and provided thorough directions with any unusual or difficult engineering issue.
Civil Engineer, Racon & Lewis Ltd, Danbury, CT 
August 2012 - August 2014
Planned and directed the execution of various projects, keeping economical, administrative and physical requirements in mind.
Trained incoming engineers to meet standards and protocol expectations.
Wrote daily reports for accountability and quality assurance.
Advised project managers on financial decisions regarding product costs.
Junior Civil Engineer, Racon & Lewis Ltd, Danbury, CT 
August 2009 - August 2012
Assisted senior engineers with tasks related to ensuring project success.
Inspected all materials to ensure project specifications are met.
Thoroughly inspected all major structures and supervised revisions.
Monitored construction and inspected installation of major systems.
Assisted with and independently produced engineering reports.
Civil engineer resume education example: Your learned skills
Your schooling got you your start, so be proud of it. Civil engineers need at least a bachelor's degree, but 26% have earned master's degrees (as shown by ONet data). If you have a master's degree, you can eliminate your high school diploma from your resume and focus on your college education. If you are entering the job market for the first time, consider including your GPA on your resume if it is impressive. You may also want to create an "Experience" section instead of an "Employment History" section and break out some of the projects you completed as coursework. 
Make sure you note that you have taken the Fundamentals of Engineering Exam or that you are an engineer-in-training or civil engineering intern. As you progress, depending on the state in which you work, you may have to take more exams to become a civil engineering professional. If you have more than one professional certification, consider including a separate resume section. In that section, you may also add any professional associations you belong to or conferences you attend. Make sure to label it appropriately as Certifications and Associations. Recruiters like to see that you are involved in continuing education outside of the office as well.
Civil Engineering Resume Example: Education 
Master of Civil Engineering, New York University, New York 
January 2009 - January 2011
Graduated with a 3.9 GPA.
Bachelor of Civil Engineering, Manhattan College, Riverdale, NY
August 2005 - May 2009
Graduated suma cum laude.
President of the Engineer's Society.
Choosing the best CV format for a civil engineer
As a civil engineer, you know how to create streamlined projects. Think of your civil engineer resume as one of them. Recruiters want to be able to quickly access your information without hunting or developing eye strain, so you want your resume to be neat and professional. Some job-hunters think the best way to stand out is with an overly fussy or colorful resume design, but they are wrong. Impress recruiters with your skills, accomplishments and successes and make those items easy to find by keeping your resume straightforward. 
Here are some examples of how to get the most out of your resume or CV format:
Stick to traditional, easy-to-read fonts.
Make your contact information prominent and easy to find.
Organize with the clear sections laid out in this guide.
Vary line lengths to maintain white space.
Do not use tables that can be misread or cause formatting errors.
Save your resume as a PDF file.
When you need to put together a professional and attractive civil engineer resume quickly, a resume template may be able to help. These frameworks make sure you follow all the resume format rules while allowing you to customize the design for your exact needs as a civil engineer. Resume.io offers dozens of template samples in four main categories: professional, modern, simple and creative. These can work for a variety of civil engineer resumes, depending on the type of firm you're applying to. With our resume builder, you can also take advantage of pre-filled sample sentences and easily swap out your template depending on the branding and tone of the company where you hope to work.
Expert tip
Even professional editors know not to edit their own work. Have a friend or colleague proofread for spelling, grammar, word usage, and design and formatting flaws.
Resume.io's builder tool plus our expert-tested CV formats were created to take the guesswork out of excellent functionality and style for your civil engineer resume.
Key takeaways
The job market for civil engineering is expected to grow little in the decade ahead, but you can stand out from the competition with a stellar resume.
When submitting your civil engineer resume online or to medium/large employers, you're likely to be first screened by an ATS algorithm before reaching a human hiring manager. Optimize your resume for this purpose to avoid the "resume black hole."
Brainstorm a master list of skills as a separate document, and spend time on prioritizing and cherry-picking the best ones for each job. This way, you will custom-tailor your resume and increase your chances.
Make short vibrant sub-lists beneath each job in your employment history, describing the results, achievements and milestones of your past experiences.
Pay special attention to your layout, design and formatting, as strong visual presentation is as important as the text of your civil engineering resume. Using professionally designed resume templates helps avoid technical and psychological pitfalls.