Delivery drivers are the final step in a product's journey from producer to consumer, always expected to put the customer's needs first. How do you show a hiring manager that you'd make a reliable and efficient delivery driver? An exceptional delivery driver resume can put you on that persuasive road to landing the perfect job in no time. 
Let Resume.io help you create one that performs and delivers on that promise. As a leading resource for job seekers,  we've produced more than 300 occupation-specific resume guides and resume examples , backed by an easy-to-use resume builder. 
In this writing guide, backed by a delivery driver resume example, we'll focus on writing a resume to land you a consistent and fair-paying job, whether part-time or full-time, with a company that values your time and services. These are the topic's we'll cover: .
What does a delivery driver do?
How to write a resume that:

Sets you apart as a delivery driver
Gets you in the door with top delivery companies
Shows off your driving record as well as your soft skills
Expresses your commitment to customer service standards

The best format for structuring a delivery driver resume
Advice on each section of your resume: header, summary, work history, education and, skills
Professional resume layout and design hints.
What does a delivery driver do?
Despite the demands of lifting heavy boxes, bad weather conditions and making drop-offs and pickups under tight time constraints, working as a delivery driver can be very rewarding. Drivers often need little more than a high school diploma and a clean driving record to get started, and many positions pay an attractive hourly rate. The job allows for flexibility, and while some drivers must make early morning or late night trips, many others work during the day. 
Delivery drivers are expected to be patient, focused and detail-oriented, but that doesn't mean the job can't be enjoyable. Drivers that work on consistent routes get to know their customers (and their customer's pets) and are responsible for their own time management and completion of tasks. 
These may be some of your reasons for needing a delivery driver resume that steers straight to the job you want.
Understanding the different types of delivery jobs
Not all delivery driver jobs are created equal. The experience of working for an international delivery company like Amazon, UPS or FedEx will vary greatly from making early morning produce deliveries to local restaurants. That, in turn, is much different than working through an app for a food delivery service.
Expert tip
While delivery driving may seem like an entry-level job, many of the best positions are quite competitive, meaning a good resume is a must.
The past decade has seen a surge of gig-based delivery jobs which ask you to drop off packages or food using your own car, thereby incurring all the expenses for gas and repairs, often with no extra perks. This type of delivery job is meant to serve as supplemental income, with mass-hiring via an app. In this writing guide, backed by a delivery driver resume example, we'll focus on writing a resume to land you a consistent and fair-paying job, whether part-time or full-time, with a company that values your time and services.
Statistical insight
According to the U.S. Bureau of Labor Statistics, the road ahead for employment of delivery truck drivers and driver sales workers is looking good. Job numbers are expected to increase by 12% between 2020 and 2030, faster than the average for all occupations. The outlook is especially dynamic for driver jobs that support e-commerce industries, especially online grocery shopping. 
The median pay for delivery truck drivers and driver/sales workers in 2020 was $34,340 per year, or $16.51 per hour.
Looking for similar jobs in the transport and logistics industry? See our other resume examples and guides listed here below:
Seasonal positions
Customers used to wait five or more days to receive a package. Now, two-day shipping or even same-day delivery is the norm. This has amounted to a big demand for competent delivery drivers, especially during peak shopping times like Christmas. In the U.S., major delivery companies hire hundreds of thousands of delivery drivers to complete last-minute drop-offs. Having a killer resume ready to go as soon as the seasonal work becomes available can help you make some nice extra cash.
Statistical insight
Seasonal delivery drivers are often paid $15 an hour and some can make upwards of $18. A full-time driver for a national company can make up to $30. (2018 statistics, U.S.)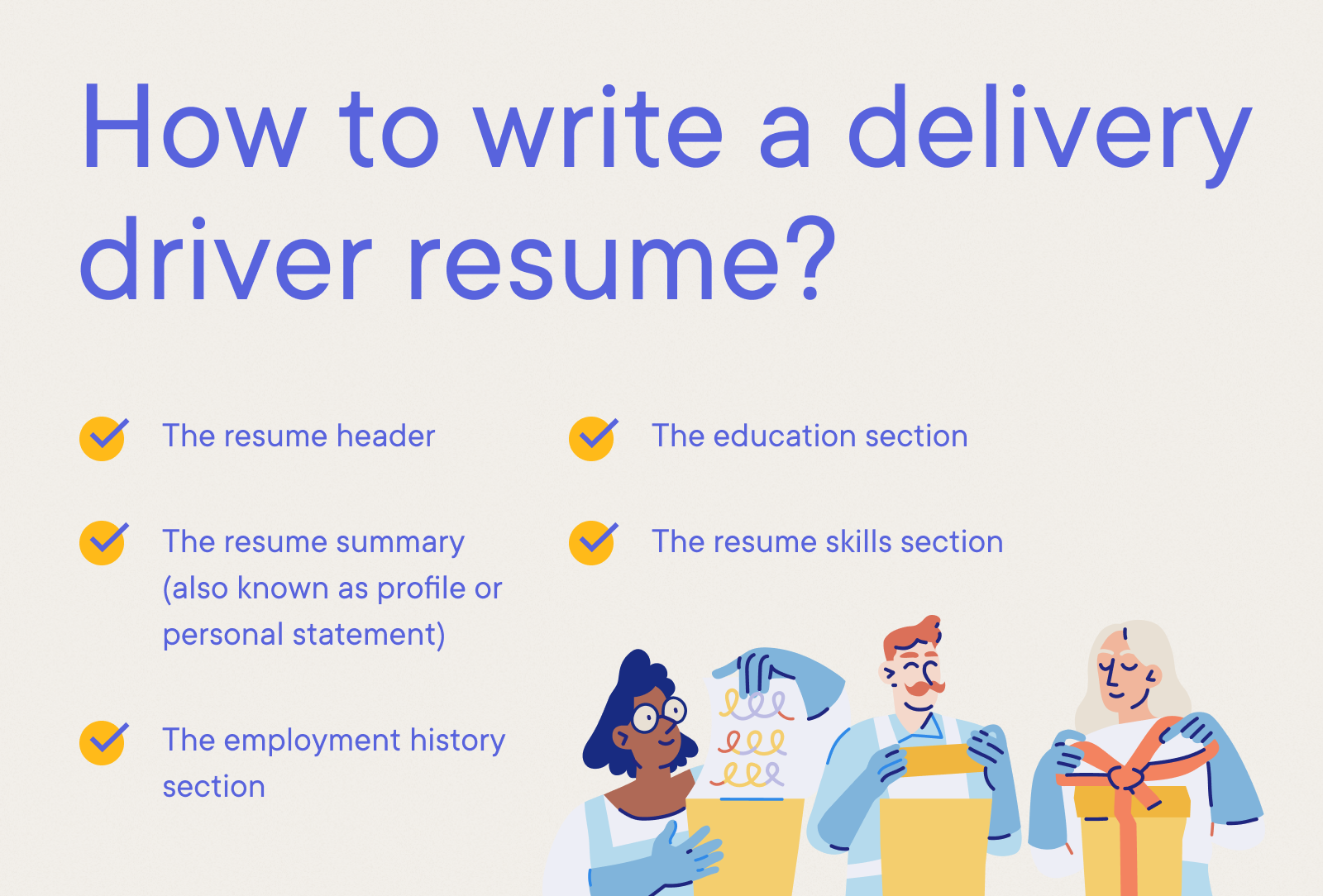 How to write a delivery driver resume
The goal of this writing guide, along with delivery driver sample sentences, is to help you build a resume with the following elements:
The resume header
The resume summary (also known as profile or personal statement)
The employment history section
The education section
The resume skills section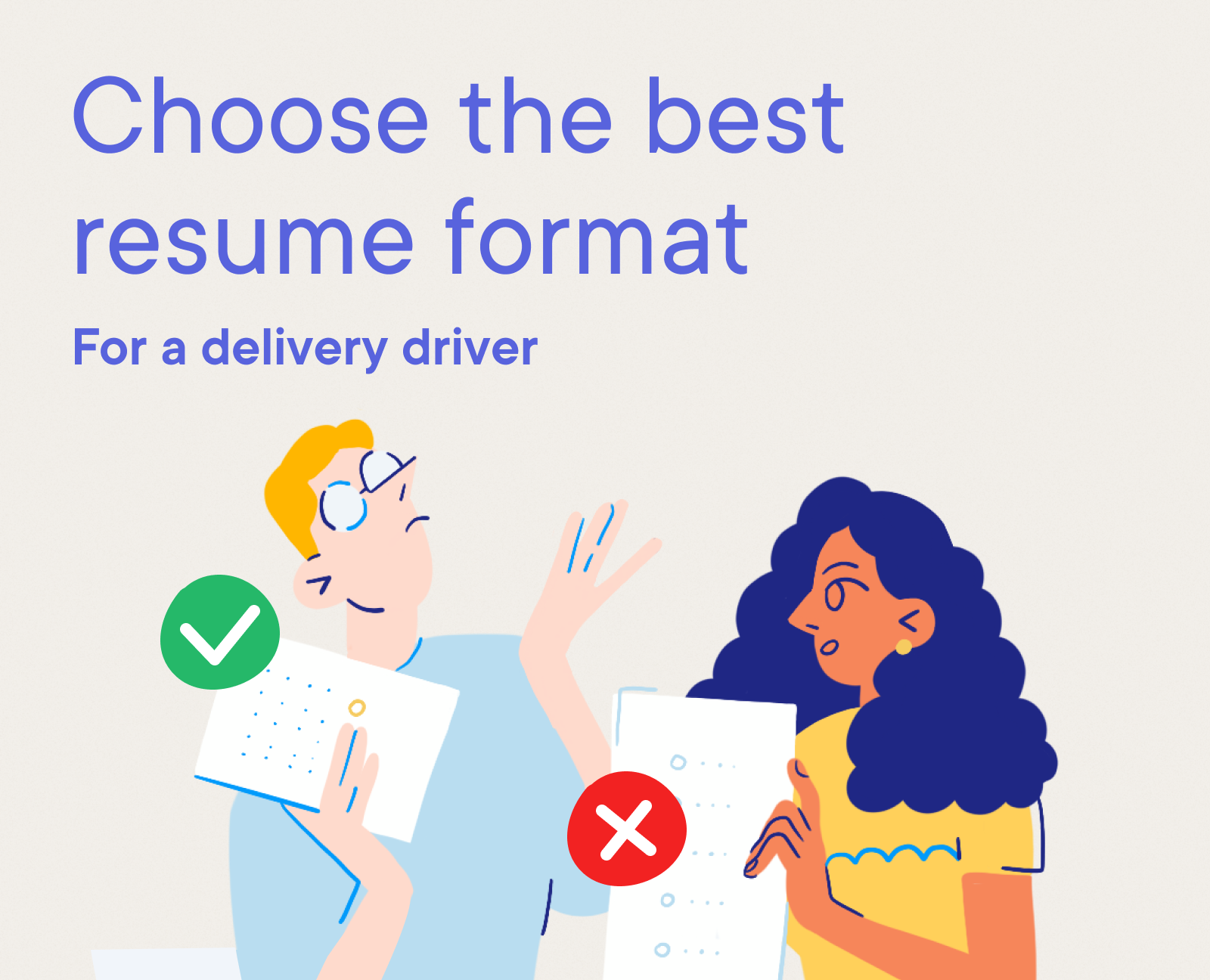 Choosing the best resume format for a delivery driver
The most commonly used, failsafe chronological resume format is ideal for structuring most resumes. It could be perfect for your delivery driver resume by providing the most straightforward overview of your work experience in the employment history section. It works especially well if you've worked mostly as an employee rather than being self-employed.
But if the delivery driver role you're pursuing is a major departure from your previous occupations, or if your job background is quite varied, take a look at alternative resume formats . Having a history of self-employment or if you have specific transferable work skills that you acquired outside of driving or delivery roles, then you might want to consider a functional resume format. Or, the most versatile hybrid resume format incorporates functional and chronological elements.
Expert tip
Heading off to a great start
Strike the right impression instantly with a dynamic resume header that sets you apart from other candidates. Recruiters can readily identify who your resume belongs to and how to reach you for an interview. Reinforce the eye-pleasing impact with a resume and cover letter that have matching headers and other design elements.
Resume summary example: Reliability first and foremost
Use your resume summary to prove to employers that you're a delivery driver they can count on. The summary (also known as the profile or personal statement ) is the only free-form part of your resume. Unlike the other sections — mostly bullet point lists—  here you have three or four sentences to give a brief overview of who you are, your professional character, and your most important skills, qualities, achievements and experiences. 
The resume summary is great for adding some personality and a human touch to what otherwise can feel like a very dry document. You want to impress your potential employer with your qualifications, but you also don't want to seem like a robot.
Statistical insight
When looking for a delivery driver job, don't forget to think local: about 30% of drivers work for small companies with 50 employees or less, according to the U.S. Census Bureau.
A company trusts its delivery drivers to work with integrity: doing the job honestly and correctly even while no one is supervising them. The resume summary is a great place to highlight these qualities while also mentioning any certifications, previous experiences and the all-important clean driving record. 
Start with the basics. How many years of experience do you have making deliveries? What types of vehicles are you legally allowed to drive? Are you especially knowledgeable in transporting hazardous materials, food or other perishables goods? What are your strongest soft skills or personality traits that make you stand out as a delivery driver?
You can find a delivery driver resume example summary below.
Adaptable profile summary examples
Experienced and reliable Delivery Driver with over three years of experience transporting goods from production areas to customers and businesses. I bring forth a proven track record of timely, error-free deliveries, and a reputation for excellent customer service. Experienced in collecting payments, servicing delivery vehicles, and working with a team to ensure complete customer satisfaction. 
Employment history sample: A track-record of success
The employment history section of your delivery driver resume shows employers you can handle any bumps you may encounter on the road. Structure your work experience listings in reverse chronological order: starting with your most recent position and working backwards until you have several examples of your ability to work hard, multitask and manage your time effectively. 
The end result should be bullet-point highlights of your most relevant projects, achievements, duties and milestones for each job. 
If you've worked a delivery job before, try to quantify a typical day. How many deliveries did you make on average? Did you cover a wide area? How many pounds did you lift? 
Try to describe your physical strength and abilities accurately, or you might have big problems when you land the perfect job but can't complete its duties. 
Expert tip
Use related positions to highlight transferable skills, like attention to detail, good driving habits, customer satisfaction, stamina, organizational skills, punctuality and reliability.
Extra roles
Take a look at the nuances of your previous employment. You picked up and dropped off packages, but what other details went into each delivery? 
For example, were you responsible for overseeing the loading of the products and making sure your truck had the right shipment for each customer on your route? Did you take payments from customers? Were you asked to follow exceptional delivery instructions? Did you perform truck maintenance or office and paperwork procedures? 
Use strong action verbs to describe each of these secondary duties on your delivery driver resume.
You can find a delivery driver employment history resume sample below.
Adaptable employment history example
Delivery Driver at Fido's Inc. , Valhalla
August 2015 - September 2019
Provide quality customer service from the beginning of a transaction to the end. 
Utilize excellent time management skills to ensure that orders are received on time. 
Accurately processed order paperwork and payment transactions. 
Complied with company safety and sanitary standards at all times. 
Maintained the cleanliness of the trucks to ensure goods were transported in an acceptable environment. 
Assisted with food preparation when necessary. 
Delivery Driver at Erickson's Inc. , New York
September 2008 - July 2015
Worked in collaboration with other departments to ensure exceptional customer service with the delivery of high-end items. 
Adhered to safety rules when operating the trucks. 
Handled credit invoices and collected proper authorizations to proceed with transactions. 
Carefully packed and unpacked goods.
Assisted customers and reported any customer complaints. 
Performed routine maintenance checks on trucks. 
Ensured that all goods were delivered in a safe, timely, and effective manner. 
Related jobs
This might be your first go as a delivery driver, but previous positions that show you're not starting from scratch can give you a leg up on the competition.
Possible related jobs:
Taxi or ride-share driver
Bus or truck driver
Chauffeur
Warehouse worker
Below is a resume sample for a first-time delivery driver with related experience.
Adaptable work history example (with related experience)
Responsible for safe and timely pick up and drop off of 40 school children in a city district.
Worked long hours driving between customers' houses to perform repairs and installations.
Drove and carried 30 pounds of products between businesses as a sales representative.
Paid attention to fine details to quickly sort hundreds of packages in a large warehouse.
Delivery driver resume education example
Even if you don't have a formal education to list on your delivery driver resume, it's always a good idea to show your commitment to improvement. Delivery driving is often seen as one of the few well-paying jobs for people without college degrees in the United States. But that also means that these positions are becoming increasingly competitive. 
Having a strong resume is key to beating the competition and landing one of these prime positions. Generally a high school diploma or equivalent is necessary for a delivery driver job, although there are some companies that will accept less education. 
Most companies offer on-the-job training to give you the specific knowledge you will need to complete job tasks.
Statistical insight
Only 7% of truck and delivery drivers report having a bachelor's degree, according to the U.S. Census Bureau.
If you do have a college degree or a degree in progress, it helps to list it on your resume. In fact, some major American companies specifically look for college students who are seeking part-time delivery driver jobs. 
It's OK for your resume to reflect postsecondary education. Just make sure that you compensate during the job interview by dressing appropriately but not too professionally. There are many stories of applicants who have been disqualified for delivery jobs by showing up to the warehouse in a suit and tie.
Below you can see an education section from a delivery driver resume example.
Basic example sentence (adapt to your experience):
High School Diploma, Norwell High School, Norwell
September 2009 - May 2013
Certifications and licenses example: Keys to success
Your driver's license and record are the most important qualifications you need to be a successful delivery driver. It's important to make sure your license information is up to date and reflects the state or country where you intend to work. 
There are also various types of certifications that you can add to your resume, showing enhanced qualifications for being a delivery driver.
Licenses
Licenses come in different categories or "classes." In the United States, regulations vary slightly from state to state, but most people are issued a noncommercial class C license to drive cars and trucks up to 26,000 pounds (excluding motorcycles). Class C licenses can include multi-seat passenger vans and even some delivery trucks.  
To drive any vehicle that weighs more than 26,000 pounds, you will need a commercial drivers license (CDL). CDLs fall into two categories: class A is for tractor trailers while class B covers the one-piece vehicles most often used in local delivery routes. 
It's possible that the delivery job you want requires a CDL. In that case, you may need to pay for the schooling and pass the exam yourself. Since this type of training can be expensive, many companies offer to pay for their employees' schooling and pay them a lower hourly wage during the training period. In exchange, the company may ask you to commit to a year or two of working with them. 
A strong resume can help you land a train-to-work position and set you up for success in the long term. 
In order to snag one of these trainee positions, you'll need to show that you've got a squeaky clean driving record with smaller vehicles. You'll probably be asked to pass a drug test and a background test as well. Most companies look for drivers older than 21 but those requirements vary from state to state and among countries.
Certifications
You may choose to obtain additional certifications to add to your resume and show you are a cut above the rest when it comes to making deliveries. Examples of these include:
NSC-Certified defensive driving course
The National Safety Council is an organization that offers drivers of any experience level a course on anticipating and reacting to hazardous road conditions. If you're looking for a way to really prove you're a good driver, a course like this can give your words some weight.
Transporting hazardous substances or livestock
Certain types of deliveries require specialized knowledge and additional certifications. If you plan to drive hazardous substances or livestock, you will need a CDL and to pass additional exams that show you are committed to the safety of both the cargo and the other drivers on the road. 
Adaptable certifications example
Certifications: 
2019 – NSC-Certified defensive driving course
Completed an 9-hour training on safe driving and reacting to road hazards
2018 – Hazmat endorsement
Passed a written examination and background check to become certified in transporting dangerous goods
CV skills example: A cut above the rest
Here's where you create the perfect balance between personality and know-how.
Hard skills : While good driving is the primary concrete skill needed to make deliveries, there are some additional competences that can show employers you're a capable candidate.
Adaptable hard skills example
Ability to drive box trucks, semi-trailers and refrigerated trucks
Experienced in the care and transport of livestock
Skilled in using various GPS and navigation systems
Completing vehicle maintenance tasks like changing tires or oil
Handling customer paperwork or package tracking applications
Regularly lifting 70 pound packages
Applying safe driving and delivery protocols during all delivery routes
Expert tip
An ability to follow safety protocols is one of the most important skills a delivery driver can possess, so don't forget to mention it here! 
Soft skills : Personality may not seem like a key quality for a delivery driver resume, but don't forget that drivers are often the only in-person representatives of the company customers order from. 
While drivers are often on the road solo, a candidate who can interact positively with warehouse staff and clients will be on the right path to success.
Adaptable soft skills example
Highly teachable
Able to adapt to dangerous road conditions or traffic
Time management
Self discipline and motivation
Focus, patience and mental stamina
Friendly and professional with customers and teammates
Resume layout and design
A simple, yet commanding visual style for your CV shows hiring managers they can trust your skills and track-record. Think of your resume layout, design and formatting as the delivery vehicle for your experience. 
To get hiring managers from point A to point B, it's essential that you choose a resume or CV layout that is clean and straightforward. For a delivery driver resume, it's not necessary to add color, images or other formatting flourishes. 
You may choose to add some clean lines and small design elements to help your delivery driver resume stand out visually. Just make sure to keep the focus on your bullet points and experience. 
You'll also want to make sure that you've chosen a professional san-serif font like Georgia or Helvetica. Pay attention to your resume spacing and margins to make sure that each section is easy-to-read and all your examples are well-highlighted.
If you're not a graphic design expert – never fear! Resume.io has dozens of sample resume templates that allow you to add your own information, customize the format and download a professionally-designed document in just a few clicks. Our template samples come in four style categories, but for a delivery driver resume, we recommend a simple template . No hassle, no frustration — just a high-quality resume in no time.
If you're working for a large company, you'll most likely be asked to upload your resume to an online application. Saving as a PDF through the resume builder will make that easy to do. For a smaller or local business, you may have to email your resume, in which case a PDF is also the best choice. Using our resume builder tool will allow you to create formatting that doesn't change between computers and looks great printed, too.
Key takeaways for a delivery driver resume
Delivery driver remains one of the best jobs among transport occupations for people without college degrees.
Competition for high-paying and full-time positions is fierce so a well-crafted resume is key.
Delivery drivers are expected to work under difficult weather and physical conditions and tough time constraints.
A clean driving record is the most important qualification you possess, but additional certifications can show your commitment to the job.
A delivery driver needs technical skills to hand vehicles and paperwork, but customer service skills and a patient, cheery disposition go a long way.
We hope our delivery driver resume example and sample sentences have set you on the path to creating your own great resume and landing the perfect delivery driver position.