Shear skill: styling a hair stylist resume to land your dream salon job. Shampoo, cut, color. One customer needs a trim, another wants a full makeover. A busy hair stylist is part artist, part entrepreneur and often part friend. 
Anyone who's ever tried a do-it-yourself haircut  appreciates the trained professionals who work mostly in salons, but sometimes in resorts or spas. Some hairstylists work on sets or even directly in client's homes. New hair stylists may find the job requires a bit of an entrepreneurial spirit. But with time and a strong clientele base comes the potential to earn a respectable income doing work they enjoy. 
So how do you land a coveted chair in that salon you've been dreaming about? It all starts with a great resume that sets you apart from other qualified applicants. As a leading international resource for job seekers, Resume.io. has developed more than 300 occupation-specific writing guides and resume examples to help put the right career move in closer reach.
This writing guide, along with the corresponding hairstylist resume examples, will help you:
Understand the business of hair and the job outlook
Choose the best format to structure your hair stylist resume
Write a resume that lets your qualifications shine in each section: summary, work history, education and skills
Make your resume look as clean and stylish as your cuts
What does a hair stylist do?
It's estimated that about 10 percent of the world's population is bald. For everyone else — OK, and maybe for some bald people too — there's a hair stylist. 
Understanding the business of hair
The U.S. Bureau of Labor Statistics projects a 1% decrease in jobs for hair stylists — grouped together with barbers and cosmetologists — between 2019 and 2029. At the same time, the overall outlook for hair stylists remains positive, with no shortage of job openings to replace workers who retire, change jobs or leave the occupation.  
Within the industry, there's a big conversation around the shortage of expert stylists. One of the reasons for this is that hair stylists have a tendency to jump around between salons — a situation known as turnover.
High turnover rates are common among many jobs in the service industry. They pose a big challenge to employers who lose money and time each time a stylist hits the road. While the industry's high turnover rate is a pain for salon owners, it can work in a stylist's favor — there is always a chair opening up somewhere. You just need the right resume to connect with the right salon at the right time.
Statistical insight
According to data from IBIS World, there are almost one million hair salons in the United States, but no major player owns more than 5% of the industry. The field is defined by its entrepreneurial and semi-freelance nature — consequently, there's a high level of job mobility and changing employers.
Cosmetology students and starting stylists often gain some experience by working as salon assistants who are paid mostly on an hourly basis. Their duties include washing hair, sweeping floors and stocking products. They may also assist with some styling duties. 
More experienced hair stylists tend to work either as salon employees, or they rent salon space to manage their own clientele and business in a type of freelance arrangement. There are advantages and disadvantages to each set-up, both for the salon owner and the hair stylist.
Hair stylists who work as employees can expect a fixed hourly wage, or even an  annual salary, plus customer tips. Both stylists and salon owners enjoy peace of mind knowing that chairs will be full and money will be coming in the door. On the other hand, stylists who make a fixed amount of money and aren't responsible for finding their own clientele may slack off or lower the team morale. 
Freelancers boost a salon's business by bringing in their own clientele, many of whom are loyal customers. Independent hair stylists are incentivized to work harder and find more clients since they are in charge of their own profit. The salon owner doesn't have to worry as much about finding new clients because they'll be receiving income from the stylist's chair rental, plus whatever the clients spend on salon extras and products. 
Statistical insight
Returning customers are a big source of income for most salons. In a 2019 Statista survey, over 20 million Americans said they get their hair colored two to three times every six months.
But there are some drawbacks. Freelance hair stylists must work hard to grow their own business or their earnings will be low. And salon owners stand to lose when an unhappy stylist leaves and takes all their clients with them. 
Then there's the question of quantity versus quality. Some stylists prefer to provide more haircuts faster and at a cheaper price. Others will see only a handful of clients in a day for services that cost a pretty penny. This distinction usually takes place at the salon level and stylists will choose a salon environment that matches their preference.
Understanding the nature of hair stylist employment will help you understand employer psychology as well. This isn't always obvious to everyone, but it's one of the most important tools in writing a great resume. The cardinal rule is: always try to look at your own resume through the eyes of an employer. How would you react to a certain phrase or statement? Would you hire yourself (just) based on the text on that one page? It's important to be objective.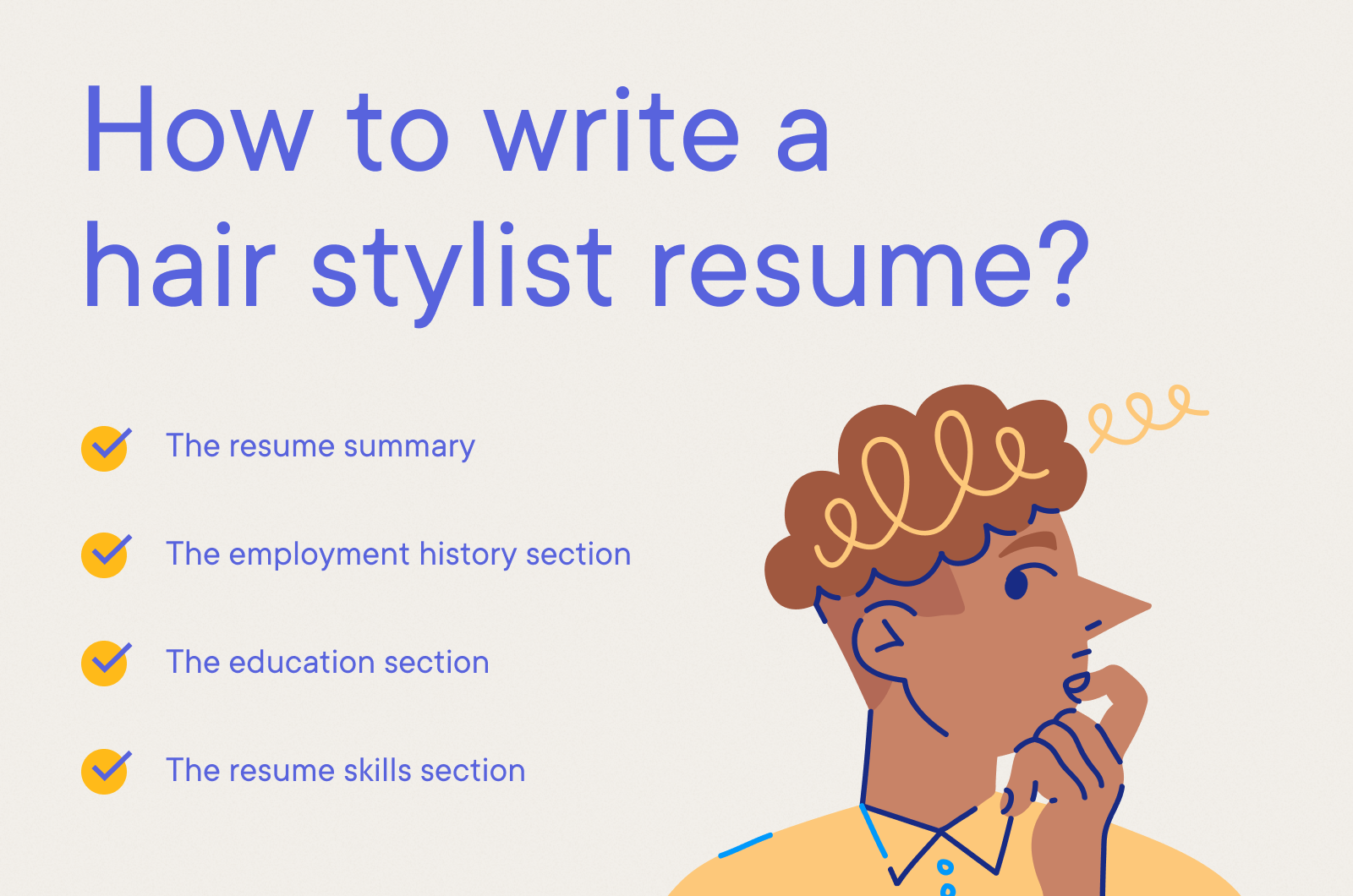 Fancy more writing tips? check out our related beauty and wellness resume examples listed here below: 
How to write a hair stylist resume
Knowing how to structure your hair stylist resume is the first step to begin writing. It should contain the following elements:
The resume summary
The employment history section
The education section
The resume skills section
What a successful hair stylist resume has in common with any other communication medium is that the style, tone and message should be geared to the recipient. In this instance, it's the person hiring you, likely a salon manager or owner.
Investigate everything you can about the job you are applying for: the place and the people. Especially try to put a name and a face to the person you will be working for or most closely with. Write your resume as if you are answering interview questions that haven't been asked yet. Who knows? It could open the door to an actual interview that finds you steps ahead of other candidates.
This guide will emphasize the importance of writing every word in your hair stylist resume with your prospective new boss in mind, adapting the style and tone as you would communicating in person with a client. We'll also offer tips for visually styling your resume with a design that makes you look right at home in front of the mirror where your next chair is waiting!
Choosing the best resume format for a hair stylist
The best format for structuring a hair stylist resume depends on your career path. Past experience is one consideration, but so is your vision of the job you are seeking next and beyond. It usually comes down to choosing the right resume focus for now and the future. Should you emphasize where and when you've learned and worked as a hairstylist? Or what specialized skills and competencies are most relevant to your goals and interests?
The most commonly used chronological resume format works well for job seekers in almost any occupation. In that resume section, progressive job experience and accomplishments are organized by employer / workplace in reverse order from most recent to earliest dates. ThIs format would be ideal for hairstylists who have gained experience mostly as a salon employee.
Alternative resume formats are sometimes better suited to job candidates who are new to the workforce or changing careers, or those with a more varied occupational background. Self-employed professionals working on a freelance or contract basis might opt for a functional resume format that emphasizes special skills or niche abilities ... even a preferred work environment or clientele. Hybrid resumes combine chronological and functional elements.
Resume summary example: name of the game
Your hair stylist resume summary (sometimes called the profile or personal statement ) quickly lets salon managers know who you are and what they can expect from you. Just by looking at your summary and your portfolio, they could probably tell whether or not you'd be a good match for their business. That's because your summary is a well-crafted snippet of your experience, style and education. 
Use your CV summary to present yourself as a unique candidate who is passionate about hair and has a lot to offer, in terms of both skills and personality.
Consider these questions:
What are your greatest strengths as a hair stylist?
How many years of experience do you have?
Are you looking for a position to further your knowledge or a job to satisfy your professional passions?
How many clients do you plan to bring with you if you are renting a chair?
What are your strongest soft skills that make you a great addition to the team?
Below you can find an example of a hair stylist resume summary you can customize.
Adaptable resume summary example
Experienced Hair Stylist with over six years of experience cutting and styling hair. Adept in working with clients to achieve desired look and hair goals. Results oriented and able to work in a high traffic and fast paced environment. Dedicated to remaining up to date with the latest hair product and treatment offerings and technologies. Bringing forth a commitment to providing clients with the most pleasurable styling experience possible. 
Employment history sample: making headway
The employment history section of your hair stylist resume shows that your skills are client-tested and refined. This list of work experience also gives salon managers an understanding of your trajectory in the field and helps them assess whether or not you match the experience level of the other stylists working in their business. 
To secure the best chance of landing any given salon job, it is essential that your previous hair styling experience mimics the look and feel of the salon where you're applying to work. You can do this by brainstorming and cherry-picking similarities between your previous locations and the target salon. It's OK to leave out irrelevant details or anything that suggests you can't meet the new salon's needs.
Expert tip
Beyond listing two professional hair stylist positions in your resume's work history section, it's best to leave out unrelated activities. Remember, resume space is at a premium, and your goal is to craft a single-page document without clutter.
It's great to list milestones and accomplishments under each of your employment history headings. Try to quantify this information with numbers, such as how many clients you saw in an average week or whether your talents were showcased at special events or featured in a local news spot or magazine. Any form of recognition shows the hiring salon manager you deserve to be there.
Below is a hair stylist employment history resume sample you can use while writing your own.
Adaptable resume employment history example
Hair Stylist, Sensa Salon, Seattle 
June 2014 - September 2019 
Provided excellent customer service and achieved a high rate of client satisfaction and retention.
Built and maintained a client base of approximately 75 clients.
Worked with clients to achieved desired cuts and styles.
Promoted and sold hair products.
Performed a wide variety of services including cuts, colors, updos, blowouts, and waxing.
Hair Stylist, Janice Davidson Salon, Seattle 
June 2012 - May 2014 
Cut, trimmed, styled, and shaped hair according to the desire of clients.
Helped clients to achieve hair health by offering special services and products.
Worked with regular and walk-in clients.
Worked to achieve high levels of customer satisfaction, increasing the popularity of the salon.
When you're new to the job
Every successful hair stylist had to start somewhere, but breaking into any industry — especially a creative field — can be hard. Luckily, you've picked up transferable life skills that fit hair styling with a little creative thinking. Maybe working in retail taught you customer service skills. Or maybe you were a class secretary in high school and your organizational skills are on point. However you learned to be tidy, professional and endure long days, these are excellent attributes to list on your resume.
Hair stylist resume education example: a key to success
While education certainly isn't the only factor that makes a successful hair stylist, it is an essential component in proving your professionalism. It may be true that anyone can braid an updo in her friend's kitchen the morning of prom day, but a hair stylist is a trained professional. 
Every state requires hair stylists to be licensed. In order to take the examination, stylists must first graduate from a cosmetology or barber school and complete a certain number of hours (usually more than 1,000) of on-the-job training in a salon. You should plan to take about two years to complete your education and training.
Statistical insight
Besides being knowledgeable about cuts and color, stylists should know about their salon's hair care products. While these products account for only up to a quarter of sales, they are much more profitable than the services themselves. Source: Hair Care Services Industry Profile
The hair stylist exam includes a written, oral and skills component that will allow a stylist to start working unsupervised with their own clients. Since you can't get a stylist job without education and a license, these resume lines are essential for landing your next job. 
Below is the education section from a hair stylist resume example.
Adaptable resume education example
Barbering, TONI & GUY Hairdressing Academy, Seattle 
June 2011 - April 2012 
High School Diploma, Clinton High School, Clinton 
September 2007 - May 2011
CV skills example: a talent for hair
Your skills are what bring customers in the door and keep them coming back. Now's the time to let them shine in your CV skills descriptions. Here's a fact: Hair may grow quickly, but one bad haircut will last in a client's memory for a long time. You can have all the experience and education in the world, but if your skills aren't up to par, you'll have a hard time retaining your clientele.
That also means it's important to refresh and update your skills as new tools become available. Staying up to date on the latest styles will help you attract new clients by earning a reputation for being in touch with the times. 
A great method for deciding what skills to showcase on your resume is to create a master list. Start by brainstorming every possible work skill you might have for a universal bullet-point collection that you keep separate from your resume but handy. For each new version of your resume, cherry-pick the skills that best match the position you are seeking. Your master list should be an evolving document that grows and is updated as your career progresses.
Statistical insight
Men's hair color is one of the fastest growing trends for salons and stylists to consider marketing towards. If you haven't yet built up your male clientele, it may be a great way to grow your business and be a more well-rounded candidate to a potential employer.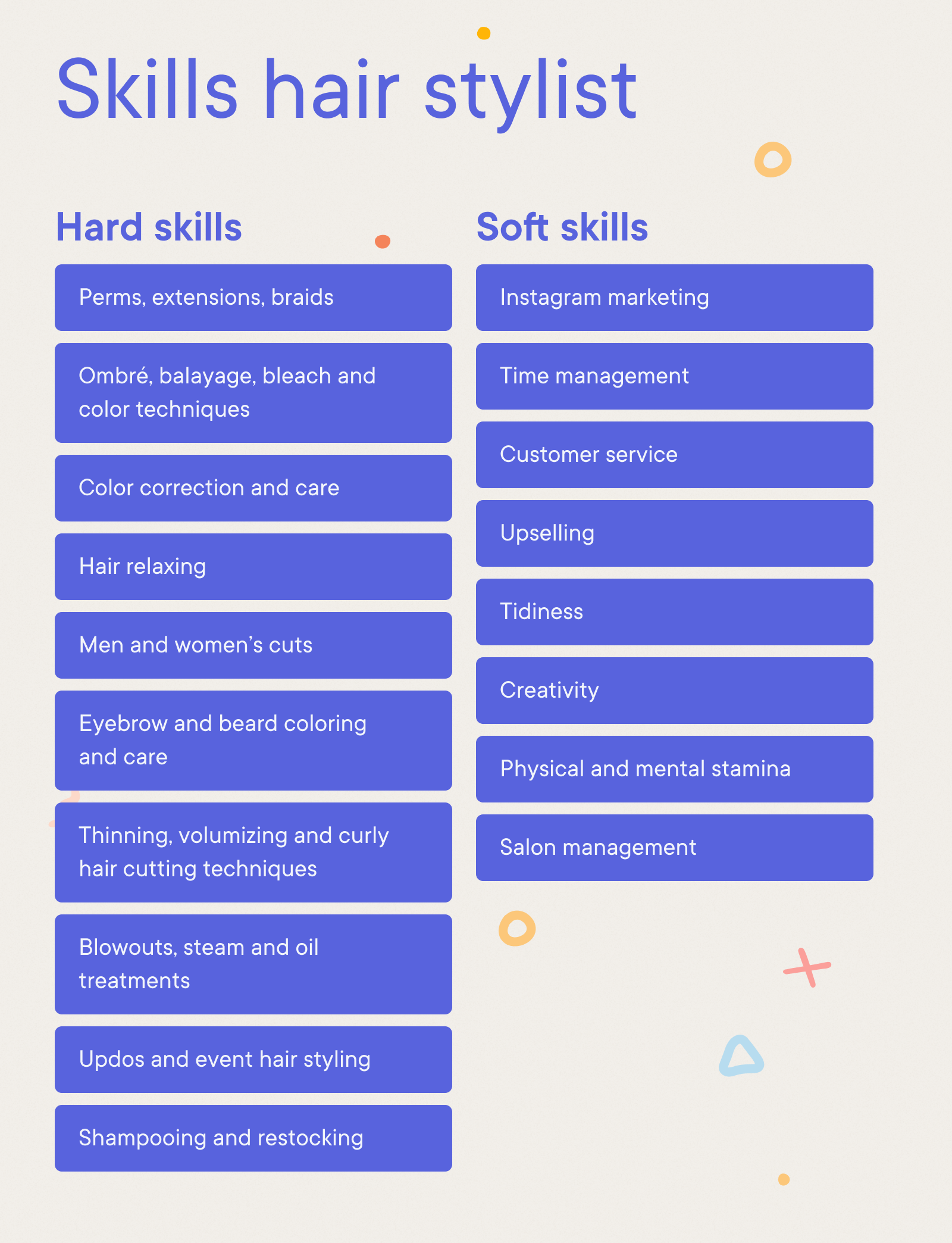 Your resume skill descriptions can be broken down into hard and soft categories. Hard skills are pretty much anything that requires you to touch a tool with your hands. Soft skills are the personality traits and customer service qualities that make your chair a pleasant place for clients to visit.
Check out some samples for the skills section of a hair stylist resume below.
Hard skills listing example
Perms, extensions, braids
Ombré, balayage, bleach and color techniques
Color correction and care
Hair relaxing
Men and women's cuts
Eyebrow and beard coloring and care
Thinning, volumizing and curly hair cutting techniques
Blowouts, steam and oil treatments
Updos and event hair styling
Shampooing and restocking
Soft skills listing example
Instagram marketing
Time management
Customer service
Upselling
Tidiness
Creativity
Physical and mental stamina
Salon management
Resume layout and formatting: your creative touch
When it comes to showing off your sparkle, let a stylish hair stylist resume do the talking. Your resume layout, design and formatting create the first, global impression a salon manager has of your personal style. That's a big opportunity to stand out and it's important not to let it go to waste. 
When formatting your resume, make sure to match both the style of the salon and your cuts. You don't want to send a cutesy profile to a serious, sophisticated big-city salon. Likewise, a little fun can work to your advantage if you love to play with crazy colors and the latest trends.
So how do you make it easy to switch between resume designs, depending on where you're applying to work? Resume.io's field tested resume templates and custom builder tool mean it won't be a headache to personalize your resume. Just choose the template design you like and adapt your own replacement text. For a hair stylist resume, our Modern or Creative style categories are the way to go. That way you can dress up or down your resume as you see fit.
For a hair stylist CV, it's OK to use a bit of color and add a photo of yourself rocking your best hair day. Also make sure to add your Instagram and/or website address at the top so salon managers can access your portfolio in no time. Keeping the look and feel of your resume consistent with your portfolio in terms of color and font will go a long way in helping you establish a personal brand —  a style that represents you wherever and however you present yourself, even in person! 
Since you'll most likely be printing out your resume, and/or sending it via email, it's essential that the formatting looks great both on paper and online. A PDF version is the best way to take care of that, and our resume builder tool makes it easy to download one in just a few clicks.
Expert tip
Instagram is the name of the game when it comes to building a business as a modern hair stylist. Featuring your Instagram handle at the top of your resume and including your marketing skills in this section show prospective employers you are in step with the times. Of course, it also quickly enables them to view your work for themselves. Just make sure your social media account is solely dedicated to hair; otherwise it's best to skip this detail.
Key takeaways for a hair stylist resume
Stylists are in growing demand and somewhere there's a chair opening up with your name on it. You just need a great resume.
Keeping up with the latest tools and techniques in your skill section will show your commitment to meeting customer demands and developing your style.
It's essential that you tailor your experience section to match the feel of the salon you're applying to.
Your layout should present your personal brand, a personal style that you keep consistent no matter how you present yourself
So what are you waiting for? It's your turn to design a resume that presents your creative hair genius to the world. And if you'd like some help getting it just right, check out our field-tested templates and resume builder tool.