Congratulations! You've decided to take your first steps toward getting a job. Chances are this is your first high school student resume. You may not realize it, but you already have some accomplishments and achievements that will make your high school student resume shine. This high school student resume example and writing guide will show you how to capitalize on your experience, skills and knowledge even if you've never held a "real" job!
Landing your first job can feel daunting, but Resume.io is here to help. Even if you're just starting out, our collection of 300+ resume examples and writing guides (like the one you are reading), along with professional resume templates, a resume builder tool and expert advice, can help you craft the perfect resume with ease.
This writing guide, along with the corresponding high school resume examples,will show you how to capitalize on your experience, skills and knowledge even if you've never held a "real" job! These are the topics we'll cover.
Job prospects for high school students
How to write a compelling high school student resume that impresses hiring managers.
Beating the automated applicant screening systems in place at many large companies.
Choosing a suitable format for structuring your resume.
How to optimize the impact of each resume section: header, summary, education, skills and experience. This will allow you to:

Describe your high school experience in a way that shows off the right skills for your first professional position.
Point out the personality traits that make you stand out.
Focus your search on jobs that can enhance your future prospects.

Create an attractive resume format using a template that captures your personality and understanding of the position.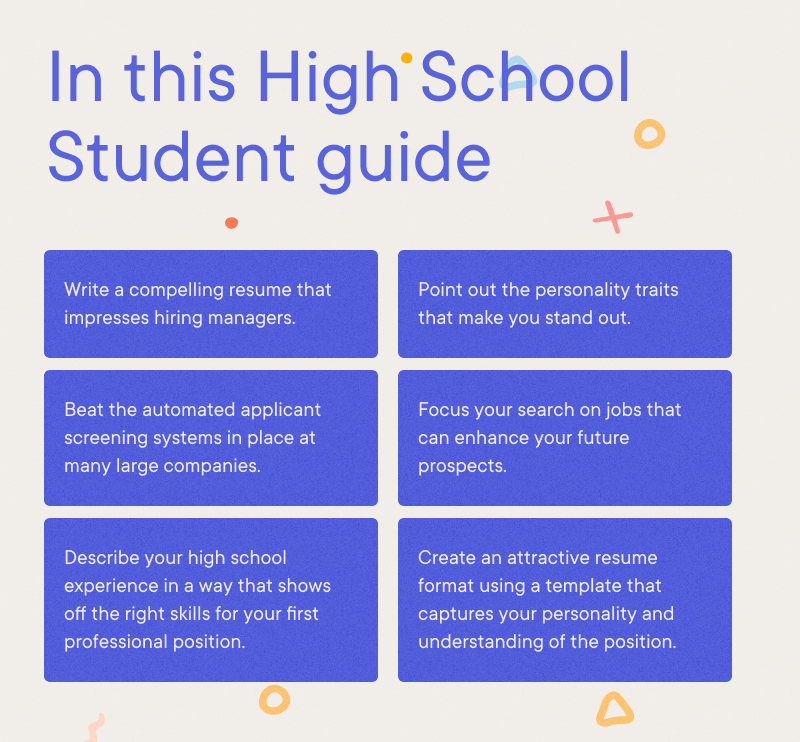 Let's get started! 
Job outlook for high school students
Many high school students ask themselves, "How will I get a job without experience?" Guess what: Everybody who is now working started out in a first job without having any employment history. You have to start somewhere. A little time and research can be all it takes to find a job that adds to your skills list while putting some money in your pocket!
You have already made the decision to look for work. Now, with Resume.io's collection of tools at your fingertips, we'll walk you through everything you need in the first steps to success. It all starts with getting your foot in the door. 
If you plan to work during the summer, you are lucky because of the relatively low competition. Over time, fewer teens have been choosing to enter the seasonal job market — only about one in three during the summer of 2018, according to the U.S. Bureau of Labor Statistics (BLS). Fewer high school students are working part-time jobs during the school year as well, so you will be in demand no matter when you want to work.
Statistical insight
According to a Brookings Institute report on BLS statistics, only about half of high school students aged 16 to 19 had a job in 2000, down from 58% during the peak year in 1979. By 2018, the percentage had dropped and plateaued to 35%, the lowest on record 
Great first jobs
Being in demand means you have choices. Your first job probably won't be the job of your dreams, but you can target work that will lead you in the right direction for your future. This can apply in almost any type of work that high school students are typically hired to do.
About one-quarter of working teens have jobs in food preparation or service, according to BLS data. And there is plenty of room to be selective and forward-looking in this industry. Even if you end up at a fast food restaurant, you can choose which one it is. With a little research, you can pick a company that offers management training, flexible hours or other benefits that appeal to you. More than 10% of working high school students have jobs in these fields:
This does not mean you are restricted to these industries, but they are examples of areas you're likely to be qualified for. 
Other resume examples
For more ideas, inspiration and direction, check out our hundreds of resume samples in categories like retail , hospitality and administration, and those for the following education-related occupations.
How to write a high school student resume
Lack of work experience need not stop you from creating an impressive high school student resume! Generally, it should be structured to include the following key sections: 
The resume header
The resume summary (also known as the profile or personal statement)
The education section
The employment history section (or experience section)
The resume skills section
We'll be taking a closer look at each of these resume components  after covering some general considerations.
Applicant tracking systems
The first, and perhaps most important, fact you should know about job hunting is that most employers use applicant tracking systems (ATS). Employers receive hundreds of high school resumes for each open position. They don't have time to look through them all, so they use ATS software to do the initial sorting. 
This means you have to know how these algorithm-based systems work and how to get your high school resume past the digital filter. Employers program the software to screen for certain skills and attributes reflected in keywords and phrases. The ATS scans resumes on that basis, then scores and ranks them. Your resume will only make the cut if it is in the top ranking range. 
Choosing the best resume format for a college student
Unless you already have some work experience, the most commonly used chronological format may not be suitable for structuring your high school student resume. It's the most straightforward way for job candidates to organize their experience and qualifications below employer headings and dates, in order from most recent to earliest.
But for high school students or recent graduates with little or nothing to list in a traditional employment history section, other resume formats can be ideal. The format you choose should depend on the type of job and industry, and how best to present yourself as an ideal match. 
In cases where specialized knowledge and skills, and possibly extracurricular activities, are relevant to prospective employers, a functional resume may be your best bet. It offers greater flexibility to emphasize your most relevant strengths up front in a section labelled "Experience." 
A hybrid, or combination, resume format offers even more versatility. You can integrate chronological and functional elements in the most applicable manner, and perhaps even put your education section higher up on the page to emphasize your school interests and accomplishments. 
Resume header
A distinctive resume header sets you apart from other candidates by ensuring your resume gets noticed for the right reasons. An eye-pleasing design will make it inviting to read, while also readily identifying who your resume belongs to and how you can be reached for an interview.
Expert tip
Make sure you have a professional-sounding email address. Employers won't think highly of an address like [email protected] Your best bet is the golden standard format of first name (or initials) + last name: [email protected] or [email protected] It's safe to assume that some employers may also check your social media accounts, so keep the content friendly, respectable and fit for a future boss's eyes.
Resume summary example: personality first and foremost
Describing yourself can be tough, but don't hold back. You have many of the qualities employers want. Here's where your personality can shine. The 2-3 sentence resume summary (also known as the profile or personal statement ) is the first section, directly under your contact information. It allows you to exhibit a bit of personality while you explain the qualities that will make you a great employee. 
Here are some sample questions to ask yourself when writing your summary:
What makes me a good student, friend, teammate, family member?
Which of my skills or personal qualities have helped me in school ? Am I organized, creative, responsible?
What activities, projects and interests could I describe that translate into job skills?
Below is a high school student resume summary example you can use as a guide for creating your own version.
Adaptable resume summary example
Resourceful and dedicated high school student with excellent analytical skills and a demonstrated commitment to providing great customer service. Strong organizational abilities with proven successes managing multiple academic projects and volunteering events. Well-rounded and professional team player dedicated to continuing academic pursuits at a collegiate level.
CV skills example: abilities that get you hired
Employers willing to hire inexperienced workers are looking for signs of responsibility, initiative, and desire to learn. What you do need are soft skills, also known as interpersonal, social or people skills. Examples include communication — including listening, courtesy and ability to take direction — as well as dependability, punctuality and and being well organized. 
Of course, hard skills have a place on your resume too. these are pragmatic skills necessary or valuable for certain jobs, tools or programs or sciences. Examples for a high school student might include computer programming or child care expertise. 
With ATS likely to be scanning your high school student resume (unless you are applying to work for an individual or at a very small company, you need to know what keywords will help get your resume in the hands of hiring managers. Respondents to a Society for Human Resource Management survey ranked these as the most important skills for entry-level employees:
Dependability and reliability (think being at work on time or fulfilling promises) — a whopping 97% said these were a must!
Integrity — 87% .
Respect (towards clients and co-workers) — 84%.
Teamwork — 83%.
You probably have all of these skills to one degree or another. So, make sure you list them on your high school student resume.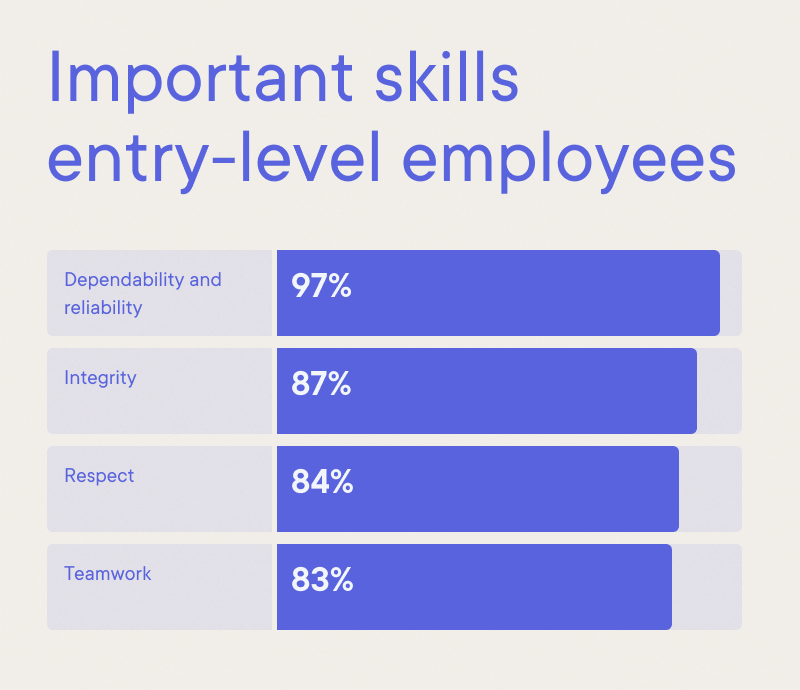 Statistical insight
According to a Society for Human Resource Management study, 78% of HR professionals listed customer focus — also referred to as "customer orientation" or "focus on customers" —  as very or extremely important qualities for an entry-level job applicant. 
Check out a high school student resume skills sample below.
Adaptable resume skills section example
Excellent Customer Service Skills
Strong Organizational Skills
Advanced Computer System Skills
High school student resume education example: your real experience lies here
Think of it this way: your career right now is your experience as a high school student. It's probably more important than your employment history, if you have any work experience at all, so treat the education section of your high school student resume as a higher priority. Place it higher up on the page, and include more than just dates and the name of your high school.
Expand on your high school "career" achievements and focuses, starting with a list of classes that are relevant to the job you seek. Looking to work with children? Highlight your early childhood education class. 
Also mention any accolades and honors, or even your grade point average if it shines. You can also use the education section to describe projects you are proud of and how they reflect your skills.
Expert tip
Your resume sections do not have to be in the same order as they are listed in this high school student resume sample. Put the section you think is most important and impressive first and go from there. Just remember, the summary must remain at the top. 
Adaptable education example
High Honors, Callaway High School Jackson 
Aug 2019 - Present 
3.92 GPA
Academic High Honor Roll 2015 - 2017
Presidential Award for Academic Excellence 2016
High school student experience sample: a strong foundation
Before you give up on the work history section, don't forget that your high school experience includes a wealth of opportunities to draw from. Give yourself credit for jobs you've done for classes or community service points as a high school student. All positions of responsibility count! Maybe you have had a paying job. If so, that's great! 
Jobs or work experiences to consider listing
Any volunteer work or projects for social or community groups are a great addition to your high school student resume, whether in the past or continuing now. List each item in your experience section as any other job applicant would in the conventional employment history format —  in reverse chronological order. That means you start with the current or most recent listing and work backward to the earliest, by date.
Expert tip
Ask friends who already have a job where you're interested in working for a referral. Some companies have referral programs that reward current employees when their referral is hired. Employers like referrals, because they eliminate some of the unknowns of hiring. Few people would recommend a person they did not think could do the job.
Here is an example of an experience listing suitable for a high school student resume.
Adaptable resume employment history example
Sales Associate, PetSmart Jackson 
Sep 2015 - Present 
Fed animals and made sure they had access to fresh water at all times.
Answered customer questions and reported issues in person or by phone.
Helped customers select products that best fit the needs of their pet.
Kept the selling floor clean and maintained neat and orderly product displays.
Maintained accurate work logs.
Recognized for my reliability and zero absence work record.
This section of your high school student resume is optional, but potentially very worthwhile. As a high school student, you may be putting a lot of time and effort into extracurricular activities that demonstrate your commitment to showing up and participating. These may be especially relevant if they illustrate an interest related to the job you are applying for. 
Creating a master list of your extracurricular activities is a worthwhile exercise in its own right. It can reinforce your choices of which skills and personal attributes to highlight in other resume sections. It may also clarify the type of job you want, and lead you to consider targeting your job search to a field that fits your extracurricular interests. 
Any master list — be it for skills, activities or jobs — can be useful for your own reference and convenience. It's a visual tool that highlights what you are looking for at a glance, then makes it easy to cherry-pick the most appropriate resume samples for your current resume version.
When to include this section
If you are a go-getter who participates in multiple activities outside of school and work, perhaps associated with accomplishments, consider adding a separate resume section for extracurricular activities. 
These show your talents, determination, and time-management skills. This is another way to inject a little personality into your resume. 
Adaptable extracurricular activities example
Science Honor Society, Callaway High School, Jackson 
2019 - Present 

National Honors Society, Callaway High School, Jackson 
2019 - Present 
Participated in several volunteer activities, including:
Built a house for Habitat for Humanity
Collected supplies Stewpot Community Services
Organized food drive & fundraiser for Cascades Humane Society 
 
Volunteer, Cascades Humane Society Jackson 
Aug 2019 - Aug 2020 
Performed various administrative and clerical tasks as needed.
Served as a support for the entire office staff.
Monitored & observed animals for signs of illness & reported symptoms to superiors.
Created online pet profiles for potential adopters.
Collected and recorded adoption fees.
Do
Add this section if you are a dedicated member or officer in a club, sport, or musical group. It is especially important if you can show leadership or a high-level of achievement.
Don't
Add this section to pad out a skimpy-looking resume. Instead, try to enhance the other sections.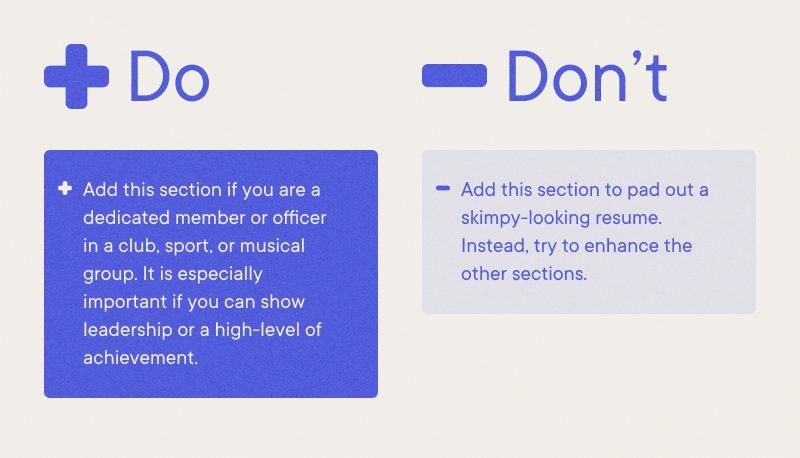 CV layout, design and formatting: simple wins
Are you itching to show off your artistic bent here? You may be tempted to try standing out from the crowd with a strikingly colorful high school student CV design. But unless you are applying for a graphic design job or other position in a creative field, it's in your best interest to keep the look of your resume simple, streamlined and polished. Strive for a first impression that's as legible and inviting to read as it is eye-catching.
But simple doesn't rule out creative choices when it comes to the layout, design and formatting of your high school student CV.
Why use a template?
Unless you've already developed a great eye for graphic design and the computer skills to match, a resume template may be your best bet to create an eye-pleasing resume without much difficulty.
Resume.io offers four categories of resume templates, any of them suitable for a high school student to personalize for a professional and beautiful result. Start by choosing one of these style categories before drilling down to select the right layout: simple, professional, modern or creative. 
One benefit of using a resume template is that you can avoid formatting errors that make your resume look sloppy or incomplete. Using the Resume.io builder tool makes every step of creating your resume a breeze. 
Expert tip
If you are cutting and pasting your resume into a computer program, first save it as a text file to eliminate odd formatting marks.
Personalization
As emphasized already, the rule of thumb for resume layout, design and formatting is: keep it clean and organized! Working with one of our templates and the builder tool takes away any guesswork. Yet, you still have room to make your high school student resume stylishly unique. 
Contrary to popular wisdom, Times New Roman is not the only professional-looking font that will serve you well. Try Garamond, Georgia, Helvetica, Cambria, or Calibri. 
If your resume template of choice uses a color, feel free to change it. But resist any urge to add more color. One small splash is all you need. And don't use a color other than black for your text. The rule of thumb for layouts is: keep it clean and organized!
Common resume errors to avoid
Since this may be your first resume, make sure you edit and proofread carefully. Ask a parent, teacher, or friend to check, too. A second set of eyes never hurts and almost always helps. Here are some sample errors to check for:
Missing or incorrect words
Repeated words
Misspellings
Grammatical or punctuation errors
Inconsistent or wrong tense

If you are currently doing something, use the present tense
If you did something in the past, use the past tense.
Expert tip
Do not pump up the font size or expand the page margins to make your resume look fuller than it is. If the content seems sparse, try looking for a different layout. Or enhance what each section conveys about your desirability as a candidate by digging deeper into you skills. Extracurricular activities: a hidden strength
Key takeaways for a high school student resume
An effective high school student resume can make finding your first job much easier.
Employers understand your lack of experience and instead are interested in the soft skills you are likely to have.
Highlight these soft skills, along with any hard (practical) skills you have, in the summary section of your high school student resume.
Use keywords that automated screening software will likely scan and score for.
For a resume at this point in your life, the experience section can include more than just jobs.
Education has been your "career" up until now, so leverage your school experience when writing this section of your resume.
Use our resume builder to browse simple resume samples, then personalize the template that speaks to you.
Make sure your resume writing is error-free and your resume format looks attractive and professional.