Crafting an interior designer a resume that's functional and aesthetically pleasing is the key to opening job doors in that field. Part architect and part artist, an interior designer does much more than pick the right-colored curtains and add some fancy pillows. Interior designers are not only responsible for the look of a space but also for making sure it serves its purpose. 
Above all, an interior designer works to satisfy the client, both in the initial project planning phases and after the job is done. Throughout their careers, and especially at the beginning, designers look to build their portfolio – work samples from previous clients that show off their skills. 
While a portfolio is necessary to land a job as an interior designer, a resume is essential for showing off work experience and education. In this highly visual field, how do you convey your talent for good design on a resume? 
Resume.io is an excellent place to start with ideas and inspiration. We've developed more than 300 occupation-specific resume guides and resume samples to help you make the next career move that's right for you.
This resume writing guide, along with the corresponding interior designer resume example, will cover the following topics:
Role of interior designers and the job market outlook
How to write an effective interior designer resume that captures your design prowess and personality
The best format for structuring your interior designer resume
Advice for optimizing the impact of each resume section: header, summary, work history, education and skills
Professional resume layout and design hints for creative and esthetically pleasing results.
What does an interior designer do?
The role of interior designers is often confused with that of interior decorators , who beautify spaces. Interior designers, on the other hand, are first and foremost concerned with functionality and safety. That means deciding wall placement, designing plumbing systems, and coordinating with all the engineers and contractors who will bring the room to life. Then, they add the finishing touches like paint, textiles and wall art.
The majority of interior designers work in corporate design, creating plans for businesses, offices, restaurants or even transportation. Some, however, are self-employed or work directly with homeowners.
More ideas and inspiration for creating an interior designer resume can come from checking out other examples in the real estate field.
The job market
Demand for interior designers fluctuates with the economy and construction industry. In periods of economic growth, demand for designers is higher, while in a downturn, many may be out of a job. Overall, the U.S. Bureau of Labor Statistics (BLS) projects the field to decline by about 5% between 2019 and 2029. But what that number doesn't explain is the concentration of positions in the market. Certain cities are hubs for interior design, while others have too much competition for too few clients.
When you start your job search, it's a good idea to research and talk with established designers in the city where you intend to work. Some seemingly wealthy areas have a lack of clients or too many designers, while in other slightly remote locations, business is booming. 
Statistical insight
The median pay of an interior designer was about $57,060 in May 2020, according to the BLS. However, designers that specialize in a particular area, especially commercial work, have the potential to earn much more. 
How to write an interior designer resume
With job duties ranging from writing bid proposals and drafting in 3D software to picking lighting fixtures and managing contractors, trying to pin down an interior designer's exact job is a futile mission. That's why an interior designer's resume must be tailored to each and every position he or she applies for. Some designers are specialists in bathrooms, offices or planes, but even more general designers will need to brainstorm their strengths and compare that against the job description.
Acing the ATS
Medium and large design firms will most likely use Applicant Tracking Systems (ATS) to weed out candidates with less experience and who don't fit the job description. These automated systems scan your resume for keywords and rank them against other candidates. Only resumes that pass this test are sent on to the human eyes of the hiring manager.
That means that you could spend hours on a resume only to have it disappear into a digital oblivion. Yikes! So how do you avoid this resume blackhole? 
By understanding how companies hire interior designers
By creating an interior designer resume tailored to both ATS and human eyes
By crafting a resume that enhances your portfolio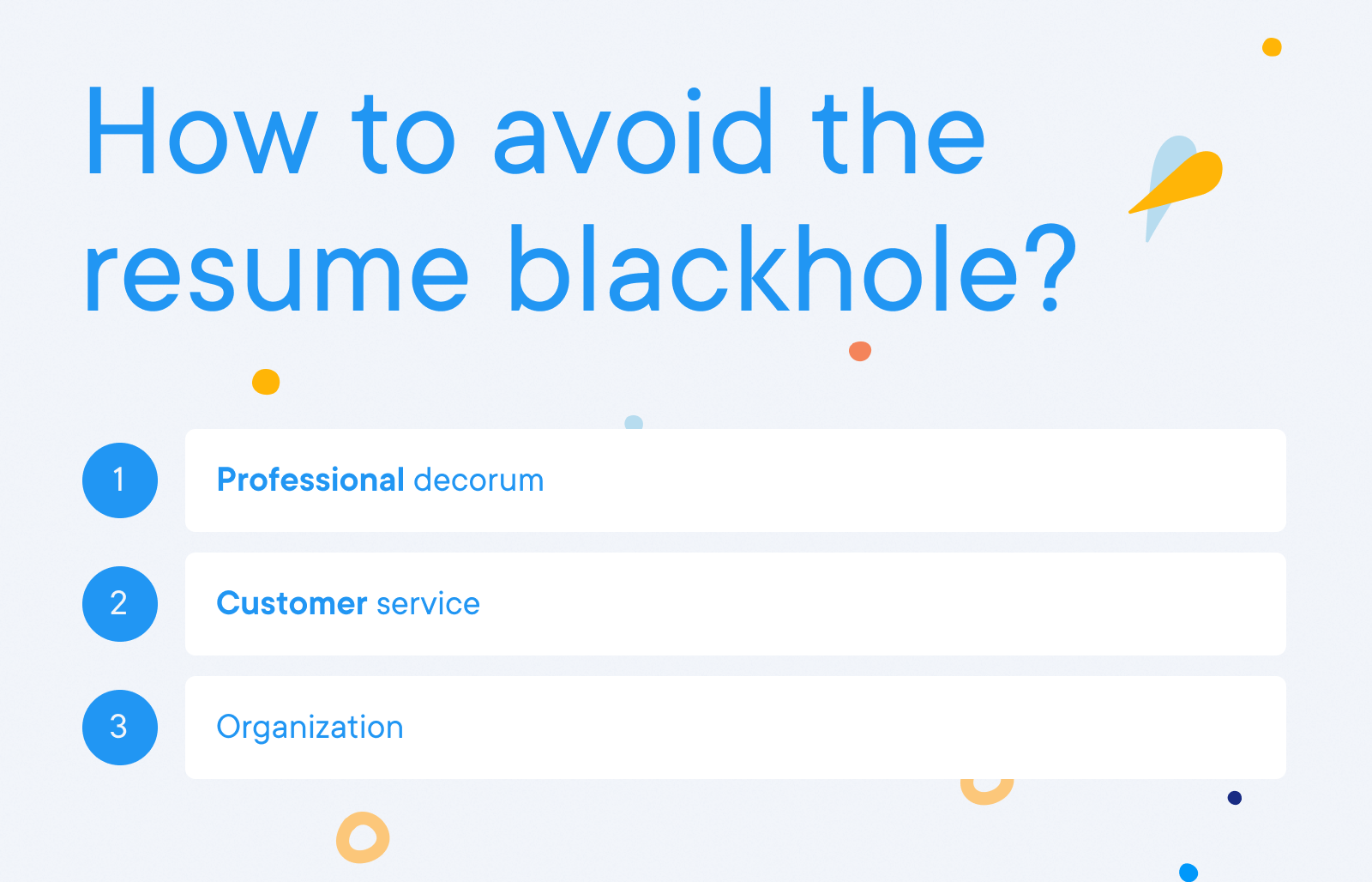 Expert tip
You can give your resume a fighting chance by inserting words from the job description into your profile summary and skills sections of your resume. Word cloud services like Wordle or worditout.com can make it even easier to visualize the most important words.
Choosing the best resume format for an interior designer
What is the best format for structuring your interior designer resume? Depending on your career path, past experience is one consideration, but so is your design for what comes next. It's a matter of choosing the right resume focus for now and the future. 
The most commonly used chronological format works well for job seekers in almost any occupation. Progressive job experience and accomplishments are organized by employer / workplace in reverse order from most recent to earliest dates. It would be a good fit for interior designers whose creative and/or business journey has followed a linear employment pattern.
Other resume formats may be better suited to job candidates who are new to the workforce or changing careers, or those with a more varied occupational background. Self-employed professionals working independently or in specific niche markets might opt for a project-based functional resume format. This allows you to emphasize where you've worked and the people who were part of the scene — your employers, mentors, colleagues and clients. Or you can focus instead on the specialized technical skills, talents and passions that have shaped your success stories. 
Other interior designers might opt for a hybrid (combination) resume format, adapting both chronological and functional elements to their background and goals.
Profile summary resume example: The entryway
Just as a beautiful foyer improves the mood of any house, your resume summary invites HR managers to get to know you better. As an interior designer, you are a multi-talented professional and your summary — sometimes called a profile or personal statement — is the place to convey that. This is you in a nutshell – your personality, experience and accolades. This is what makes you stand out as a good designer and a good teammate.
Make sure to match the professionalism of the company you're applying for. A large commercial design firm will appreciate a more refined image while you might be able to show off more personality for residential work in an up-and-coming city. Just remember: the profile summary helps sets the tone of your interior designer resume. If you plan to work in a state that doesn't require licenses for interior designers, you might want to include your qualifications here. If a license is the norm, you don't have to mention it here.
Expert tip
You're going to want to add keywords into your interior designer profile summary, but make sure this part stays friendly for a human reader. After all, it's the first introduction you will have to a hiring manager once your resume passes the ATS.
This is a great time to get specific about your area of expertise and tailor your abilities to the job description. Awards and recognitions are also great to mention in your summary to add some weight to your experience.
Below is an interior designer resume example summary you can customize.
Profile summary resume example
State-licensed interior designer with 5 years of experience transforming kitchens and bathrooms. Skilled in plumbing and floor layout, color theory and storage solutions. Attentive to client needs and proficient in drafting with AutoCAD.
Specialized healthcare interior designer with more than a decade of experience designing hospitals, healthcare offices and corporate spaces. Successfully planned and executed 3 multimillion dollar projects. 2018 IIDA Healthcare Design award winner for waiting room design.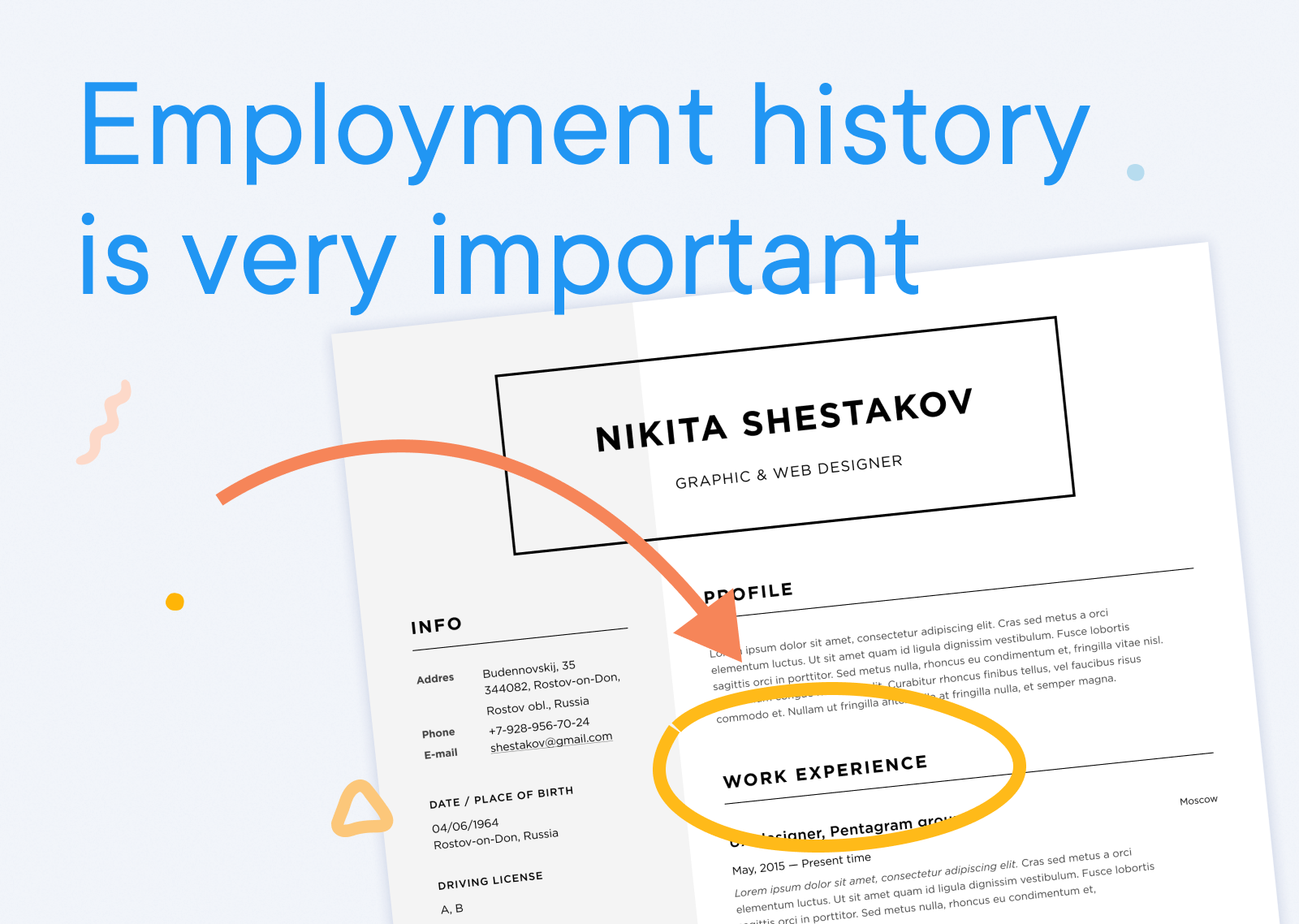 Employment history sample: built for success
Your portfolio might be beautiful, but previous work experiences are invaluable in proving your ability to handle big jobs and finicky clients. That's why the employment history section of your resume is vitally important.
 
When it comes to talking about ourselves, some of us are more gifted than others. But here's the truth: being shy won't land you the position you want, especially not in a creative and competitive field like interior design. And bragging certainly won't help you either. The trick is to list your work experience and accomplishments assertively, using numbers and facts to back up the points you want to make about yourself.
Expert tip
As an intern, your experience as a helper or even an observer is valuable on a resume for an entry level position. Take a minute to brainstorm even the little things you were asked to do and use them to show your commitment and eagerness to learn.
Whether it's color theory, architectural structure, flooring or lighting, make sure to highlight your strongest skills and accomplishments as they relate to your past experiences. If you're a student or even a designer with several years experience, internships will make up a significant portion of your employment history. That's nothing to be worried about, since design firms understand that internships are the best way to learn on-the-job and gain real world experience. 
Below is an interior designer employment history resume sample you can use while writing your own.
Employment history resume example
Wrote 6 successful bids for large design projects with corporate and government clients
Consulted more than 50 homeowners to bring functionality to basements and garages
Designed floor and wall layouts in 41,000 square meter commercial space
Tasked with selecting aesthetic details, paint colors and textiles during internship with local architectural firm
Interior designer resume education example: Paper proof
Anyone can make over their home, but an interior designer is a trained expert. That means your education is an essential component of your job and your resume. On an interior designer's resume, the education section will probably be small and mighty. Most designers enter the field with a bachelor's degree in interior design from a Council for Interior Design-accredited school. While some masters or doctoral programs are offered, usually a bachelor's is sufficient education for a designer to land their first job and progress from there.
On the other hand, it would be very difficult for a prospective designer to enter the field with less education than a bachelor's degree. That's why this resume line, while brief, is hugely important. It's best to list the dates attended, then the school name and degree awarded followed by the location. If your GPA was above a 3.0 or higher, it's a good idea to add that too.
Below is the education section from an interior designer resume example.
Interior designer education resume example
2013 – 2017: Parsons School of Design, BFA Interior design, New York, NY
GPA: 3.6
Expert tip
If your overall GPA was less than a 3.0, but you scored higher in your major, you can list that GPA instead. If both were less than 3.0, it's best to leave this detail off your resume.
Licensure
With some exceptions, most states require interior designers to be licensed in their field. Across the U.S., the National Council for Interior Design Qualification (NCIDQ), is the gold standard for interior design licensure, with the exception of California which offers its own examination. There are multiple paths to taking and passing the NCIDQ examination, but most require a bachelor's degree from an accredited school and 3,520 hours of work experience after graduation. 
Beyond the NCIDQ, there are dozens of organizations that offer certifications and memberships. Local chapters of the Commercial Interior Design Association (CIDA) or the American Institute of Architects (AIA) are some of the biggest organizations and may be able to help you with networking and job opportunities. More niche designations, like the American Academy of Healthcare Interior Designers and the American Lighting Specialist certifications, can add another degree of specialization to your resume. 
Basic example sentence (adapt to your experience)
Licenses and Certifications:
NCIDQ-certified
Member since 2011: Interior Design Educators Council (IDEC)
Licensed to work in the states of Florida and Nevada
CV skills resume example: An eye for design
As technology changes the industry, strong technical skills will make you a highly sought-after candidate. Your CV skills section should reflect that. Gone are the days of drafting tables and hand-drawn sketches. While today's designers might use traditional methods occasionally, the vast majority rely on computer software to create layouts, models and visualizations. 
Various computer software falls under the category of hard skills — abilities that require learning a practical program or tool. Interior designers also need soft skills. Those are the talents and personality traits that make you an artist and a great coworker too.
Hard skills listing example
AutoCAD
Adobe Creative Suite (Photoshop, Dimension)
Sketchup
3D Studio Max
Hand sketching and drafting
Color theory
Reading blueprints
Plumbing layout
Wall design
Bid and contract writing
Budget creation and management
Soft skills listing example
Creativity
Negotiation
Problem-solving
Client service
Detail-oriented
Ability to see a project from conception to completion
Expert tip
You may also want to add a small section to the bottom of your resume for awards and recognition. In creative fields, awards give you credibility. You can also add awards as lines of experience under the respective job where you earned them.
Check out an interior designer resume sample for the skills section below.
Interior designer skills resume example
Commercial Interior Design
Residential Interior Design
Elements of Design
Excellent Communication Skills
Resume / CV layout and design: Your artistic vision
As a design expert, you know just how important the layout is to any project. Your resume is no exception, with the document layout speaking volumes about your eye for design. It will be the first impression a hiring manager has about your style and preferences. Unlike what is recommended for other occupations, it's OK to use a bit of color or maybe some small icons to convey your creativity. But how do you walk the line between aesthetically pleasing and professional? 
Our resume builder tool and professional resume templates have been designed to take care of just that. For an interior design position, we recommend using templates from the Creative or the Modern categories. In these categories, you can choose a template that matches the professional style of the company you're applying to without losing your own personal touches. 
You'll probably be uploading the resume to an online application or emailing it to a hiring manager directly. You may even need to print it to bring in to an interview. In all these cases, it's important your beautiful formatting doesn't change between computers. That's why a PDF is the recommended file format, and our resume builder tool allows you to download one in just a few clicks. 
Key takeaways for an interior designer resume
While the interior design industry continues to grow, jobs can be competitive and concentrated in certain cities.
Your resume layout is a key factor in showing off your creativity and design style.
Education and accreditations are essential for interior designers and show mastery in the field.
A variety of computer software skills will set you apart from other candidates and increase your job and earning potential.
So what are you waiting for? It's time to design your resume. Our tried-and-true resume templates and builder tool can get you on your way to your interior design dream job in no time.