Earning a law degree is no easy feat, so congratulations! Perhaps you have already begun your career , or maybe you are just beginning to investigate the many options open to you. As a lawyer, you know that the law is a deep and wide field. Because it is complicated and covers every aspect of life, it allows you to find your passion within its boundaries. You may want to be a high-profile litigator, spend your days poring over the minutiae of tax law, or help out a cause with public advocacy law.  Not only do you have a choice of individual fields, but you can also decide what size practice you want to target. 
Let Resume.io's resume guides and resume examples for 300+ professions, backed up by an easy-to-use resume builder, help you make your case with an evidence-based lawyer resume.
This resume guide, along with the corresponding resume example will cover the following topics:
What does a lawyer do?
How to write a lawyer resume (tips and tricks)
The best format for a car sales resume
Advice on each section of your resume (summary, work history, education, skills)
Professional resume layout and design hints.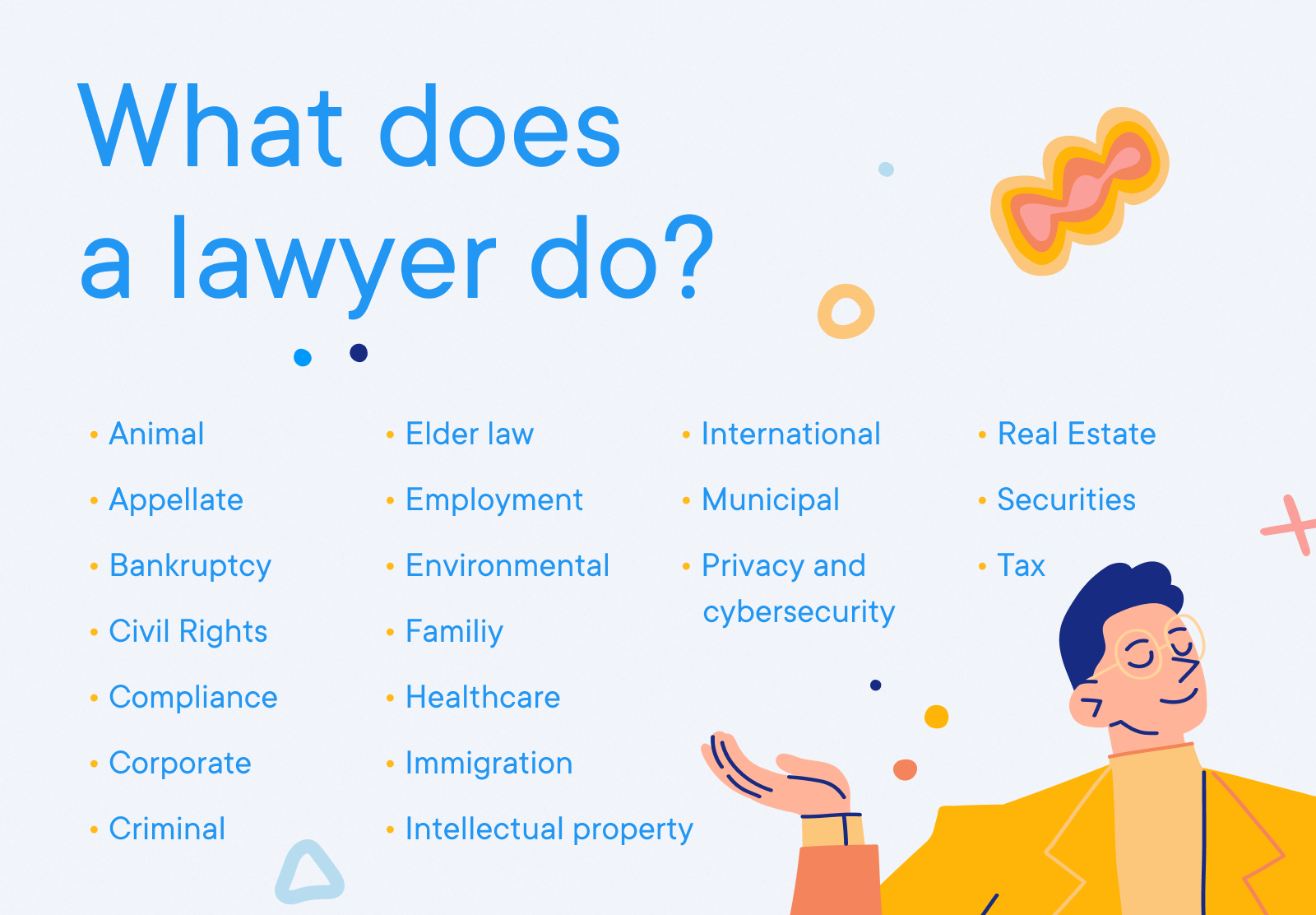 What does a lawyer do?
Here are some specializations within the field of law:
Animal: Ensure animal welfare; these lawyers usually work for animal rights organizations or law firms.
Appellate: This practice focuses on the appeals process.
Bankruptcy: Help clients with legal proceedings related to debt and bankruptcy protection.
Civil Rights: These lawyers fight for individual rights and often work for non-profits or public interest firms.
Compliance : These lawyers ensure that companies and their employees obey the law, especially pertaining to contracts, operations and policies (based on federal and international regulations in the corporate and financial fields).
Corporate: In-house lawyers make sure their employers are working within the law and defend them against lawsuits. They may prepare all legal documents for the corporation. They may also work for a law firm whose client is a corporation.
Criminal: Lawyers may defend the accused or act as prosecutors.
Elder law: This practice focuses on estate planning, medical directives, long-term care and protecting the rights of the elderly.
Employment: Ensure that employees are treated fairly and that employers are aware of and follow employment regulations.
Environmental: These lawyers need expertise in environmental laws and regulations. They may work for government agencies, environmental non-profits, or corporations affect by environmental law.
Family: This broad practice deals with any family-related area such as adoption, divorce, domestic abuse, and child support.
Healthcare: Lawyers in this field may work for any type of healthcare provider.
Immigration : This practice focuses on helping immigrants through the immigration process.
Intellectual property: The practice of helping people and companies protect their ideas, inventions, and other creative products. They may represent corporations or individual artists.
International: Focus on legal issues outside the client's country. Fluency in more than one language may be necessary.
Municipal: These lawyers usually work for individual government bodies and may deal with property tax, zoning, land use or small business law.
Privacy and cybersecurity: These attorneys help companies keep personal data secure and comply with privacy regulations.
Real Estate: These lawyers may focus on land-use lawsuits or contract law.
Securities: These lawyers must be specialists in the complexity of corporate financing, formation and organization.
Tax: These lawyers must stay up-to-date on changing tax laws and regulations that affect their clients.
Some lawyers choose not to practice. Instead, they go into careers such as law librarian, law professor, legal recruiting, civil rights investigator, or legal editor. All of these require the expertise of a law school graduate. If you want more resume examples to help you fine-tune your own, look toward our general legal category of resume samples. Here you'll find other related legal resume examples like: 
Statistical insight
The top five fastest-growing areas of law in 2020 are expected to be: elder, healthcare, labor and employment, privacy and cybersecurity, and bankruptcy, according to Attorney at Law.
Lawyer job market and outlook
Lawyers face somewhat tough times as tuition costs have skyrocketed but fewer positions become available. The good news is that the number of lawyers has remained steady. In 2015, there were 1.3 million practicing attorneys in the United States; by 2019, that number had grown by only 50,000, to 1.35 million, according to Statistica. The good news is that there are jobs out there, and they are spread among many different areas of law. Some of them require specific expertise or even other graduate degrees.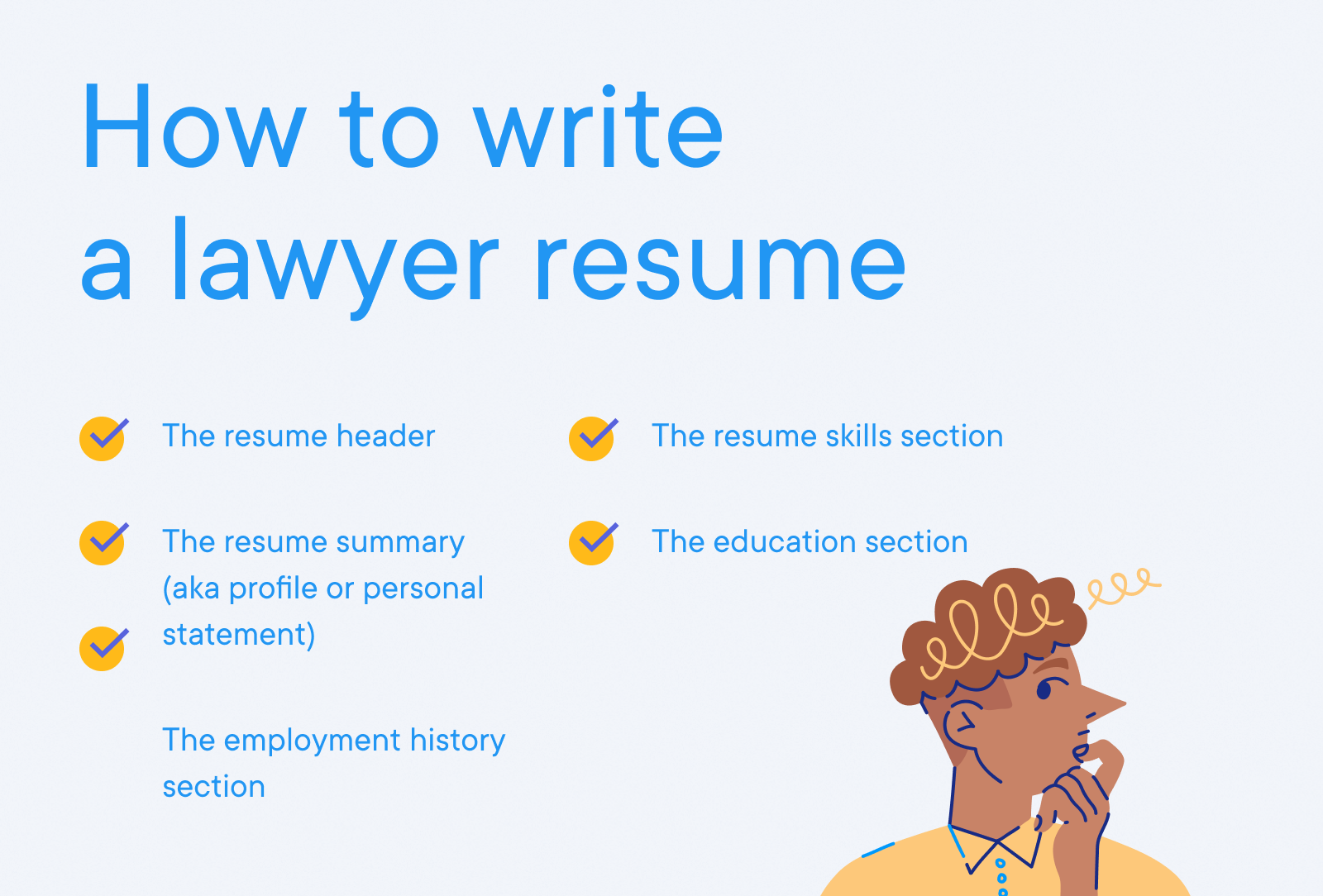 How to write a lawyer resume
So where do you start? To win your case, you will have to start with a great resume. First, you need to know the components of a lawyer resume. They are: 
The resume header
The resume summary (aka profile or personal statement)
The employment history section
The resume skills section
The education section
Your job now is to investigate the law firm so that you can echo the style and tone as well as direct your message directly to the needs of the firm. Find out as much as you can about the staff. Get the name of the hiring manager and even who your boss may be. That way, you can check out their background and better speak directly to them.
To build the best resume possible, you need to:
Target the skills and attributes firms want and those that will help you avoid filtering by the ATS software
Echo the tone and style of the firm you wish to join
Design a clean, legible layout that reflects the image of the firm.
Whether you're an established professional or you're looking for your first internship , you should think about all your options when you create a resume so that you can individualize it as new job opportunities arise.
Expert tip
Do not think of your resume as a static document. In reality, it is a job application that should change with each new opportunity and should be custom-tailored to each new target employer in a razor-sharp fashion.
Keywords are the key
Algorithms rule the hiring process, and you need to know how to use those formulas to your advantage. Applicant Tracking Systems (ATS) scan and rank your resume based on these algorithms. Don't make it into the top tier? Your resume will be trashed. What can you do to increase the odds? In general, you should mine job descriptions for keywords and phrases to place in your resume. Several ATS services cater to law firms and, in fact, more than 300 of the largest firms use an ATS. More than 70 percent of those use either viRecruit, Lawcruit/Micron, or Ulripro/Ultimate Software, according to Talentsum. 
Expert tip
You can usually find the name of the ATS on a law firm's recruiting page or do a quick Google search (many ATS providers openly mention their top clients). Then, you can dig deeper to try to discover the exact algorithm the ATS uses. 
Choosing the best format for a lawyer resume
As you climb the ladder of success, your first rung becomes less and less important. That's why the most common resume format is reverse chronological order. Within your employment history section, you place your most recent position at the top and work your way backward. No reason to step back more than 10 years or so, since technology and your skills have advanced tremendously since then.
A hybrid resume format may suit you if you are a career changer or are entering the legal job market for the first time. Functional resumes are not favored by recruiters. You should only consider using this format if you are in a highly technical or specialized field as it allows you to emphasize your skills over your work history.
We recommend reverse chronological order for lawyers.
Resume example for lawyer profile: Your opening statement
Lawyers must be excellent with words and your profile (also known as a summary) is your best opportunity to show off that skill. Here is where you wow recruiters with your professional personality and impressive achievements – all in two to four sentences. Firms want to know what you will bring to their roster of attorneys and how hard you are willing to work, so let them know. Sell your professional image in a convincing way. Lawyers are keen arguers and persuaders, so use those talents here. You do not have the space to be modest. Personality is a key issue for law firm recruiters. New hires must not only show achievements, but also be a great fit with the corporate culture. Attune your profile to account for that. 
Statistical insight
The cost of a "bad" hire to a law firm is estimated to be $250,000, a Thomson Reuters white paper says. This is why it's doubly important to provide the right impression: hiring within law firms is approached with the utmost caution.
As you write, be careful to tailor each profile to the job you seek. If you're looking for a public policy job, there may be no need to mention your real estate expertise. Instead, write about your passion for justice. Individualizing your resume is particularly important because of the Applicant Tracking Systems you will have to pass before a recruiter views your resume.
Here is a resume example you can customize to fit your needs
Experienced and innovative Lawyer with a passion and dedication to justice. Highly organized, and skilled in public speaking. Bringing forth a proven track record of achieving favorable outcomes for clients. Adept in preparing for trials, reviewing documents, and effectively presenting cases in court. A strong leader who works well under pressure, and understands the complexities of the legal system.
Lawyer CV skills section resume sample: How you excel
In addition to being a great communicator, lawyers need a variety of interpersonal skills . You will be working with clients who may be under pressure for any number of reasons. Not only do you have to stay calm, but you have to be able to interpret what they need and explain complicated aspects of the law in a clear, understandable manner. You also need expertise in the area in which you are applying. This section is a list of the top five to 10 skills you want to highlight for each job. Recruiters can do a quick scan of this section to see if your skills match their requirements. Make sure they do. Here are some skills to consider:
Problem-solving
Critical reading
Persuasive and clear writing
Flexibility in communication tone and style
Investigation and research
Calm under pressure.
These do not take into account the industry-specific knowledge you may need to practice in any one area of law but are general skills all lawyers should have. 
Statistical insight
Up to 23 percent of the work that lawyers do could be automated by adapting technology that already exists, according to a McKinsey Global Institute analysis. In light of this, make sure you highlight your social side (while not ignoring your competencies). This emphasizes your value as a human employee.
Here is a resume example of a skills section you can customize to fit your needs
Corporate taxes
Real estate contracts
Data-driven research
Empathetic listener
Lawyer employment history CV example: Build your case
You need to be precise in telling the story of your career in your lawyer CV. The bullet point list of your past positions should be listed in reverse chronological order (most recent jobs first), and each job should have a sub-list of your accomplishments, achievements and milestones (based on  your duties and cases). Make sure to use strong action verbs and powerful nouns and adjectives, and avoid overly complex grammatical structures that bloat your descriptions. Be detailed without being too wordy.
Do
Try: Presented clients with action sheet of options and answered all questions
Try: Researched, suggested and negotiated solution to personnel dispute
Don't
Instead of: Explained legal options to clients
Instead of: Ensured compliance with all personnel law
Explaining what type of cases you handled, how many clients you had, and favorable outcomes all add the details that will take your resume from good to great.
Statistical insight
Women make up 37 percent of lawyers in 2021, up from 33% in 2011. The percent of people of color in the law field has not changed since that year, according to the American Bar Association. 
You can impress recruiters with concise, action-oriented descriptions of your cases and how you resolved them. Also give examples of how you coped with working under tight deadlines or when the stakes were high. These specifics will tell firms that you know how to deal with pressure, a key attribute for a lawyer. Focus on your achievements, challenges, and accomplishments to turn this section into a showcase for your growth as a lawyer.
Expert tip
If you are just starting your career, add any experience from law school as well as jobs in other fields. Focus on the skills you used in those jobs that are transferable to your law career.
Here is a resume example you can customize to fit your needs
Mediated and enforced the proper regulations in housing disputes.
Advised clients about their legal rights in these disputes.
Counseled clients about the law and legal options to resolve disputes.
Developed strong litigation strategies for 5 civil cases that could not be resolved through negotiation.
Organized documents and summarized cases for court proceedings.
Effectively represented clients in criminal and civil court proceedings.
Education section resume example: Does your alma mater matter?
If you attended a "T14," a top 14 school, that's great, especially if you want to work at a large law firm or clerk for a prestigious judge. These jobs go disproportionately to graduates of those schools. That doesn't mean that you can't get one of those jobs if you didn't go to a T14 school, but it won't be as easy. List your class ranking and GPA if they are stellar. Law is a very competitive field and you want every advantage you can get. But remember, even if you were not at the top of your class, you can still land a job with the help of a great resume.
In addition, other factors affect whether or not your education helps gives you a boost. If you are already a working lawyer, where you attended law school is less important than your experience. A strong employment history section matters more than your law degree at this point. Location is another big factor. Most lawyers end up practicing in the states in which they attended law school. That's because you can build connections with professors and other students in the region and get involved in law clinics within the community. Be sure to list any certificates, accolades, memberships or other honors in this section as well.
Statistical insight
Of the top 10 largest law firms, five are based in New York, three in Washington, D.C., and two in Chicago, according to Above the Law. 
Here is a resume sample you can customize to fit your needs
2009-2012 New York Law School, Juris Doctor, New York, NY
2005-2009 Marist College, Bachelor of Economics, Poughkeepsie, NY
Resume layout and design: A professional look wins
The design of your resume is almost as important as what you say. This will be the first chance firms have to see how you present yourself. As a lawyer, you will be meeting with clients who need to trust you and your professional conduct. Or you be appearing before a judge and jury. Appearance counts. Busy recruiters are looking for reasons to eliminate resumes, so don't give them the chance with a bad, cluttered or buggy design. The first rule of thumb: Keep it legible. No fancy fonts , bright colors, or overly distracting design elements. Recruiters and hiring managers scan resumes quickly looking for pertinent information. For lawyers just out of school, that could be the university where you earned your law degree, your contact information, and any internships you have completed. For others, the scan will include your current position, responsibilities and title.
Statistical insight
The recruiting firm SocialTalent suggests a 30-second resume scan (the phase where a hiring manager decides whether to move on to the next applicant) broken down as follows:
Current/last job position: 10 seconds
Time spent at each job: 5 seconds
Company name: 5 seconds
Accomplishments/career highlights: 10 seconds
Don't rely on your editing skills to look over your work. Have a friend or colleague check for typos and formatting errors.
Statistical insight
More and more firms are using data analytics to create profiles of their ideal candidates. For example, a lack of typos and spelling errors in one's resume "which showed focus and attention to detail" were also associated with more job success, according to Law Crossing.
Design your resume so the information employers seek stands out. Alternatively, use one of Resume.io's templates. Lawyers must maintain a conservatively professional look, so try a layout within the Professional or Simple categories.
Key takeaways for a lawyer resume
As a lawyer, your legal career can go in many directions
Your profile is an introduction to your professional personality
Keywords and phrases will help you outsmart Applicant Tracking Systems
Highlight your special abilities in your Skills section, and adjust this for each job
Build your case with details and data in your Employment History
Make sure your design is professional and legible
Take the uncertainty out of impressing employers and avoid ATS traps by resume.io's builder tool, resume samples and templates.