Your dream job as a mechanical engineer awaits. With this in-demand job title, you can design a resume that gets you where you want to be. This career path is loaded with opportunity, but how do you take advantage of it? Your first step is to develop a mechanical engineer resume that showcases your talents, successes, and accomplishments in a concise way. In today's professional world, one of the most important aspects of acquiring a great career is standing out from the crowd. You're in the right place to achieve exactly that!
Job-hunting, even in an in-demand field like mechanical engineering, is complicated and the competition is tough. Before your resume lands in the hands of a recruiter or hiring manager, it first passes through an Applicant Tracking System, or ATS , designed to eliminate "bad" resumes. This automated software uses algorithms to rank your resume based on keywords, phrases and other factors; therefore, to have a chance at your dream job, you have to know how to boost your score and beat the ATS. 
This mechanical engineering resume example and writing guide, along with resume.io's templates and builder tool, will help you to:
Understand the job market and the needs of employers
Grab the attention of recruiters and hiring managers
Beat the ATS designed to filter out resumes
It's time to stop wondering why your resume disappears into the ether and move to the top of the applicant rankings.
What does a mechanical engineer do?
Mechanical engineers design and build mechanical devices, including tools, engines, and machines. Mechanical engineers work in a broad field that encompasses many industries and job descriptions, all requiring special expertise and knowledge. The Institute of Mechanical Engineers lists these as fields where mechanical engineers are in demand:
Aerospace
Biomedical
Construction and building
Manufacturing
Power
Railway
And that's just the start. Mechanical engineers also work in automation and robotics, one of the most in-demand engineering fields for 2021, NewEngineer says. You may have experience in one of these fields or you may be looking for a challenge in a different industry.
Skill sets
Some skills are basic to all mechanical engineers. Your job responsibilities may include any or all of the following samples:
Evaluate mechanical systems
Analyze problems
Identify solutions
Design and develop mechanical devices
Develop prototypes
Develop manufacturing procedures and equipment
Design tests of quality, capabilities, fabrication, and installation
Ensure regulation compliance
Train technicians
Provide engineering support to customers
Statistical insight
The industries that have the highest average salaries for mechanical engineers are waste treatment and disposal ($123,100); oil and gas extraction ($122,830); insurance carriers ($112,850); remediation and other waste management services ($112,500); and petroleum and coal products manufacturing ($110,900), according to U.S. News and World Report.
Curious to see other resume sample from the same industry? Don't forget to look at our other engineering resume examples below.
How to write a mechanical engineer resume
In some ways, you have an advantage in the job market. Hiring engineers is difficult. In fact, it takes an average of 60 days to hire an engineer, according to Workable. That's longer than the vast majority of other professions. 
But employers aren't looking for just anyone, and your resume can still get filtered out by ATS software if you don't know how to beat the algorithm. Your resume needs to be individualized for each industry and each job application. Why? Because even if a generic resume happens to get past the ATS, it won't impress recruiters and HR personnel. 
Either way, your mechanical engineering resume must have pinpoint focus on the requirements and desired skills of each job listing to land an interview. To make your resume shine, you will need to customize with specific, detailed examples of your professional accomplishments in these areas. That will be especially important in your employment history section.  
Expert tip
Before you get started with writing your resume, make a master list of all your skills, accomplishments, qualities and milestones. This will be a handy guide to cherry-pick from when you start to individualize your resume.
But first, learn how to beat the ATS.
The ATS and your job hunt
Descriptions for mechanical engineering jobs often include long lists of required skills and desired attributes. That can get overwhelming fast. But you have an analytical mind, so use that quality to deconstruct job listings before you create your mechanical engineering resume. Here are some questions to ask yourself about each listing:
What skills are mentioned most?
What qualities are mentioned most?
What is the nature of the employers' business and what are they likely to prioritize in a future employee?
Which of my professional successes prove that I have those skills and qualities?
How can I best show that?
Then, to rank high enough to pass the ATS software hurdle, use the exact language the job description uses in your own resume to boost your candidacy. Especially in engineering professions , terminology may vary and overlap, so make sure to use the wording employed in the job listing (tempered by common sense, of course). 
Mechanical engineer resume summary example: opening the right doors
Here's your chance to differentiate yourself professionally with a few well-constructed resume sentences. Your summary (also known as a profile or personal statement ) gives you the opportunity to get a little creative. The rest of your resume must be more structured, but here you can highlight the reasons you are great at mechanical engineering. You can also communicate why you are a good colleague and employee. 
In two to four sentences, you can both:
Optimize for the ATS by using the keywords and sample phrases you found when analyzing your targeted job listings.
Use strong

action verbs

and positive, energetic language to impress the hiring manager with your qualities and achievements.
Bring your most important professional strengths and successes to the top of your resume.
Be positive! Don't exaggerate, but don't sell yourself short either. While mechanical engineering requires a long list of hard skills, or the pragmatic skills necessary to do your job, it also requires soft skills, also known as people or interpersonal skills. When you write your mechanical engineer resume summary, highlight both. This section goes at the top of your resume, prime space for the eyes of recruiters and human resources personnel. Make sure you make the most of it.
Mechanical Engineer resume example: Summary
Dedicated and experienced Mechanical Engineer with extensive knowledge of engineering principles, theories, specifications and standards. Bringing leadership, drive and over five years of experience to the table. Proven track record of finishing complex projects ahead of schedule. Substantial experience in analyzing problems and offering mechanical and thermal devices that help to alleviate the problems at hand. Adept in overseeing the manufacturing process of devices, and working with other professionals to ensure that projects are successfully completed. Bringing forth a passion for mechanics and the desire to work as a productive team member.
Resume employment history example: Your professional success
Mechanical engineers perform vital functions within their companies. Your work history details your achievements and value on your resume. Using reverse chronological order — from most recent to oldest — you can tell the story of your professional growth and enumerate your accomplishments. This structure allows busy recruiters and human resources personnel to quickly see where you are on your career path. 
Expert tip
If you are a recent graduate, you may consider a different organization. For instance, you may list your education ahead of your employment history. Consider including internships and classwork projects and calling this section "Experience" instead of "Employment History."
Achievements and attributes
Think about your achievements and growth in each job. Instead of writing job descriptions on your resume, explain what you accomplished at each of your previous positions. Below each past position, you should have a short bullet list or (for less important jobs) a concise description of what stands out from that specific work experience. Look at it from the perspective of the employer: What would impress you if you were looking to hire an engineer? If your aim is to change careers or industries, think in terms of how your accomplishments translate into your desired new industry. If you are remaining in the same industry, use this resume section to highlight successes you have already had and point to your professional growth trajectory.
Expert tip
Recruiters are looking for a bit of variety in your job history, not just a long tenure at one company. They are also impressed by candidates who do engineering in their free time or who started as interns and earned a full-time position, according to recruiting firm Integress. 
As a mechanical engineer, you have a huge responsibility. You must design machines and protocols that are safe and meet all regulatory requirements. Highlight how you have used technical skills to achieve these goals, but don't forget that a mechanical engineer resume also needs soft skills.
Statistical insight
89% of engineers say they are highly satisfied with their careers and would choose this path again, the Institute of Mechanical Engineers found. This professional field is very conducive to a fulfilling career, even though finding the right position can be a challenge.
Be as detailed as you can, using numbers and project details to prove the experience on your resume – after all, mechanical engineers need superior math skills, so show them off! Use the sample sentence below to improve your mechanical engineering resume.
Do write:
Improved machine speed to increase manufacturing efficiency by 20 percent.
Instead of:
Designed speedier machine.
And remember: strong action verbs on your resume show that you are a person who gets the job done.
To get started, make a list of the projects you have worked on. Here are some questions to ask yourself:
Which ones demonstrate a new skill?
Did I lead any of these projects?
Does this show innovation?
Do I have data or statistics to back up my achievement?
Is there a tangible product related to this project?
Finally, target the accomplishments you will detail to the specific job you want and write a short, action-oriented description. Be aware that you should evaluate which achievements are best to include on your mechanical engineering resume for each different job.
Mechanical Engineer Resume Sample: Employment History
Mechanical Engineer at Sisco Enterprises, Los Angeles 
October 2012 - September 2019 
Attended meetings to discuss projects with clients, contractors, and other engineers.
Planned and directed the execution of various projects.
Analyzed problems and offered mechanical solutions to existing problems.
Developed and tested prototypes of devices for specific projects and clients.
Designed and implemented cost-effective device modifications.
Mechanical Engineer at Blixo Resources, Denver 
May 2009 - September 2012 
Assisted with identifying projected costs and assembly specifics.
Analyzed data to determine if designs met performance goals.
Monitored progress of projects and reported any issues to senior managers.
Worked closely with project managers and engineers to ensure project needs were fulfilled and budgets were honored.
Mechanical Design Intern at Blixo Resources, Denver 
July 2007 - February 2009 
Created models and designs according to product goals and intended function.
Collaborated with designers to understand product specifics and worked to ensure a proper fabrication process.
Assisted with determining materials and supplies based on goals and budgets.
Mechanical engineer skills section example: the right tools
The skills resume section gives you a chance to add keywords and highlight features that didn't fit into your employment section. This resume section may seem simple: It's a list of skills. But you can take it to the next level by creating a thoughtful distillation of your professional assets. Use strong, concise language that describes what you can do and think about both soft and hard skills used by mechanical engineers.
Hard skills
Consider these short, descriptive examples that showcase hard skills engineering recruiters seek:
Prototyping
Workflow development
Knowledge of manufacturing
Software knowledge (specify which)
Quality testing and troubleshooting
Knowledge of safety regulations
Soft skills
Although mechanical engineering is often thought of as a profession where hard skills are most valued, your soft skills can make this difference between getting that dream job or not. Consider these soft skill that engineering recruiters look for on a resume:
Creativity
Problem-solving
Collaboration/coordination
Decision-making/judgment
Negotiation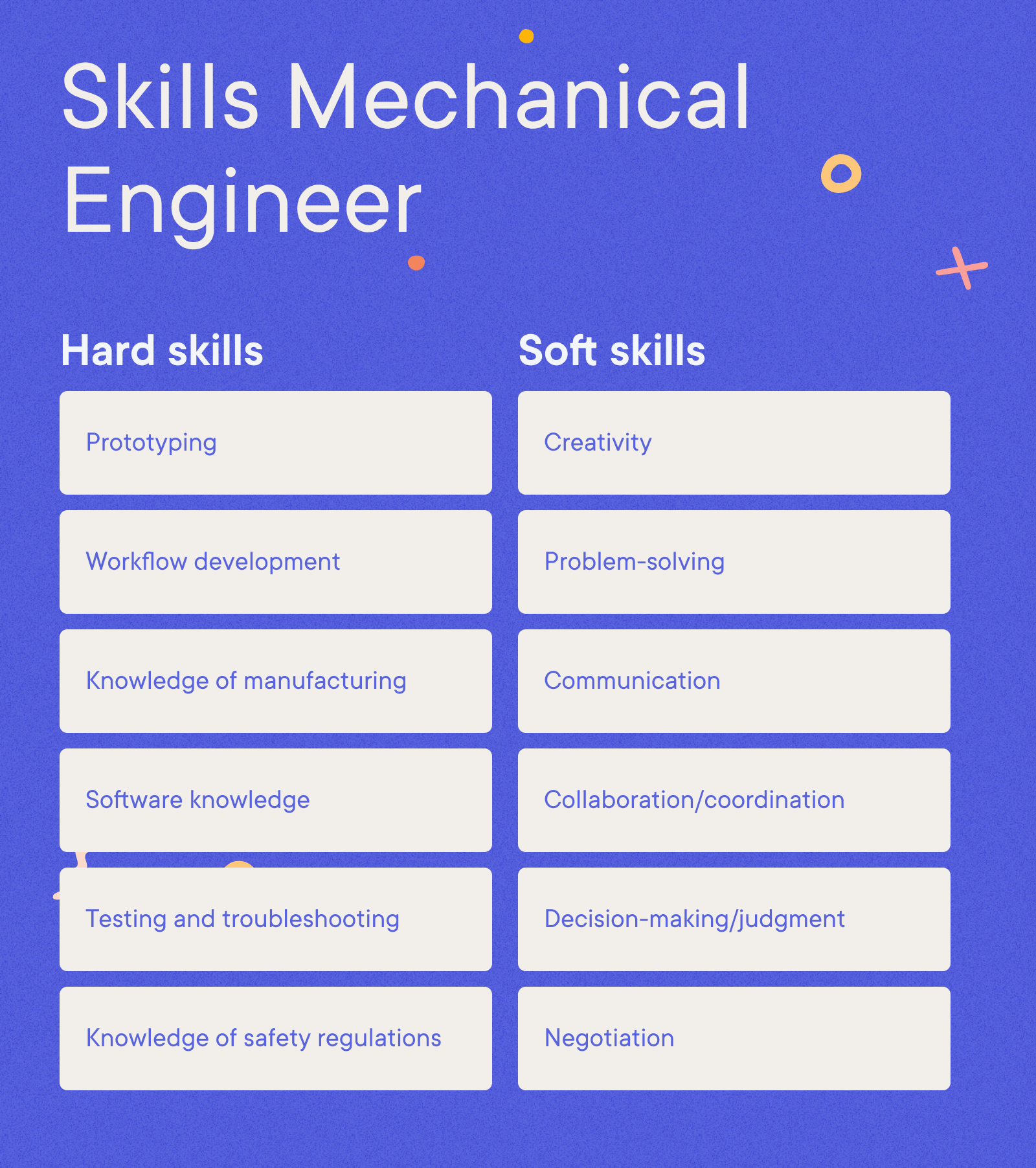 Statistical insight
The top five most desired soft skills for a mechanical engineer are adaptability, creativity, communication, teamwork and desire to learn, according to Peak, a management training company. 
Mechanical Engineer Resume Example: Skills Section
Analytical Skills
Design Skills
Mechanical Engineering
Creative Mindset
Resume education example: Knowledge in practice
The more mechanical engineering experience you have, the less important the education resume section becomes. But if you are a college student or recent grad just starting out, consider moving this section up if you have a distinguished educational history. For example, if you graduated from college with honors or have a high grade point average, say so. You do not need to list your high school degree if you have earned higher than a bachelor's degree. Consider adding a professional certificates and affiliations section if you are an active member of organizations and have more than one certification. 
Expert tip
If you are trying to boost your candidacy, especially if you are changing industries or are starting out in your career, consider earning a professional certificate. The American Society of Mechanical Engineers offers certification and accreditation in several different advanced engineering areas. 
Mechanical Engineer Resume Example: Education 
Master of Science in Mechanical Engineering, New York University, New York 
August 2007 - May 2011 
Bachelor of Science in Mechanical Engineering, New York University, New York 
August 2003 - May 2007
Choosing the correct CV format and resume template
Your mechanical engineer resume format and template should project the professional image you want recruiters and HR personnel to notice.
Layout tips
Think of your resume format the same way you think about engineering design: You want it clean, efficient and user-friendly. It may be tempting to personalize the look of your resume, but you know that a layout should be attractive to as many people as possible. Format functionality beats everything else, just as it does in mechanical engineering. Most recruiters and HR personnel want to be able to quickly find your contact information, current job and responsibilities. That means keeping your resume or CV format easily legible.
Eliminate clutter and visual distractions. Spread your type throughout the page so there aren't any big blocks of difficult-to-scan words. Recruiters see thousands of resumes and they will not wade through one that is poorly formatted. 
Resume templates and formatting
We strongly recommend using a resume template. Templates can help you make sure your format ticks off all the resume rules recruiters are looking for. For example, you'll want to use the appropriate font sizes and styles with the right balance of white space to text. Templates take the guesswork out of all those decisions. However, recruiters also want to see a template that's customized and matches their branding and image.
Resume.io's collection of expert-tested resume templates allow you to choose the resume or CV format that works for you in one of four categories: professional, modern , creative or simple. The templates are customizable, so you can adjust them to your needs. 
Don't like what you picked? Just swap it out inside of our easy-to-use resume builder . The builder tool conveniently allows you to save your resume as a PDF and avoid accidental formatting inconsistencies.
Key takeaways
Engineers are in demand but still must beat the competition.
The key to getting past the ATS software is individualizing your resume for each job.
Writing a strong summary gives you a chance to show off your professional personality.
Use data and statistics to illustrate your professional achievements.
Consider where you are in your career when placing your education section.
Add professional certificates and accreditations.
Balance the need for space with the chance to highlight your professional certificates and affiliations.
Remember that your template and formatting reflect your professional image.