Project managers are the corporate magicians of the 21st century. With a remarkable knack for ensuring each project outcome is greater than the sum of its parts, they rely on a skill set that's very specific but infinitely applicable in virtually any field. A project manager resume typically reflects this occupation's transcendence across career paths.
Resume.io can help you project that when writing a project manager resume that we hope will secure a range of fascinating project management offers. We've developed more than 300 occupation-specific resume guides and examples along with expert advice and job search resources. 
This project manager resume writing guide, along with the corresponding resume example, will cover these topics:
Role of a project manager
How to write a project manager resume — particularly which aspects of your qualifications and responsibilities to cover in an impactful way
How to use role-specific language on your resume to pass the ATS test
Choosing the best format for structuring your project manager resume
Advice on each CV section: header, summary, employment history, education and skills
Bringing your key projects to life by and telling the story of how you made them happen
Resume layout and design tips, including advantages of using a template
What do project managers do?
Project managers are the glue that holds any project team together. The success of a project rises and falls with you. 
As businesses become ever more interconnected, there is a growing requirement for multi-talented people to coordinate and manage diverse teams in ambitious cross-company projects. They might not have the specific skills or knowledge that each individual project team member possesses. But their excellence lies in seeing the bigger picture of how the jigsaw puzzle fits together — moving the right pieces to the right place at the right time. 
While certain industries employ more project managers than others, it is rare to find a project manager who works in just one industry. Every project day is a learning day. Project managers never know which part of any given experience might be useful for their next project. Therefore, a project manager resume will therefore likely be a diverse collection of different work experiences.
Expert tip
For ideas and inspiration to help you create a job-winning project manage resume, you're invited to peruse these examples from the business & management field: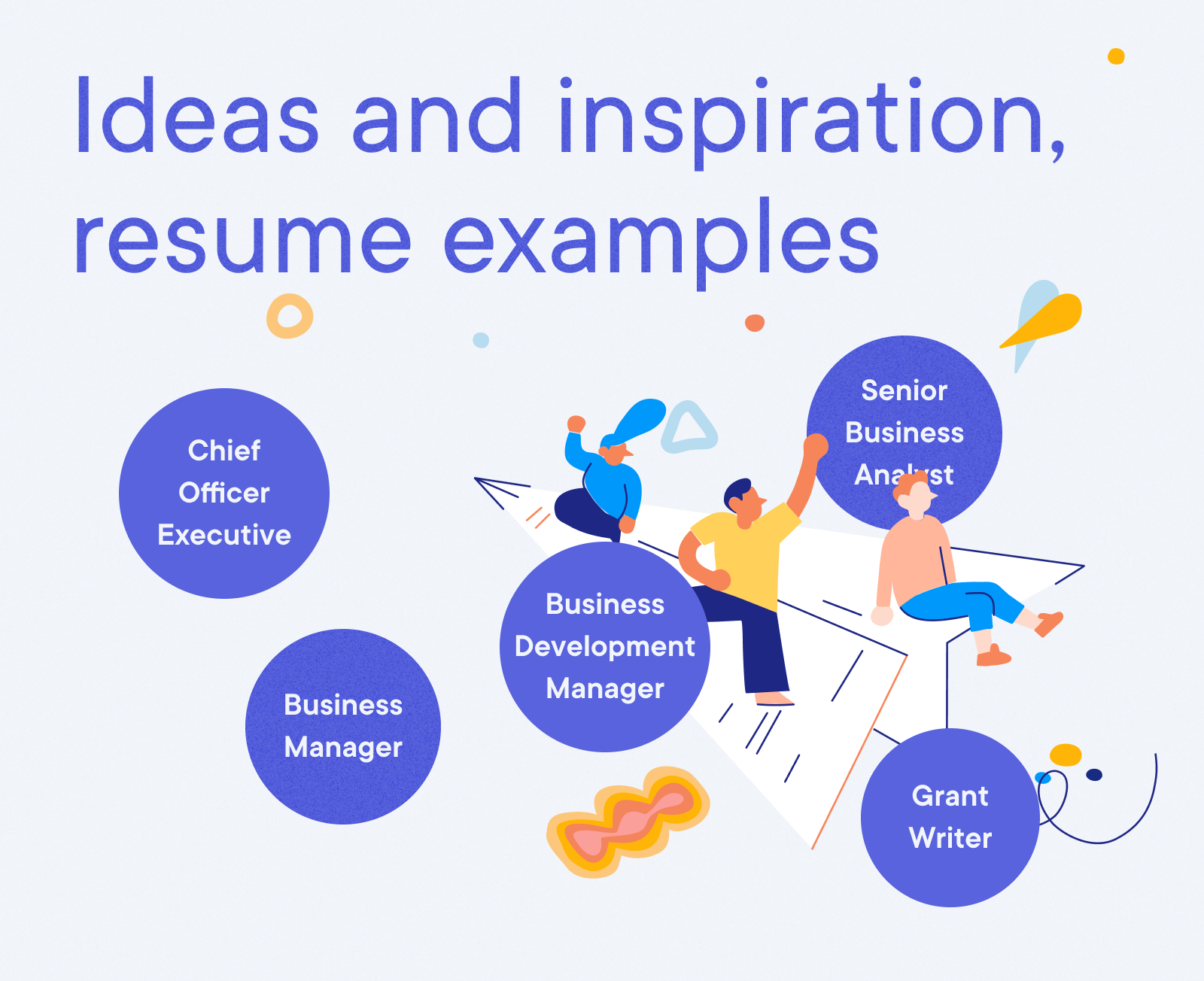 How to write a project manager resume
First things first: the easiest part of writing a project manager resume applies to virtually all occupations. Here is the basic framework of components:
Header
Summary (sometimes called profile or personal statement)
Employment history
Education
Skills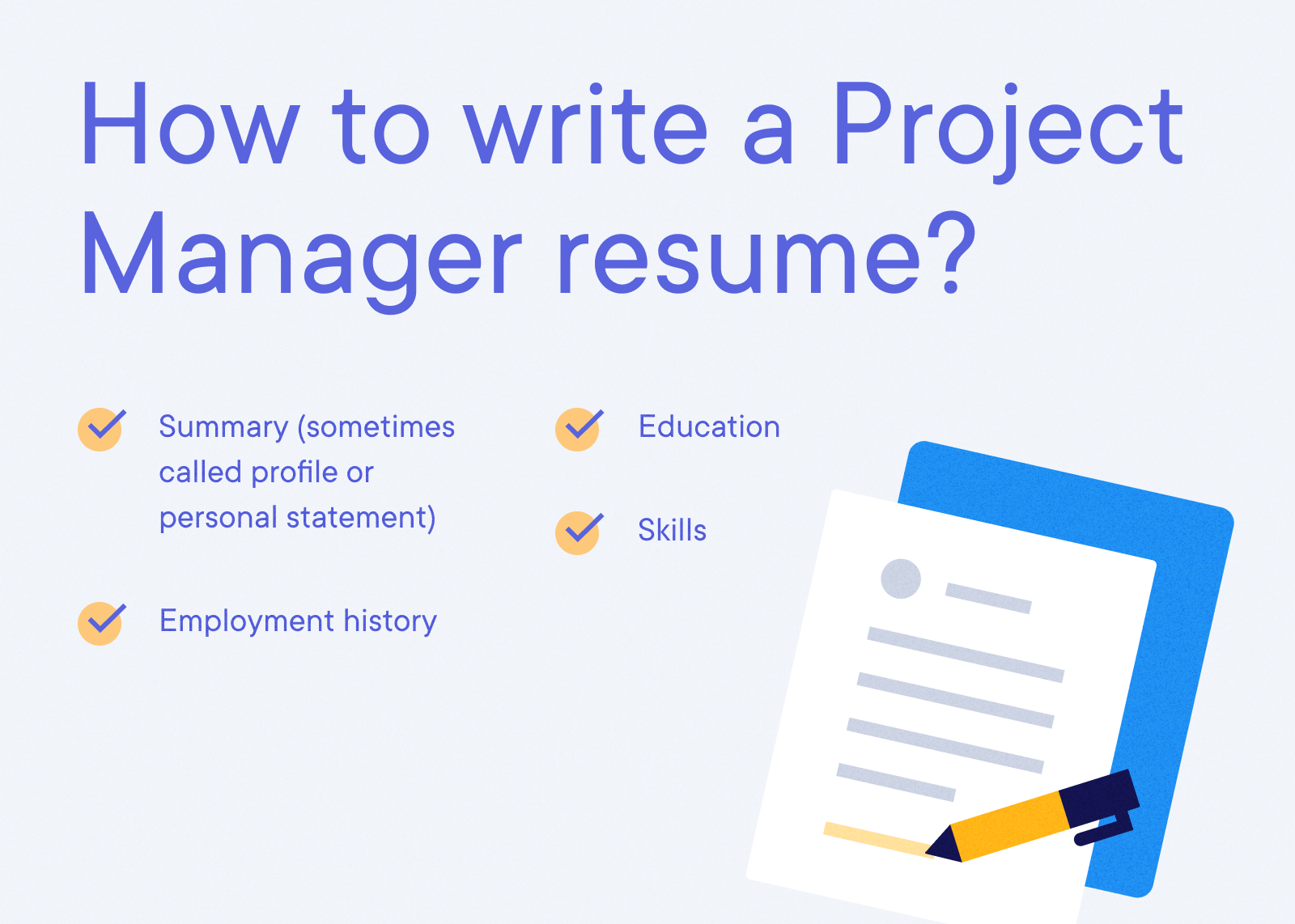 Before taking a closer look at each of these sections, let's look at the bigger picture of what your project manager resume might cover, and from what angle.
Project manager resume content considerations
Nailing down the content for your resume may not be as simple or straightforward. The best project managers don't take too much time to analyze decisions or weigh their options. They simply don't have time for that! They rely on their experience, people skills and instincts to make correct call after correct call. 
Sure, there will always be a certain number of things that could have gone better, but when you are spinning so many plates, a few are bound to crash to the ground. You just have to clear them up and move on. 
After years of experience, the plate spinning gets easier. But with so much of their work being intuitive, project managers may not feel the same way about the self-analytical aspect of job hunting. It doesn't seem natural to dissect how they do what they do and why they make certain decisions. Yet this introspection is critical when it comes to writing a compelling project manager resume and talking about yourself in an interview. 
Being able to demonstrate how your contributions add value —  and to do so more effectively than other candidates pursuing the same job —  is crucial to be considered for the most interesting projects. Without a resume that is crystal clear about the value you bring to the table, you are less likely to be called for job interviews and considered for the best projects. You will more likely be forced to take on projects that are doomed to fail. This diminishes your chances of getting a decent project next time, and thus finds you stuck in a horrible vicious circle. 
What about your project manager role?
The nature of a project manager's work varies greatly, depending on the industry and functional area. But there are some common aspects. How you go about managing your projects and the attitude you bring to each one are uniquely yours. And in every instance, the impact on those around you is huge. 
So what elements of your project manager role should your resume include? Here are some ideas.
Be clear that your project management approach depends on the framework you are presented with. There is no fixed recipe for a successful project, so flexibility and adaptability are critical.
You must be able to take direction and give direction in equal measure, channelling the ideas and opinions of the experts in the room rather than imposing your non-expert view.
Project managers should guide the strategic direction, but it is the project team members who will mostly formulate it. Listening skills are critical so you can keep on top of the current situation and head off any future issues steaming down the road at you. This flexible mindset is crucial because when the success of a project is subject to so many variables, you never know.
Evaluating the impact of ideas and the effectiveness of contributions is core to a project manager's role. You should not be afraid to challenge others to get things back on the right track.
You need to be a logical thinker who is not swayed by emotion and can envisage the final outcomes.
It is vital to get along well with a diverse range of people. The job involves coaxing people to adhere to challenging timescales and get on board with unorthodox thinking. Many projects entail working with external service providers and subcontractors; efficient management of these workers falls on the project manager's shoulders.
A project manager resume has to cover all of these aspects of the role and many more. But first, to make any of it matter, you need to make sure that the hiring manager will actually receive and read your resume at all. So let's look at how ATS software works and how your resume can pass through this digital screening tool.
How can you pass the ATS test?
Each project manager position you apply for will have very specific requirements, as outlined in the advertised job posting. The project / job description will contain keywords that the applicant tracking system (ATS) software will be searching for in each project manager resume submitted online. Only resumes with a high enough keyword score ranking will make it through this digital filter and the rest are eliminated.
Sometimes the project scope and requirements may not entirely clear or specific in the posted job description, so the right keyword choices can be tricky. Still, the more deliberate you can be in scrutinizing the job description and incorporating well-matched keywords in your project manager resume, the higher its ATS score. Applicants who understand how an ATS works have a much better chance of delivering their resume to human eyes. Then the project manager recruitment journey can begin in earnest.
Expert tip
In many of our resume writing guides, we suggest researching the employer's website to better understand the job application. For a project manager, this is very important because the expectations and project management structure for every business will be different. 
The summary and skills sections of your project manager resume are where keywords matter most for ATS protection. Later on, we'll take a closer look at writing each of those sections.
Choosing the best resume format for a project manager
The most commonly used chronological resume format is recommended for structuring CVs in most occupations, and may be suitable for many project managers. It gives recruiters the most straightforward overview of your career highlights in the employment history section.
But if you are new to the workforce, making a dramatic career shift, or your project manager background has not followed a linear path of employee positions, take a look at alternative resume formats. Having primarily a consulting background of contract work might be a reason to consider a functional resume structure. Maybe you want to focus on specific project manager skills, an occupation-specific area of professional expertise or industry sector. This should depend on the position you are seeking, as well as your career goals. Another option is a hybrid resume format, combining some elements of the chronological and functional structure.
Resume header
A well-designed header will draw attention to your resume for the right reasons — both practical and esthetic. There will be no mistake about who your resume belongs to, your occupation and your contact information so duly impressed recruiters can get readily in touch with you to set up an interview. And ideally, the header had a lot to do with impressing them at first glance, because of the eye-pleasing design. Consider aligning the visual style of your resume and cover letter documents so it is obvious they are a matched set. Try to be consistent with the brand or image of the employer and industry at the same time.
 
Project manager CV summary example: the overview
Your project manager CV resume summary should adopt a tone of proficiency and confidence. More than anything else, your future boss wants to understand that you are a project manager who can help make the impossible possible. You can handle anything that your future projects will throw at you. 
Don't just describe what you do, describe how you do it. Help resume readers imagine what it is like to have you leading their project team. Project managers serve a critical role that will impact so many of their colleagues. So in the few seconds that hiring decision-makers spend reading your resume summary, it has to instill a sense of confidence in them.
Include numbers showing growth to create a great first impression
The summary, which varies slightly from a personal statement , is one of the few places on your project manager resume where you can express the subtleties of your experience in free-form text. It is hard to summarize an extensive, project-rich career in a few sentences. But if you include the most hard-hitting ones and include some sample numbers to back up your claims, your project manager resume summary will create a great first impression.
Keywords assure recruiters you know what is required
We already emphasized the importance of using the right keywords in your project manager resume to ensure it passes through the ATS screening filter. The posted job requirements are your best source of keywords for that purpose. 

The summary is one place where it's important to strive for a strong correlation with the keywords you've identified in the posted job description. Besides ATS protection to better the chances of hiring managers seeing your resume, the right keywords can actually inform the way you choose to present yourself in the summary to make the best first impression possible. 
Expert tip
Word clouds are useful tools that can take your keyword matching efforts a step further. These software apps can pick out patterns from the job description text that indicate the relative importance of certain keywords. Since it may be hard to imagine what your future projects will entail if you haven't been hired yet, a word cloud can provide some good clues for your resume summary. This improves your chances of convincing the employer you know what's required and are up for the task. 
Below is a project manager resume example summary you can customize.
Adaptable summary example
Dynamic project manager with an enviable track record spanning nine years in the retail sector. Proficient in stakeholder management, risk assessment and strategy formulation. Flexible approach to project methodology means that team performance and cohesiveness is optimised, while ensuring all goals are met within scope and budget.
Employment history sample: the right experience
When writing the employment history section of your project manager resume — specifically the most recent list of accomplishments — it's important if possible to include the projects most relevant to the future role you seek. Projects completed a decade ago may be somewhat relevant, but your experience will seem more current if you can highlight recent examples.
Substantiate these examples with as many figures and statistics as you can, since the core rationale behind most projects is to bring a measurable business benefit. Unless you can quantify your past contributions, not many potential employers will take your resume seriously. It's important to understand and communicate your contributions in relatable terms.
Make sure there is a "people" thread running through your employment history. No project managers achieve anything by themselves, so describe how you motivated those around you to work together for a common goal. Otherwise, it's like outlining in a PowerPoint presentation what has to be done, but failing to mention you have to bring people together to achieve it. 
For detailed project descriptions in your employment history section, you might consider using the STAR method for outlining each accomplishment: Situation, Task(s), Actions / strategy and Result. This approach helps keep the work experience highlights on your project manager resume logical and straightforward.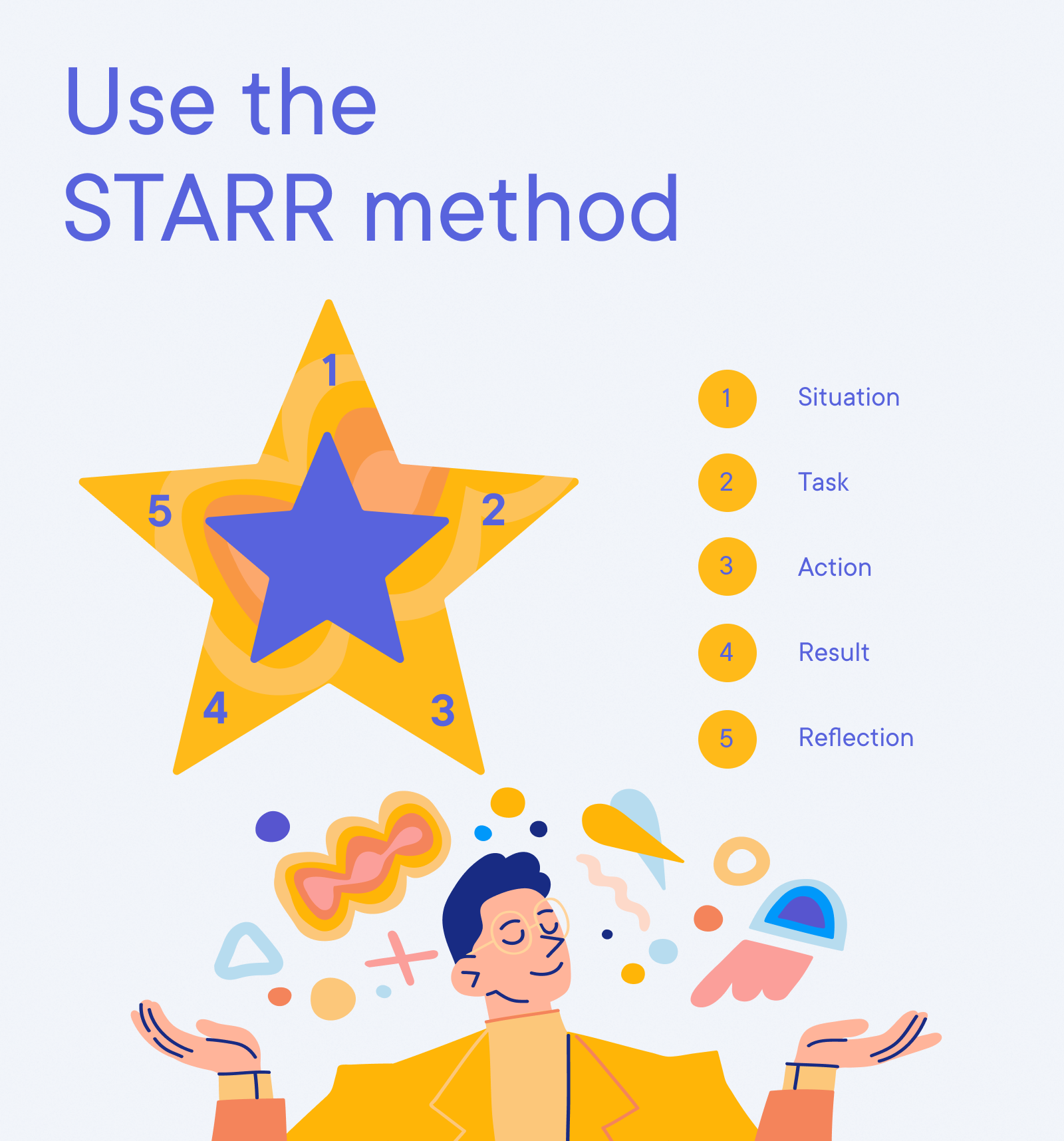 Below is a project manager employment history resume sample.
Adaptable employment history example
Project Manager, at Macy's, Inc. , Los Angeles
September 2012 - Present
Developkey project goals and worked collaboratively with cross-functional teams to achieve them in a timely and effective manner.
Apply rigorous time management and task tracking methods to successfully oversee and manage all project stages from conception to completion.
Oversee visual display plans and managed teams creating those plans.
Ensure project strategies are consistent with the company's overall mission and seek  to effectively convey and promote the Macy's brand.
Cooperate in developing the creative budget and monitor project expenditures accordingly.
Associate Project Manager, at Sam Edelman, San Francisco 
September 2008 - August 2012
Worked in collaboration with the senior project manager to define project goals and establish a timeline and plan to achieve them. 
Collaborated with other team members to create fresh brand ideas and project initiatives. 
Managed marketing agendas and suggested ways to improve audience saturation. 
Handled overall management of workflow in the marketing department. 
Project manager education example: a strong foundation
What your project manager resume may have in common with many others is the listing of a business degree in the education section, since this can give you a broad understanding of which business levers to pull. But it's also not unusual for project managers to have an operations background, where higher-level educational qualifications are less significant. 
While your track record of relevant employment experience normally takes precedence, a mix of education and training will still be considered if several job candidates have similar qualifications. The same goes for on-the-job training. 

If you have quite a few courses or other project management qualifications to list in the education section, be sure to include dates. This readily shows a track record of consistent learning. Your project manager resume should reflect your continuing intentions to keep learning and growing
Below is the education section from a project manager resume example..
Adaptable education example
M.B.A, Pomona College, Claremont
August 2008 - May 2010
Bachelor of Business Administration, UNC Chapel Hill, Chapel Hill
August 2004 - May 2008
CV skills example: the know-how
In the world of 360-degree feedback, it is often a good idea to ask others to give examples of your core skills. This is an interesting exercise. When writing your project manager resume, it really helps you stay true to yourself and also focus on the jobs that are truly the best fit for how you operate.
Here are a few longer-form examples of how an executive assistant might elaborate on their skills. They illustrate how your project manager skills could be adapted and integrated (based on available space and order of relevance) in your resume summary and employment history sections:
Coordinated and managed multi-functional project teams (of 25-300 people).
Oversaw strategic goals and tactical decisions with weekly cross-functional meetings.
Ensured quality assurance and evaluated project risks at every stage.
Managed external partners and service providers to add incremental value.
Oversaw cost management - responsible person for budgeting and finance .
Recruited internal project teams and helped to develop more junior members.
Evaluated project success and built my career from learning from mistakes.
Technical expertise ensured that we were using the best-in-market solutions.
Check out a project manager resume sample for the skills section below.
Adaptable skills section example
Strategic Project Planning
Team Recruitement and Development
Resource Planning, Accounting and Budgeting
Relationship Management 
Innovative Problem-Solver 
Project Evaluation
Hiring managers will be looking beyond the text to ascertain whether you have the skills for the role, so make it absolutely clear to them that this is the case.
CV layout and design
While great resume writing is important, project managers know how much presentation counts too. Choosing the best layout, design and text formatting options is a matter of personal taste. Always strive for the right balance between style and functionality. 
Above all, a project manager resume should be easy to read. Be consistent in your use of bullet points and lists, and don't go into too much detail that could be expanded upon during an interview. Avoid repeating the same phrases in multiple parts of the resume unless the context is different. Make sure you include enough keywords for the ATS, but not if it sounds forced and disrupts the flow. Keep in mind your CV will be "read" by machines first and then humans.
To take the guesswork out of layout and design decisions for your project manager resume, consider using one of our resume templates , offering quick, professional formatting options that are easily customizable. A great template can quickly take your resume format from average to stand-out in just a few clicks. Resume.io's field-tested templates are organized in four categories: simple , creative , professional and modern . Each is pre-filled with sample sentences that our builder tool  makes easy to replace with your own text for an eye-catching project manager resume.
Key takeaways for a project manager resume
Demonstrate how your own unique brand of "glue" keeps the project teams working together.
Include figures and growth stats to demonstrate your contributions as a project manager.
Focus on the scale of projects you have led as well as the detail and execution.
Portray yourself as efficient, unflappable and ruthlessly organized.
Make sure that your written resume is clear and logical.
Detail how you have positively impacted the work of those around you.
Make yourself an indispensable asset to your next employer's next project.
We hope this project manager resume example has helped you bring your experience and skills to life. With Resume.io's tools and tips, you're never alone in landing the perfect position!