As a salesperson, you already know how important it is to understand what people want and give it to them. You're halfway to writing a resume that helps you land your dream job! 
Real estate agents have to be experts in marketing, showcasing, and discerning what buyers really want. Those are exactly the skills you need to develop a fabulous resume, especially because the real estate market has changed dramatically with the advent of internet buying and selling.
A great resume will sell your skills to hiring managers and get you that real estate job .. As a leading international resource for job seekers, Resume.io has developed more than 300 occupation-specific resume guides and resume samples , along with professionally designed, field-tested templates and an easy-to-use resume builder tool . Our tips, hacks, and comprehensive advice provide a strong foundation to build a stellar resume and take your career to greater heights. 
This resume writing guide, along with the corresponding real estate agent resume example will cover the following topics:
Role of real estate agents and the job market outlook
General writing tips for a real estate agent resume
The best format for structuring your real estate agent resume
Advice on each resume section: header, summary, work history, education and skills
Professional resume layout and design hints.
Let's start with a closer look at the job role and market demand for real estate agents, with a view to attracting the attention of hiring managers.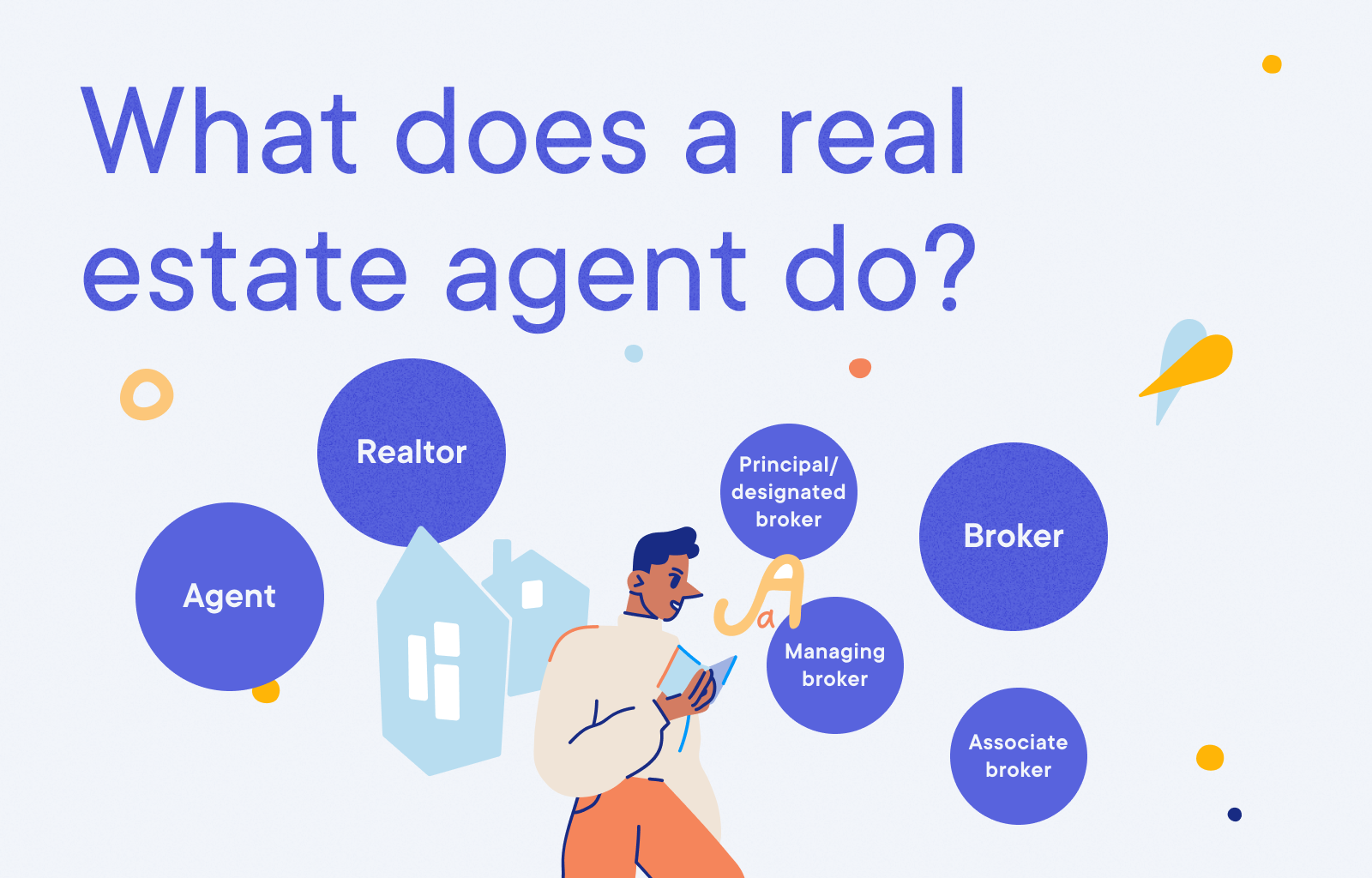 What does a real estate agent do?
You will most likely be working as an independent contractor affiliated with a real estate agency. A great resume will help you find a spot with a highly regarded firm. Understanding the market is the first step. 
Real estate agent is a general term for someone who helps buyers and sellers in real estate transactions. You should use the title that elevates you to the highest level you have achieved and explain the distinction to clients. 
Here are definitions of titles and positions you may already either be qualified for or are looking to advance to:
Agent: A person with a professional license to help people rent, buy, and sell real estate.
Broker: A person who has furthered their real estate education and passed a broker's license exam in the state in which they work.

Principal/designated broker: The person who oversees all the agents and brokers at a firm and monitors compliance with the law.
Managing broker: These brokers are the day-to-day overseers of the firm. They may also be in charge of hiring and training new agents.
Associate broker: A broker who works under the supervision of a managing broker. Also called a broker associate, broker-salesperson, or affiliate broker.

Realtor : A member of the National Association of Realtors, a standards agency.
As an independent contractor, your resume serves dual purposes: to get you a position in a real estate firm and convince clients to use you to buy and sell their homes. Luckily, both of those audiences are looking for the same skills, upon which this guide will show you how to capitalize.
Expert tip
Online branding is a necessary part of your presence as a real estate agent. Consider your image and match your resume messaging to maintain a consistent brand.
Real estate agents are paid by commission on the properties they sell. They can set their hours but must be available when clients need them. Some rarely go to their offices, however, there are benefits to discussing properties and the market with colleagues, so make sure you highlight how you will fit into the work environment.
Statistical insight
There are more than two million real estate agents in the United States. More than 1.3 million are realtors, according to the National Association of Realtors.
Some real estate agents focus on the commercial market. Commercial real estate costs a lot more than most private homes, so commissions are much higher, but you will have to work harder and longer to make a sale. 
For additional inspiration and ideas, check out these other writing guides and corresponding resume samples in the real estate category:
Job outlook
Homebuyers no longer need an agent to see what is on the market. Sellers no longer need an agent to promote their homes. That means you have to prove your worth every day.
That does not mean the opportunities for real estate agents are drying up. In fact, the demand for brokers and agents is expected to increase by 2% from 2019 to 2029, slightly slower than the average growth rate for all careers, according to U.S. Bureau of Labor Statistics (BLS). However, instead of focusing on finding homes, your clients are likely to rely on your market expertise and negotiating skills. 
Statistical insight
In May 2020, the median annual pay for real estate brokers was $60,370; for agents, it was $49,040, according to the BLS.
Buying or selling a home can be complicated and emotional. A good real estate agent knows how to manage both the personal and paperwork complexities of these transactions.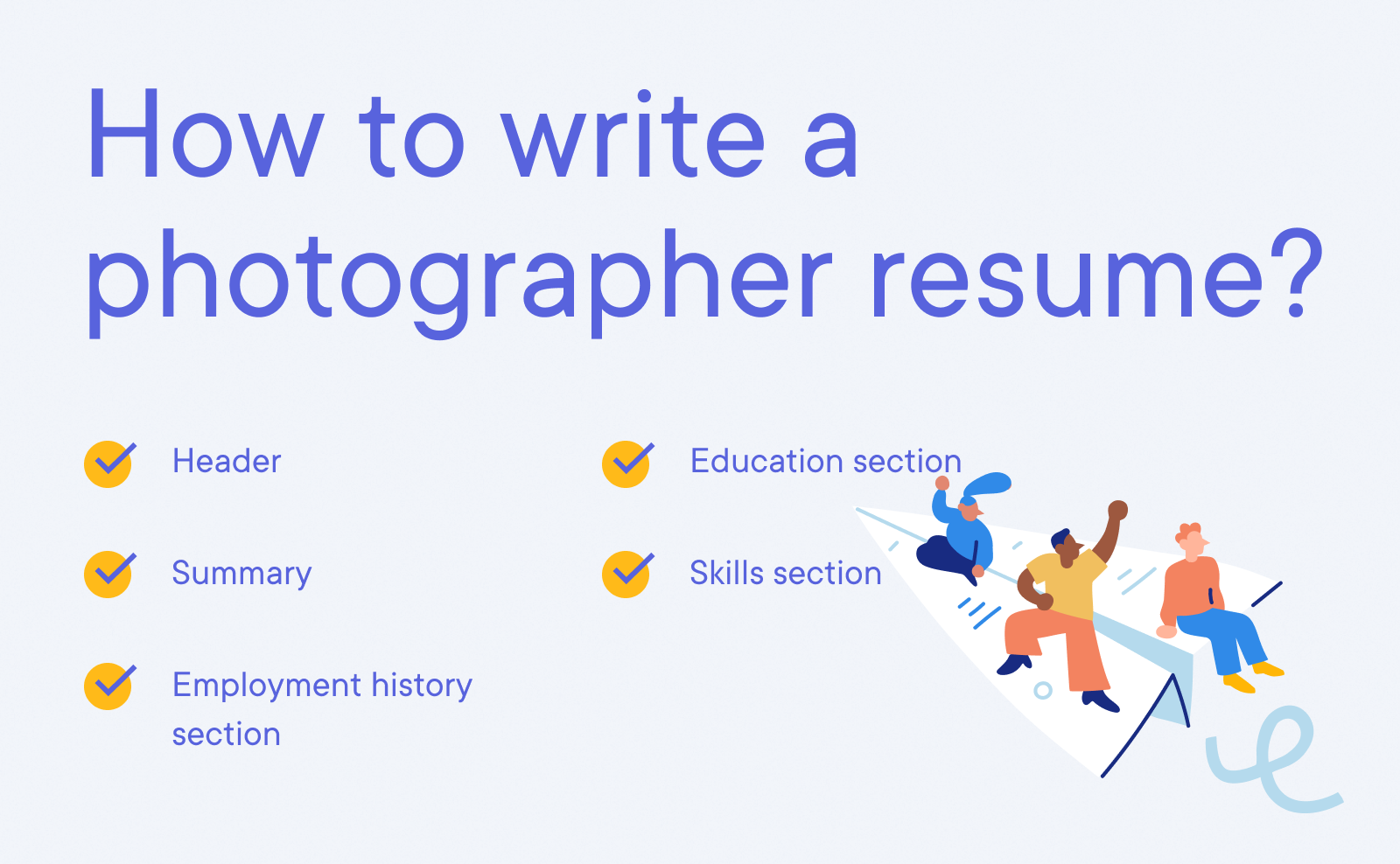 How to write a real estate agent resume
Now let's get started on that amazing resume! First comes some basic advice on the structure: it should fit on a single page and include all of these elements:
Header
Summary
Employment history section
Education section
Skills section
Thought and care should go into an eye-pleasing header design that clearly identifies who your resume belongs to, your occupation and contact information. It might also include social media links and a photo. For tips, see the guide chapter on resume layout and design.
Before going through each of the other resume sections one at a time, let's look some other general considerations.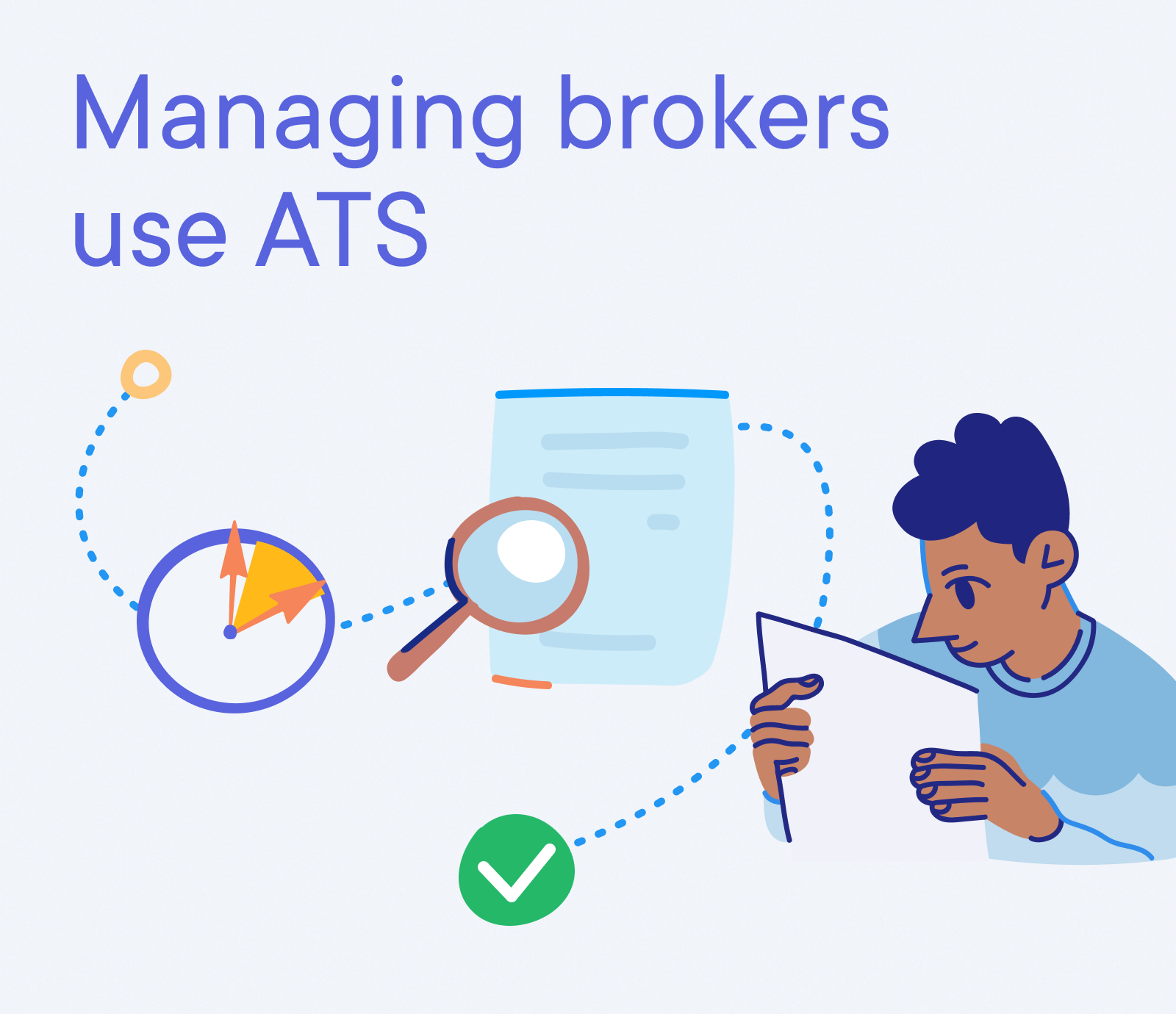 ATS: gatekeeper software
You have limited time to wow with your resume. Managing brokers receive many more resumes than they can read, so they use Applicant Tracking Systems (ATS) to lower that number. No matter how great of a salesperson you are, if your resume does not reach the hands of a person, you won't get that interview. 
The ATS uses an algorithm to rank resumes based on keywords and other criteria set by the employer. You need to be smart about using those keywords to raise the ranking of your resume. 
There is no single magic bullet for beating ATS programs because there are more than 100 on the market. However, analyzing job listings and repeating their exact wording will greatly increase your odds of passing the ATS test. You can't get the job if you don't beat the ATS.
Expert tip
Some ATS software also parses resumes. That means it takes the information in your resume and extracts and stores it in software companies that use to organize applicant information. It can then be searched by those all-important keywords, making them even more important.
Choosing the best resume format for a real estate agent
For most real estate agent career moves, the most commonly used, failsafe chronological resume format is ideal. It's provides the most straightforward overview of your work experience highlights in the employment history section.
But if the real estate agent position you're pursuing would be a radical departure, or your job background has not followed a linear path of employee positions, you might want to consider an alternative resume format. A functional format would emphasize key skills or the most relevant types of job or industry experience you have to offer. Or a combination (hybrid) resume format might be best suited to your background. 

Now we're ready to dive deeper into each of the following resume sections for optimal impact on hiring managers.
Resume summary example: show off your personality 
The summary of your real estate agent resume gives you a little freedom to highlight your professional style. As a salesperson, who you are can be the key to your success! A resume is a professional document with little room for personality. That's why the summary, also known as  the profile or personal statement , is so important. 
These two to four sentences, in the prime location at the top of your resume, are where you can get a bit creative. Real estate agents need to be great communicators to build relationships with homebuyers, sellers, and colleagues. A great resume summary should reflect those skills. It tells managing brokers who you are and what you will bring to the team. 
This is where you showcase your biggest attributes and accomplishments, conveying your customer service and sales abilities, plus your professional identity. Use strong action verbs that show you are a go-getter who can bring in new business and close sales. Vivid adjectives help project your personality and professionalism. Give details where you can. Be proud of your career without exaggerating.
As you write, remember that your resume is only one among many that hiring managers will have to go through. To elevate it from good to stellar, be creative and avoid clichés. Don't use common phrases such as "customer-service oriented" or "lead-generator" unless they are in the job description or you know they will have an impact on the hiring manager. Instead, try to add personality with word choices. Try "personalized attention" or "attracts new customers." Use a thesaurus if you need a helping hand to develop creative descriptions.
Expert tip
Use the active voice. Instead of "home listings increased by 5%," write "generated 5% increase in home listings." Use the active voice. Instead of "home listings increased by 5%," write "generated 5% increase in home listings."
Below is a real estate agent resume example summary you can customize.
Adaptable resume summary example
Experienced and driven Real Estate Agent with a proven track record of turning client dreams into realities. Extremely knowledgeable about real estate procedures, laws, and trends. Highly productive and organized, striving to provide the best service to clients possible. Bringing forth strong multitasking skills, and a positive attitude seeking to assist at all times. Skilled in using basic office equipment and real estate software. Committed to achieving client success and satisfaction every step of the way.
Employment history sample
Your work history tells the story of your career. Make it as interesting as you are! The average real estate agent has been in the business for eight years, the National Association of Realtors says. 
While you're not average(!), you probably have a history selling homes. Even if you don't, you can point to experience that translates into skills valued in real estate. This might be  other sales work or jobs involving customer service, or a large network of contacts or potential clients. Just remember that you must have a license to work as an agent.
Statistical insight
An estimated 6.44 million existing homes will sell in 2022, Statistica projects. That's close to the 6.49 million estimated for 2021. 
Your employment history should show a progression of success. Instead of writing a list of job responsibilities, tailor your work history to the job you want. Look at the listing. What achievements and attributes does the managing broker explicitly ask for? Make sure you use those keywords. Describe your greatest professional achievements at each job. Use detailed sales and listing data. The more specific you can be, the better. Because real estate is a cyclical industry, you may not have steady growth in sales, but you will have professional growth. Managing brokers understand the market's cycles, so include actions you took during downtimes that led to business successes later.
Expert tip
As noted previously, the most common resume format highlights your employment history in reverse chronological order — last job first. But if you are changing careers and want to emphasize skills from other careers that will transfer to real estate, consider focusing on your resume skills section and list jobs that most directly relate to real estate first.
If job listings are confusing or you are having trouble deciding which keywords are most important, get a little help from technology. Plug the job listing into Wordle.com or Wordart.com to create a word cloud. The size of the words in the cloud is based on the frequency with which they are used in the text. Visualized word clouds may help you spot important words or patterns in the job listing (this is useful data for all sections of your resume).
Below is a real estate agent employment history resume sample you can use while writing your own.
Real estate employment history resume example
Functioned as a dedicated agent in one of the city's busiest real estate offices.
Maintained property listings and handled client correspondence in a timely and professional manner.
Pioneered implementation of new office procedures and processes that promoted a more productive office flow.
Helped design effective marketing strategies, targeting prospective clients and new leads.
Worked in careful consideration to client needs and desires.
Increased agency revenue from leased properties by 20% two years in a row.
Real estate agent resume education example: proof of your real estate knowledge
You don't need a bachelor's degree, but you need at least an agent's license. While a high school diploma is enough to begin studying real estate, you need a license to become an agent. Each state has its own licensing requirements, but make sure you note that you are a licensed agent, broker or realtor. 
If you do have a community college or university degree, list it here. List your high school diploma unless you have a degree higher than a bachelor's. Also consider adding any accolades you have earned and the level of license you have.
Below is the education section from a real estate resume example.
Education sample
2000-2004 Scottsdale High School, High School Diploma Scottsdale, AZ
2004-2008 ASU, Bachelor of Communications Phoenix, AZ
CV skills example: bullet-point your abilities
Emphasize your professional talents and abilities with a carefully curated list.  This is a great place to add those keywords to bolster your resume! Of course, you need people skills to be a salesperson of any kind. Real estate agents are selling their personalities as well as homes. You will be spending hours with clients who are making one of the biggest decisions of their lives and they will rely on your advice. Managing brokers want you to bring sales into the office, so you are selling yourself to them too. But being an agent requires a lot more than a friendly demeanor.
To create a top-notch resume, you need to highlight the accomplishments and skills managing brokers are looking for in agents. Soft skills, or interpersonal skills, are a big part of your job, but hard skills, or technical and job-specific skills, are also required. As you begin to think about selling yourself, brainstorm a master list of all your skills , achievements, and accolades. Write down everything you can think of. Once you have it all on paper, you have the basis for your resume. According to O*NET, a U.S. work statistics database, here are some skills you will need for a real estate agent position. 
Soft skills
Tenacity
Honesty
Dedication
Problem-solving
Negotiation
Self-motivated
Networking
Responsiveness
Hard skills
Community knowledge
Local, state, and national rules and regulations expertise
Market research
Interior and exterior home photography
Document preparation
Customer relationship management and other software competency
Managing brokers will be looking for some or all of these skills when they scan your resume, but you have to get past the ATS first.
Expert tip
Since a social media presence is becoming essential to finding leads in the real estate field, ATS-proofing this resume section with keywords helps point out your search engine optimization skills.
So, now you've made a list of all your skills. The trick here is choosing the ones to include. There's no room for explanation, just a word or two per entry. If you have completed a word cloud, pick the top five to 10 skills that match the word cloud and list them. If you haven't, go back to the job listing and match the words and phrases there to the ones you will use in this section. Be as specific as possible with the words you have. Don't just list "communication skills." Try saying "attentive" or "active listener."
As a real estate agent, you are expected to have strong soft skills. Don't leave out any that appear in the job listing and that you haven't already mentioned in your employment history. But try to differentiate yourself with the hard skills you have as well.
Check out a real estate agent resume sample for the skills section below.
Real estate skills resume example
Real Estate Procedures
Multitasking Skills
Knowledge of Office Equipment
Communication Skills
Project Management Skills
CV formatting and design: showcase your professional image
Your look enhances your success as a real estate agent: neat, clean, friendly. The look of your resume should be the same. The best resume has clean lines, plenty of white space, and above all, is legible. You want managing brokers to be able to find your contact information, last job, and skills within a few seconds because that's all the time you have to impress. 
Because your job is personality-driven, you may want to add one small flourish, but keep it to that. Any more is simply distracting. Make sure you have a photograph that expresses your professional image if you choose to use one.
Expert tip
If you use social media for personal marketing, consider listing the URLs or user names for any social media accounts you use for your business in an easily viewed spot on your resume.
Formatting problems can cause the ATS to miss important information on your resume, so follow these tips:
Always send your resume as a PDF file to avoid formatting problems between different word processing software.
Don't put information in headers and footers because the ATS may not "see" it.
Use expert-tested layouts and designs to guarantee your resume looks as good as it reads!
Resume.io offers four different categories of resume templates with multiple designs in each to get you started.
Key takeaways for a real estate agent resume
You know how to sell, so promote yourself in your resume profile! This is your only shot at a bit of creative writing.
Strategically use keywords gathered from the job listing and industry knowledge to pass the ATS test. This is applicable in the profile, skills and employment history sections (it also relates to your licensing!).
Elevate your resume with strong action verbs and detailed achievements.
Keep your resume design professional and clean. This is the first visual impression you make on the client/employer.
Use resume.io's builder tool and field-tested templates to create an impressive, technically-sound and professional-looking resume.