As a high school or college student, you may be a bit more focused on the homework due tomorrow than on paving the way to career success by preparing a student resume. But there's no time like the present, and the sooner you draw up a resume, the closer you'll be to the financial independence that employment can bring.
A little bit of freedom, a paycheck, a huge boost in confidence and real-life knowledge — these are just a few examples of what you can get from your first work experiences. Any work experience is a huge asset at this stage of your journey. 

This student resume example and guide, along with our convenient resume builder tool , will help you to:
Learn the basics of preparing a great resume
Craft your first impressive and creative student resume (even without work experience)
Find out about modern hiring practices (software-based and human hiring psychology)
Arm yourself with useful sample sentences, tips and tricks to greatly increase your chances of landing an interview
Let's dive in.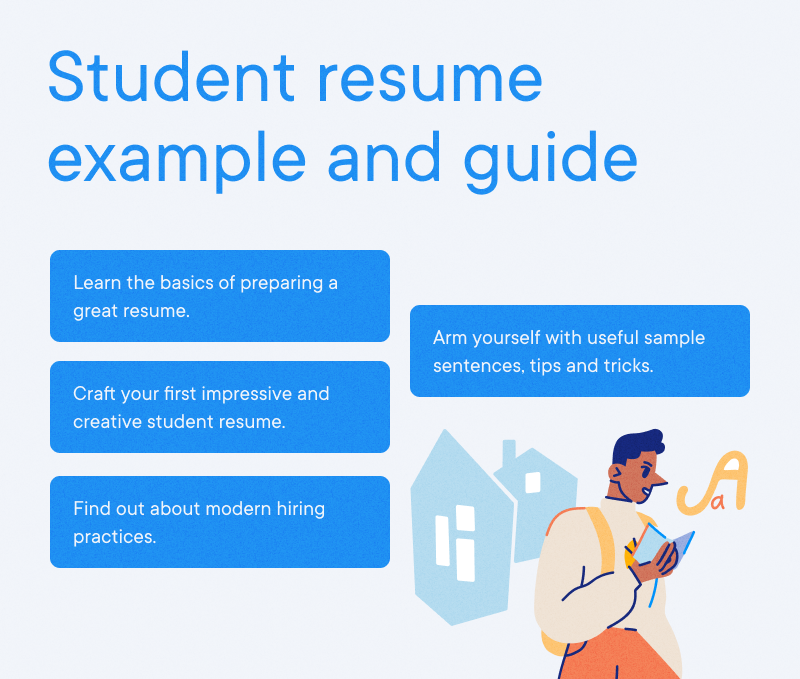 How to write a student resume: what to include, what to avoid
Here are the basic elements to include (or not) in a student resume:
The resume summary (aka profile or personal statement)
The employment history section
The resume skills section
The education section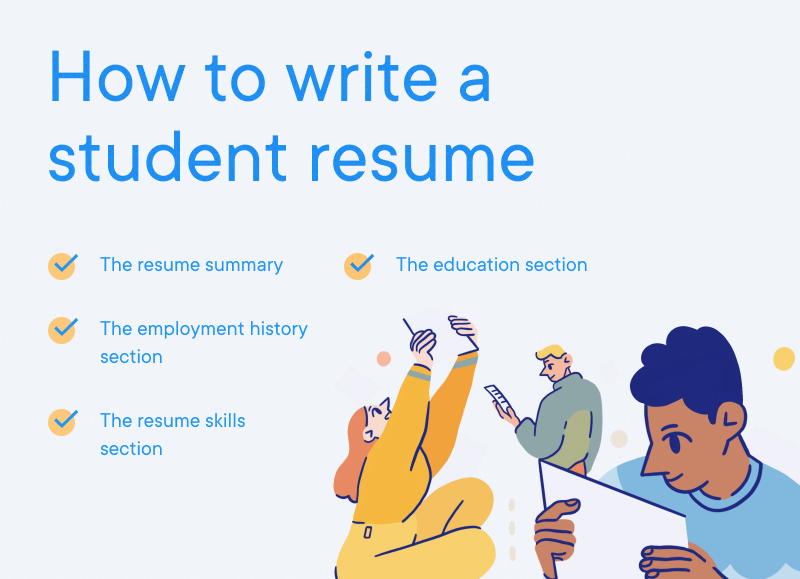 Do
Order sections by importance (Summary > Education > Experience > Skills)
Think about your potential employer and include information/experiences that are the most relevant.
Don't
Expand your resume beyond one page. This will reduce the likelihood that the entire thing will be read.
Expand low-priority sections to the point where the important sections get reduced.
Optional sections
Languages. If you know one foreign language (especially at a basic level), this should just go on the skills section of your resume. However, if you know three or more languages, and some of them at a high level, you can move them to a separate resume section. If you have language certifications, be  sure to list them.
Expert tip
Including additional sections in your resume from the ones listed here will depend on how robust your resume is overall. If you feel like there's enough info already, just include things like languages in the skills section. Include any certifications in the education. But if you're really struggling to fill out the page, more sections may help you out.
Extracurricular activities. The reason this one is optional is because most of your relevant activities will go into experience. You only need the extracurricular activities section if your interests and out-of-school life are so robust that they don't fit into one section.
Hobbies. This section should usually be avoided. It's a last-ditch effort to fill out space on your resume. If you are desperate to add something more to your resume, mentioning you are an active jogger and bicycle rider, for example, can at least hint you are energetic and disciplined.
Expert tip
Don't list hobbies or activities that have no application in work or don't demonstrate positive qualities. The line can be blurry here but try to think objectively. Playing in a hobbyist theater troupe, for example, demonstrates you are social and open with people.
Need additional inspiration? Please view our other helpful related educative resume examples:
Summary resume example: a positive portrait
If you don't have a lot of work experience, that's not a deal-breaker. The summary, sometimes known as a personal statement, provides a positive image, describes your qualifications and gives the reader a sense of your determination and drive. This is why it's doubly important to craft your summary with care in a student resume. Avoid clichés and vague statements. When you've written out your profile section, ask yourself: If I read this resume, would I hire the person described here?
In a more practical sense, here are some examples and tips to follow when creating a resume for a student:
The summary shouldn't be shorter than two or longer than four mid-sized sentences.
Use

action verbs

, concrete and energetic language on your resume. Instead of "High school student looking for a job" write "Self-disciplined and hard-working student looking for a workplace to contribute to a team, to learn and to grow as a professional."
Provide context and specific facts where possible. Instead of "Finished high school. Have a variety of hobbies." write "Excelled in algebra and Spanish in high school. Developed social skills and openness in improv theater."
Insert a couple of skills and qualities that might be interesting to an employer. Knowing languages, how to use computer spreadsheets or how to organize your schedule, or always being punctual, for example, are relevant skills and qualities.
Expert tip
Tailor your description based on what type of job you're applying for. If you're looking for work in service jobs (restaurants, grocery stores, etc.) use your resume to emphasize the social part of your character. If you're applying for a job in an office, mention how your school / project experienced helped you gain skills applicable in an office setting.
How to write resumes for Applicant Tracking Systems (ATS)
More and more employers (especially medium and large companies) are using this software to manage the hundreds of resumes they receive. So, what is an ATS system and why is it relevant for your student resume? Applicant Tracking Systems are software programs/environments that process and analyze resumes before any human manager even gets a chance to see them. 
How do Applicant Tracking Systems work and how do you adapt your resume to them? ATS operate based on keywords or phrases that hiring specialists or managers determine beforehand. These can be as simple as "high school diploma" and "time management" or as complex as terms for coding languages or medical certifications. These keywords are used to rate your resume against other applicants and to either filter them out or pass them on to human recruiters.
Statistical insight
Wondering whether the job application you're looking it as processed by an ATS? Small businesses may not use these programs, but some 95% of large companies and 50% of medium companies use ATS software. Consider the chances and act accordingly.
In most cases, there is no way to know the exact words the ATS will be looking for on your student resume. But there are two simple and powerful methods to get an educated guess:
Analyzing the job listing / description
Researching the employer's website / social media
Statistical insight
According to data from Youtern, just 35% of candidates are qualified for the jobs to which they apply. Eye-tracking tests and surveys show that the average time spent by a candidate reading a job description is only 50 seconds. Do NOT just skim over these listings, as this will greatly reduce your chances of creating a winning resume. The better you understand the position, the higher your chances.
The word cloud method
If you're struggling to evaluate what qualities are more important to an employer based on a description, there's a way to simplify things. In case the listing is too vague or wordy, there are tools to help you visualize the patterns. Use services like worditout.com or wordclouds.com (or similar ones) to turn messy job texts into sample visual representations. Just copy-paste the text you're having trouble with and you'll get an image where the more frequently used terms will be larger. Use this to spot patterns and analyze what's important.
Expert tip
Pay attention to the exact terminology used in the job description. People tend to describe the same skills, jobs, educational degrees and so on with different words depending on where they live, work and so on. Make sure to use the same terminology as your potential employer.
Adaptable resume summary example
Dedicated and hardworking student hoping to find summer administrative work. Bringing forth excellent communication and leadership skills, and an affinity for multitasking. As senior editor of the Wallingford Gazette, I have managed other writers, and planned and produced several paper editions. I possess excellent editing skills, and I have a strong understanding of how to manage a heavy workflow. Hoping to utilize my skills and passions to further the mission of a company this summer.
Education example: the core of your resume
As a student, education is what you've spent the most time on previous to getting a job. Make use of this. Instead of thinking about education as a given, make it shine on your resume page. 
Statistical insight
According to research from the U.S. National Center for Education Statistics, companies are actively hiring students. This is more common at the college level (81% of part-time undergraduate students were employed in 2018), but high school students can still get hired for simple jobs, especially in the service industry.
So, what should you include in this section? As this is a segment built on a bullet-point list (like every other resume section except the summary), the general method is this: list educational experiences as bullet points. However, there are some exceptions, like these:
If you're a college student: List your college and your high school (and any other learning activities) as bullet points. For each one, provide a sub-description with samples of achievements in specific subjects, school projects, scores and evaluations.
If you're a high school student with additional educational experience: Same as above, just excluding the college part.
If your only educational experience is a single school: List your school as a heading and make a bullet point based on your subjects, achievements, school projects, etc.
Statistical insight
On average, each entry-level position receives 144 applications. Each professional position gets 89 per a single listing. Some large companies may receive many thousands of resumes per week. The better the job, the higher the competition. Making your resume impress both the ATS and the hiring manager is vital.
The trick to making this section look good on your resume is to view your education as work with its own results. 
Adaptable resume education example
Bachelor of Communications, New York University, New York
August 2016 - August 2021
Working towards a Communications Degree.
High School Diploma, Regis High School, New York
September 2012 - May 2016
Graduated with High Honors
Employment history or experience section: an overlooked gem 
Many students writing their first resume don't bother with anything except the education section. With no job experience, it seems pointless. But even if you're young, you have lots to offer. If you do have job experience, however, you can call this the "employment history" section, otherwise you may choose to name it the "experience" section. But if done right, this section can make you look more vibrant, active and creative.
What can you write in the experience section of a student resume? Here are some ideas:
Summer or temp jobs. You mainly want to show the employer you've already been part of the workforce. You know what a job is.
Internships. If you have these on your list, it's one of the greatest advantages possible. Internships usually take place at more complicated jobs and are related to more advanced professions.
Social / volunteer work . This demonstrates your ability to cooperate with other people and work towards a goal.
Other projects (personal passions, community initiatives). Anything that didn't land in the above categories (or the education section) goes here. Examples: Websites you ran with friends, local community events you helped with.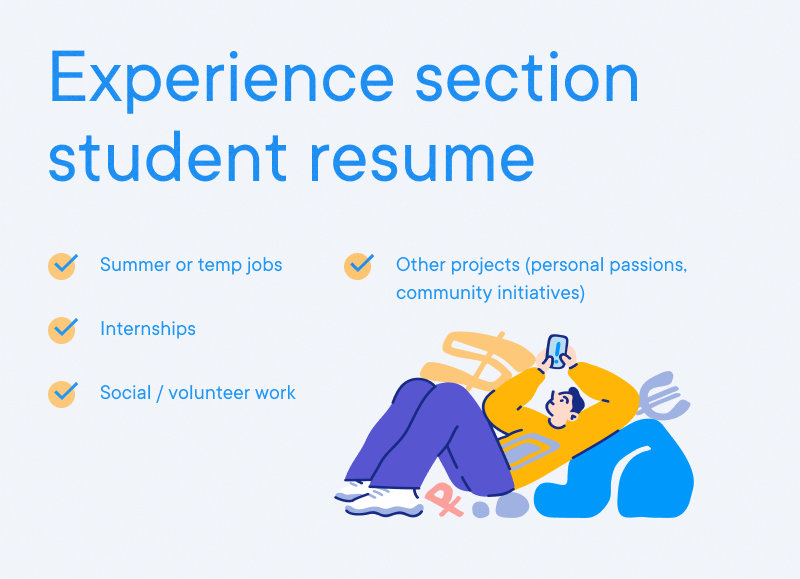 Make sure to use the same approach as in the education section: provide detailed descriptions of your duties, results, projects, interactions and any pertinent information. Even if it doesn't seem that impressive to you, on your resume it shows that these were real activities and/or work experiences . 
Adaptable resume employment history example
Sales Associate at Big Apple Bookstore, New York
September 2015 - June 2018
Greeted customers and assisted them with finding books.
Offered literary suggestions based on the needs and desires of the customer.
Followed directions from my Supervisor and managed projects with precision.
Organized books and adhered to the policies and mission of the bookstore.
Expert tip
If your lack work experience, consider adding your GPA on your resume . An impressive GPA can give hiring manager a good impression of how well you will perform. 
Choosing the correct CV format and resume template
People are visual creatures. We all like beautiful things. Anything messy or cluttered skews our objectiveness, even in the professional world. A template can help you create an attractive CV or resume format and make sure the visual part of your resume works for you, not against you.
Solid CV or resume formatting is important both for the ATS and for hiring managers. Here are some golden rules to abide by:
Use consistent fonts everywhere on your resume.
Use the "chunking" method of CV formatting. White space between paragraphs and a variety of visual forms can keep a hiring manager reading to the end of the resume. Templates can make appropriate spacing easier.
Don't get too creative. Strange colors and excessive decoration of your resume will make it look unprofessional. When in doubt, choose a more reserved template, like these simple options from Resume.io. These types of templates work great for a variety of entry-level positions.
Pay attention to visual design. If you're an enthusiastic designer or are studying to become one, resume formatting might be a task you'd like to attempt yourself. But if not, there's a huge number of professionally designed, beautiful and research-tested resume templates out there (for example on this very website). All you need is to fill them in with your info. A great template = no hassle.
Statistical insight
21% of U.S. resumes don't pass the ATS filter due to buggy formatting, or get ignored by recruiters due to confusing charts, layouts or images. To avoid this, use professionally designed templates.
Skills section example: your best tools and qualities
This is the resume section that most depends on the job for which you're applying. Different companies look for different skills in their employees. You are sure to have some great skills . Just choose them well. There are two main things you need to know for this section of the student resume:
What is a master list and how to use one
The difference between hard and soft skills and where each is best
The master list method entails brainstorming every possible skill you think you might have naturally or have picked up in school, projects or temp jobs. Write them all down, even if they seem unlikely or you are unsure that they fit. Keep this list in a separate document. You'll return to it every time you're writing a new resume. It'll get richer and bigger the more experience you get. Once you have a master list, the idea is to cherry-pick the best skills that are appropriate for a specific job and add them to that particular resume. And here's where we get to the hard/soft skills. 
Hard skills relate to specific tasks, concrete knowledge, physical objects, sciences or tools. Knowing how to use Excel spreadsheets or Microsoft Word are hard skills . Knowing a programming language or a foreign language are hard skills. Soft skills have to do with social interactions, self-organization, intellectual and emotional qualities and so on. Time management and scheduling is a soft skill, as is team collaboration. Most entry-level positions (for example in service jobs) tend to favor soft skills. 
Adaptable resume skills example 
Advanced Communication Skills
Office Technology Skills
Motivated Attitude
Social Media Platforms
Key takeaways
Getting a good job, even without past experience, is an attainable goal. Just make sure to tailor your student resume to a specific position and employer.
CV formats and resume layouts are extremely important to pass the ATS and impress the hiring manager. Resume templates can make this step easier.
Education is the core of a resume for a student. Make it detailed, and list results and numbers if you can.
The summary is your free-form professional profile on your resume. Be a little creative here, but also describe your best work-related qualities, experience and achievements here.
Use professional resume-building tools and templates to avoid hidden pitfalls in resume formatting. It makes your life much easier.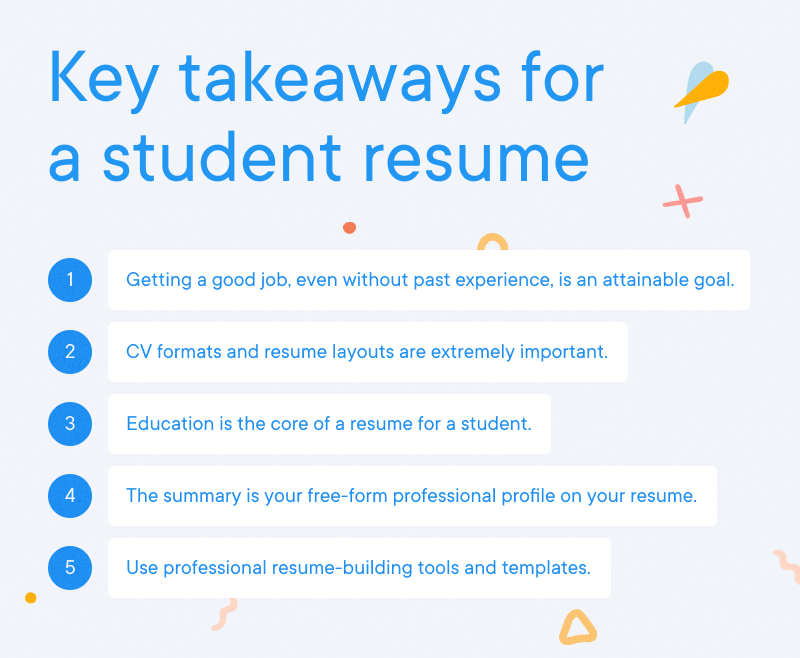 And if you want the perfect tool to save time and get a great job, use the resume.io builder tool with professionally made and recruiter-tested templates !