Language is what makes our world go around, but in a global marketplace it is critical that translations continue to convey the original meaning. Without resorting to cultural stereotypes, we have all read the small print on a kid's toy or consumable good and recognized that it definitely wasn't written by a native speaker. In this case it does not affect our use of the product, but there are many situations where a forensically accurate translation is critical. Whether they are working in the medical , technology, education or corporate fields (among many others), professional translators are the people who have the job of using different words to convey the same meaning. Grammatical structures and the patterns of language will vary, but they have to find a way of getting the message across to the audience so that it has the same effect.
In a global world, therefore, proficient (human) translators are in huge demand. In this resume guide, we will be exploring the aspects of what makes a great translator and how you go about showcasing your translation approach in your resume. You have to be able to explain how you weave your linguistic magic. When it is your job to have a deep appreciation of the written word, people will expect your resume to be a masterpiece of language. However, it isn't always easy to know how to write about yourself, so we will be exploring some of the key themes. This guide will show you how to:
Write a translator resume that showcases your linguistic ability.
Engender a high level of trust that you can convey clients' messaging to a global audience.
Help you choose the right words to sail past the ATS keyword test.
Format your resume to put your words at the forefront of the action.
Along with our resume examples and resume builder tool, we will help you to make your experience jump off the page.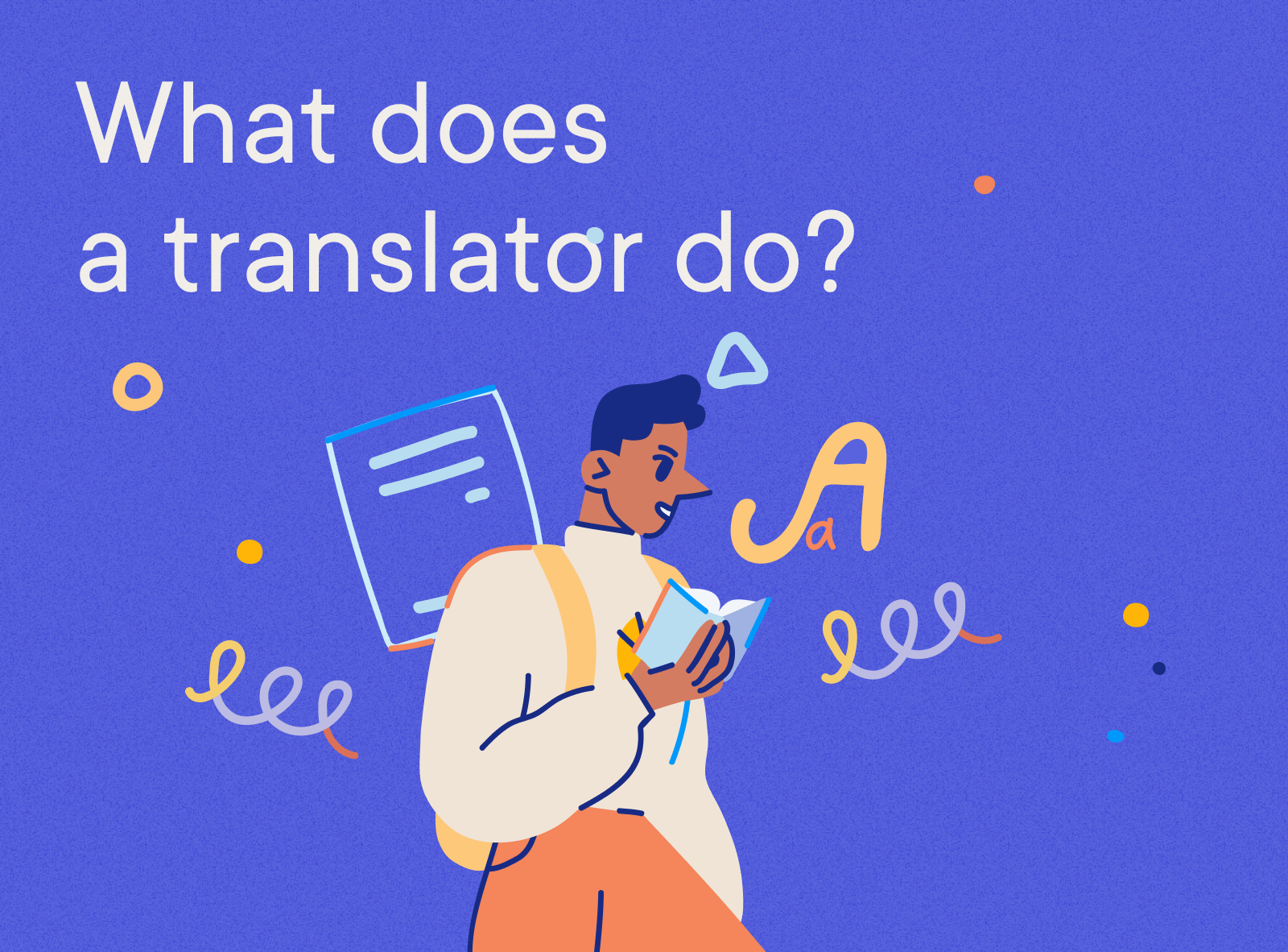 What does a translator do?
The job of a translator is full of nuance and subtlety. There is no mathematical formula for success and no "right answer" in any given translation, so the art of conveying meaning is down to a meticulous attention to detail and a constant search for content and tone. At every stage of the translation process, translators place themselves between their client (the source language) and their readers (the target language). They are the conduit for the change in language, so their resume should reflect their flexibility of thought and clarity of understanding. 
You can't start translating a text until you first understand what it's trying to say, so patience and intellectual rigor have to come across strongly in any translator's resume. If translators put quality at the top of their "to do" list at the start of every day, that will show in the end product. Translation often involves huge amounts of text, and software can definitely play a part in the output, but it's human input that can make all the difference. 
Translators need to have a dispassionate ability to communicate the meaning of the original text without adding their own level of meaning. They might be translating an opinionated political piece or a scientific paper that might say something controversial – their job is to translate the words as they are written rather than create a new meaning. This is far from easy. In a resume, translators need to come across as methodical and pragmatic individuals, with a deeply human feeling for how words are received but a simultaneous ability to distance themselves from their equally human views. There are three basic considerations for a translator resume:
Offer a future employer an insight into the breadth of your functional and industry experience.
Talk about how your take on the translation process positively impacts customer satisfaction.
Demonstrate your technical abilities, including the use of software to achieve the best possible results.
Expert tip
With our increasingly global marketplace, the demand for translators is exploding. Between 2020 and 2030, job demand for translators and interpreters is expected to grow 29%, according to the U.S. Bureau of Labor Statistics, which also reports that the median salary for interpreters and translators was $52,330 in 2020.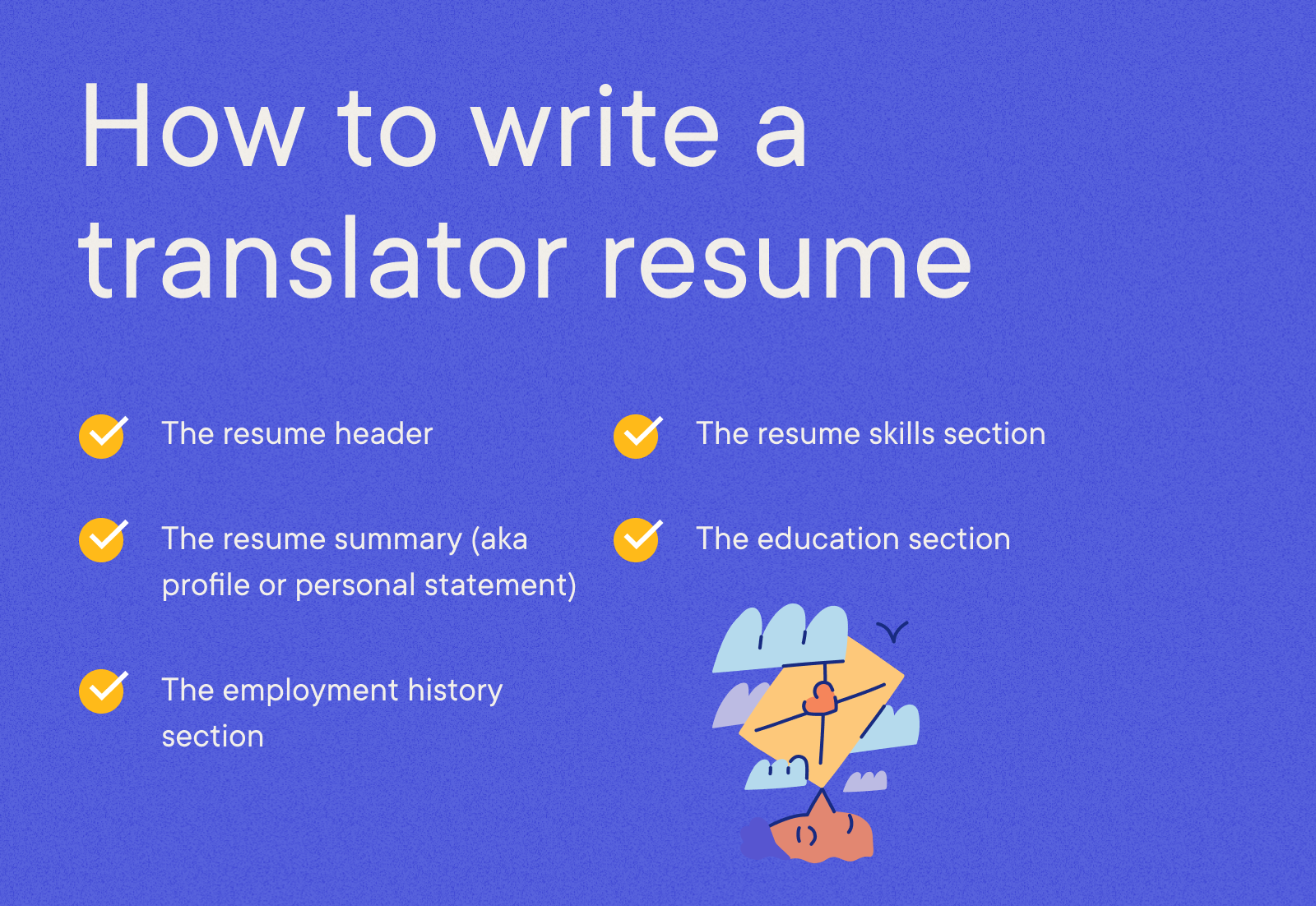 How to write a translator resume
The first step in writing your translator resume is understanding what sections to include. Your CV should contain the following elements:
The resume header
The resume summary (aka profile or personal statement)
The employment history section
The resume skills section
The education section
Getting your resume past the ATS
Most larger employers use Applicant Tracking Systems (ATS) – electronic gatekeepers that filter resumes for important keywords describing the job qualifications the employer is looking for. Resumes that lack the necessary keywords will often by rejected without ever having been reviewed by human beings. Keywords for a translator will include the sorts of translation software that they use, the industries in which they work and some of key industry phrases. It is a mistake to write a simple resume and assume that people know what medical translators (for example) do and how they go about their work. To pass the keyword test, your resume has to be full of the latest industry-related language. Competition is high for translators, so you can be sure that these ATS systems will be used. Make sure that your perfectly good resume is not discarded before a human has even seen it.
Expert tip
Translators' job descriptions are likely to be very specific about the nature of their work and what sort of requirements there will be for their role. The employer needs to be this specific to attract the right candidates, so it is very important that candidates take their lead from the language that has been used in a job description. Make sure that you mirror their terminology (even if you would say things differently) and remember that repetition of language is not a bad thing to influence the decision makers.
Translator summary resume sample: Creative yet precise
Translation is the art of getting across your message as accurately as possible in the least amount of words possible. No one wants to read a rambling sentence when three words will suffice. This art of effective brevity will be on show in a translator's summary section. Given this subconscious desire from the client for succinct communication, it is a great idea for a translator's summary to be brief and to the point. It might seem counterintuitive when you have so much to say about yourself, but you won't be doing yourself any favors with ten lines of rambling copy when five would suffice.
First, make sure that you cover the industries and functions of the employer in question. As translators have so many areas of expertise, while it is important to highlight your broad experience, don't include too many details that aren't relevant for the company that is reading your resume. Second, talk about the software that you use and how you go about your translations. Employers are looking for translators who are at the cutting edge of their craft and who make the most of all of the available tech. 
Translators do not work in a vacuum and they often have to work closely with clients (and other experts) to uncover context and select the best possible language. A translator shut away in a room with a bunch of software will not necessarily come up with the best final product. The best translators are sponges – soaking up the experience of those they work with and pouring it into their translations. 
Resume example of a translator's profile summary
Highly skilled and experienced Translator with a strong background in translating legal documents in English, Spanish, German, French and Italian. Bringing forth an excellent command of these languages, and a track record of impeccable proofreading, editing and translating. Adept in accurately assessing the context of material, translating it in an understandable and appropriate way. Highly skilled in legal terminology and processes, helping clients to better understand their rights and position. Bringing forth a positive work ethic and a commitment to efficiency and integrity.
Resume sample of translator employment history: Broad or specialized
The employment history of a translator needs to encompass all translation-related work experience, or at least as much as there's room for. Some of this may not be directly relevant to the job in question, as the nature of this work can vary greatly, but a packed resume will be an indicator of a translator in demand. Translation work can sometimes be intermittent depending on the cycle of the global economy, so it is vital that the employment history section is as packed with projects and detail as possible. You need to portray yourself as someone who has had a constant flow of projects – and ideally has been able to pick and choose what roles you have done. A translator who is desperate for work is probably not a very good translator, so show that you have been in demand. Include as much detail as you can for each employer and use bullet points and powerful formats to bring out the detail of your biggest projects.
Your employment history should start with the role that is most recent, and your most recent roles should generally contain the lion's share of the detail because they tend to be the most relevant. No one will care what you did for an employer 20 years ago, but they will certainly care if you have carried out a piece of translation work that is pertinent to the employer's current needs. If you are doing a detailed description of a situation, you might consider using the STAR method; S - the situation that you were in; T – the task(s) you had; A the actions/strategy that you used; R- the result you achieved. See the attached resume example for an idea of how to present your employment experience.
Resume example of a translator's employment history
Provided consultations for clients to assess their project needs and goals.
Utilized subject matter expertise and Legal Knowledge to offer the most detailed and efficient translations possible.
Effectively used Translation Software to expedite project delivery and ensure accuracy.
Consistently adhered to the principles of the Association of Translation Companies.
Performed in-depth review of texts and made edits and changes where necessary.
Created presentations for in-person and online viewing purposes.
Translator skills section resume examples: A jack of many trades
Translators have a very different job from interpreters. Interpreting language (orally) is an immediate and dynamic occupation that relies on split-second linguistic decisions and quick wits. A translator, on the other hand, often has an ocean of text to work on, but because the nature of the written word is permanent, even the smallest mistake in the wrong area could ruin things. Their job is the equivalent of running a linguistic marathon, while an interpreter could be compared to a sprinter. 
What elements of the role should they include in their resume? The most important aspect of a translator's resume is to showcase their knowledge of the subject matter. It is rare that a legal translator will take on medical translation work and even within the legal field, people will stick to certain functional competencies. When you are translating into your native language (the target language) you have to understand the meaning of words that you are using. Attention to detail is a key skill – no matter what your volume of work, every word matters. Great translators have very specific ways of working with a wide range of translation software and technical assistance – they want to have the time to use their skills where they are most needed and not waste time translating the easy material. 
Expert tip
Here are a few of the shorter skill phrases / words that you could include in the skills section:
Attention to Detail, Listening Skills, Translation, Transcreation, Localization, Online Tools, Client Satisfaction, Quality Assurance, Industry Specific, Freelance, In-house, Software Expertise, Proofreading, Trilingual, Linguistics Qualifications, Consulting, Interpreting, Published Author, Technology Expert, Writer.
It goes without saying that translators have to have a gift for the written word – they have to produce readable copy and that is incredibly hard to do when also trying to remain faithful to the original text. They have to have a creative mindset – where immediate translations are not possible, they have to find a way of saying what they need to say. Fluency in a number of languages is often a bonus. Lastly, as proofreading is such an important skill, their dedication to accurate and faithful translations has to be paramount. All of these considerations should be included in a translator's resume, but first they need to ensure that they come up with the right words to pass the ATS test.
The longer-format resume examples below and explanations of your skills could also be integrated into your summary and employment history sections:
Example
Translation experience in legal , scientific, commercial and education areas.
Industry experience from automotive, financial services , pharma and legal.
Trilingual in German and Spanish with English as native language.
Hundreds of projects encompassing translation, transcreation and localization.
Translated the widest possible range of documents, manuals and presentations.
Experienced with all popular versions of translation software.
Professional proofreading skills, allowing self-editing before submission.
Unique quality assurance process that is taken from industry best practice.
Resume sample of education section: Language and academia
The education section for a translator is important if you need to prove your theoretical base. A college degree in languages and/or translation is a good start but there are also official qualifications that all translators will have taken. A bachelor's degree is typical. You may pursue a degree in foreign language, translation or a related area. Programs you may consider include a bachelor's, master's or Ph.D. in translation, a master's or Ph.D. in translation studies or a master's in language literature and translation.
Here is text of a resume sample you can use for formatting your translator education section
Certification of Accuracy at the American Translators Association, Feb. 2014
Master of Linguistics, Kent State University, Sept. 2012-May 2014
Translator CV format and templates
The structure of your resume should allow your projects to take center stage and highlight your deep expertise in the relevant industry. There are no specific rules about which format to choose, but we can suggest some guiding principles: First, ensure that it's visually clean, easy to read and symmetrical. You will have a lot to say about your achievements, but the starring moments of your career will be lost if it is cluttered. Second, don't make it too densely technical in any sections. A recruiter without a deep understanding might skip over to more readable parts. Including technical terms is good for the ATS, but make sure that they are integrated into the story of your career. Our template collection has a wide range of designs: check out the Professional and Modern template categories for a great professional image!Key takeaways for a translator resume
Convey how you add more value than simply using crude translation software.
Use your resume to show off your mastery of the English language (and other languages).
Show how you work seamlessly with your clients to perfect every translation.
Describe how you use software to make the best possible translation.
Pack your employment history with relevant examples – show you have been in demand.
Proofread your resume to within an inch of its life – you can't afford any typos.
Include all details about your education and professional qualifications – this is your credibility.
Key takeaways for a translator resume
Translators must understand and convey the nuance of language and meaning and will be expected to do so in their resume.
The market for translators is exploding as more and more businesses operate internationally.
Choose your words carefully to target the ATS designed to filter out resumes that don't rank high enough.
Save time and empower your translator job hunt with a few easy clicks using Resume.io's builder tool. Finally, consult other advice here on how to write a resume or cover letter, all written by HR experts.